About StickerYou
5 Days of Deals
Every day from Monday, August 13th to Friday, August 17th we will have an exclusive deal that will remain secret until the day of the offer. Each deal with last 24 hours so check the site daily to find out the details of each deal. Make sure to save our calendar to stay up-to-date.
Add to Calendar
08/13/2018 12:00 AM
08/17/2018 11:59 PM
Canada/Toronto
5 Days of Deals
May 1 - Stickers
May 2 - Decals
May 3 - SURPRISE DEAL
May 4 - Badges, Patches, Tattoos, Iron-Ons
May 5 - Free Standard Shipping
StickerYou.com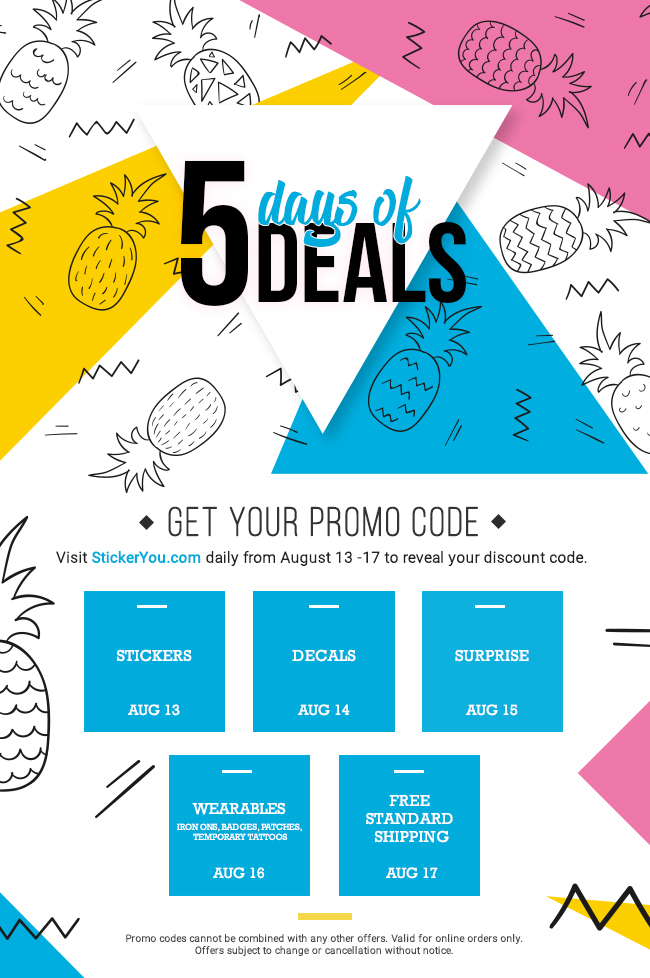 Some restrictions apply. Offers not valid on orders assisted by a sales representative or in conjunction with any other offers or promotions from August 13 (EST) - August 17, 11:59pm (EST). Offer valid on U.S dollar minimums. Offres subject to change or cancellation without notice.