StickerYou Coffee Shop Partnerships Program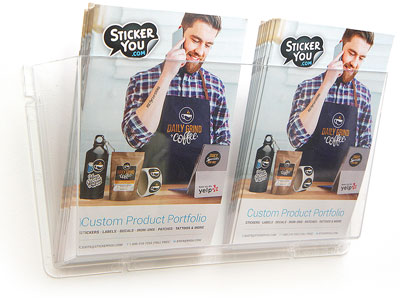 Increase your revenue by bringing in extra foot traffic to your location while at the same time earning monthly revenues. This program is exclusive for owner operated coffee shops.
What is it?
StickerYou.com would like to distribute product catalogs at your location
Instead of requesting catalogs and awaiting shipment, customers could pick up catalogs locally
You will receive $100 per month regardless of the number of catalogs distributed
Benefits
Increased Foot Traffic
Brand New Potential Customers From Outside of Local Area
$100 Per Month Payment
Program Requirements

Host and display a small 'wall pocket' where customer can pick up catalogues
Display a 4" x 4" 'StickerYou Pickup Location' decal on storefront window
Fill out a simple catalog refill form and refill 'wall pocket' when empty. You may be occassionally asked to send in a a photo of the installed wall pocket.
Send in 'Google Local' validation pin to StickerYou (StickerYou will have a virtual location at your Store).
Signup Steps
Review program details and identify any outstanding questions / concerns. Obtain a short, in-principle agreement to move forward with proposal.
StickerYou sends you the "Wall Pocket" & catalogues. Install "Wall Pocket" and send in photo to

[email protected]

or your contact person
StickerYou initiates the "Google Local" pin request. You send the generated "Google Local Pin" to StickerYou
Program initiates and you start receiving payments of $100 per month