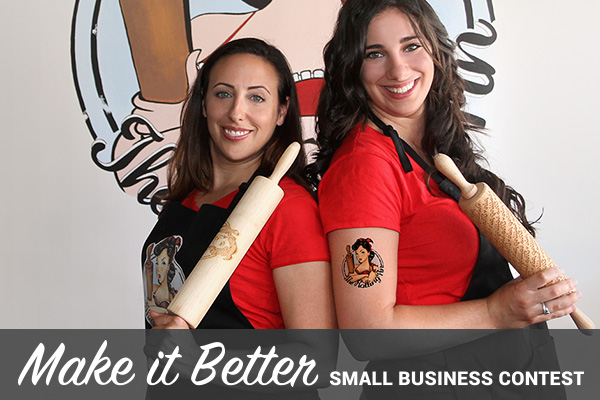 It's September 19th, which means there are only 7 days left in the Make It Better small business contest! This is the last stretch and the competition is great, with a mixed bag of businesses as diverse as the people that run them. We're so thankful for the turnout. We've had over 700 applicants!
When we started this contest, we set out to celebrate small business with Small Business Week in Canada and Boss's Day in the U.S. on the horizon. Now that we're a month away, we can safely say that it's been quite the success. Here are the finalists that we've managed to spotlight, we're very proud of their achievements:
Christine McLaughlin, MollyCake
Josee Gosselin, The Bread Essentials
Maira Izzo, CORE Studio
Ryan Rubin, Longboard Living
Althea Howard & Sharla Lehmann, Cafe D'Amour
Ian O'Meara, Green Rebel
Christophe Stevens, Wafels & More
Christella Morris & Sarah Resnick, Pass It On!
Bruce Lee and Stephanie Duong, Roselle Desserts
Mirelle Shimonov, Who Gives A Schnitz
Joe Hsu, Hooper's Pharmacy & Vitamin Shop
James Keezer, Bateman's Bicycle Company
Greg Kruk, JWK Insurance
Luis Vega, El Arepazo
Tarek Ibrahim, Airvinci
Shannon Keach, Pixie's Candy Parlour
Joanne Ly, Redefine Fit Ltd.
Lorri Tiberio-Leung, Toronto Hyundai
Sylvia Johnston, Cornerstone Music Cafe
Lisa Hupe, Great Lengths Hair Gallery
Gordon Wong, Paint Cabin
Amos Shaw, The Next SuperGeek
Joe Pisicchio, The Eyefuel Group
Joanna Alberti, philoSophie's Stationery & Gifts
Julie Colombino, REBUILD globally
Terri & Chad Knight, The Knight Butcher
Jody Gunter, Two Painting Broads Studio
Mariah Fink, Fitness Integrated with Nutrition
Knowledge (FINK)
Kathy Hunt, Picture Framing & Art Gallery
Heather Cortez, Planet Beach
Matt Parrott, Standard Pizza Co.
Jeramie Lu, Hatch
Jennifer Little, Knockerball Smash
Jennifer Hueneberg, Cloud 9 Yogurt House
Rebecca Hauser, The Painted Palette
Karen Heskett, Bone-a-fido Bakery
Sarah Offutt, Art Obsession
Kelly Brown, North Helpline Emergency
Services & Food Bank
Nicolee Munroe, Nicky's Beauty Salon
Terra Neely, Heritage Chocolates
Kimi Majors, Party Majors
Renee Jenkins, Kinks Be Gone Hair Factory
Jared Reeves, Certified Clean Care
Robyn Taylor, Smiling Dog Yoga
Naana Danquah Jefferson, Creative
Crossings Studio
If you'd like to help a small business win the contest, voting is still open until September 26th at noon at contest.stickeryou.com!