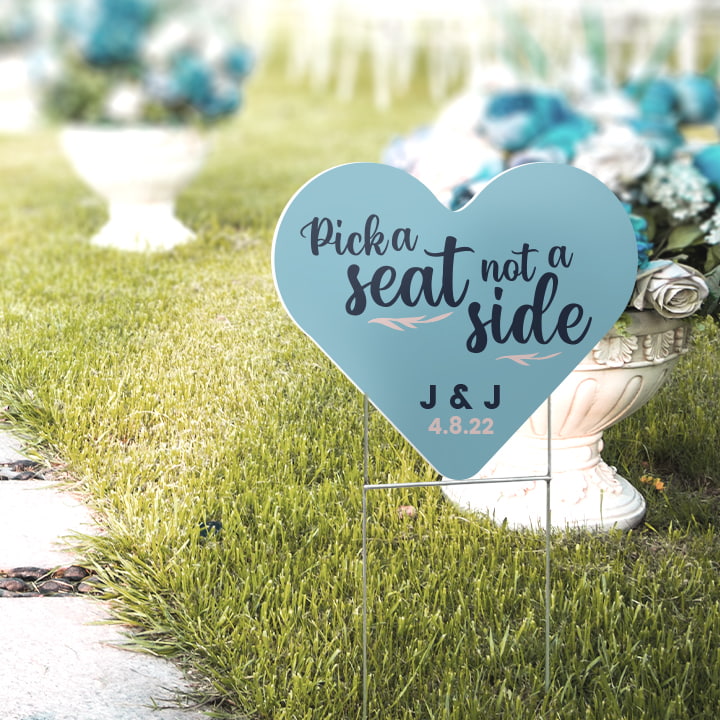 Celebrate your special day with custom yard signs! From guiding traffic to your venue location and showcasing seating arrangements, to congratulating the lucky bride and groom, your options are endless in terms of how you can personalize your yard signs. Choose from a variety of wedding themed shapes, or create your own custom die-cut!
Built from 4mm corrugated plastic, our yard signs are outdoor durable and scratch/fade resistant, giving you the freedom of placing them anywhere. Stick or hang them from a wall, a tree, or place your sign on an easel, you can even add a wire stand to pitch them into the ground.
Learn More
Learn More
---
Reviews (6737)

10/20/2021
The stickers turned out really well! I was emailed a warning on how one might not print clearly, but even that one came out looking clean and easy to read. The removable vinal stickers stick and hold well, and they remove cleanly with little effort.

10/20/2021
Stickers are amazing! Great quality and easy to use

Samantha C.
Verified Buyer
10/20/2021
Stickers came out great. Text was clear and clean, nice buffering edges. The sticker is on the thinner side, but nothing that I'm bothered about. It's a beautiful shiny vinyl that sticks great! Seems weatherproof (though not tested!). Have not tried removing it from any surface yet

10/18/2021
Thanks for being so amazing

Melissa M.
Verified Buyer
9/17/2021
It was so much more affordable than a rented yard card. Delivery was on time and product is good quality. The sign has been outside for almost a week including in the rain and still looks brand new.