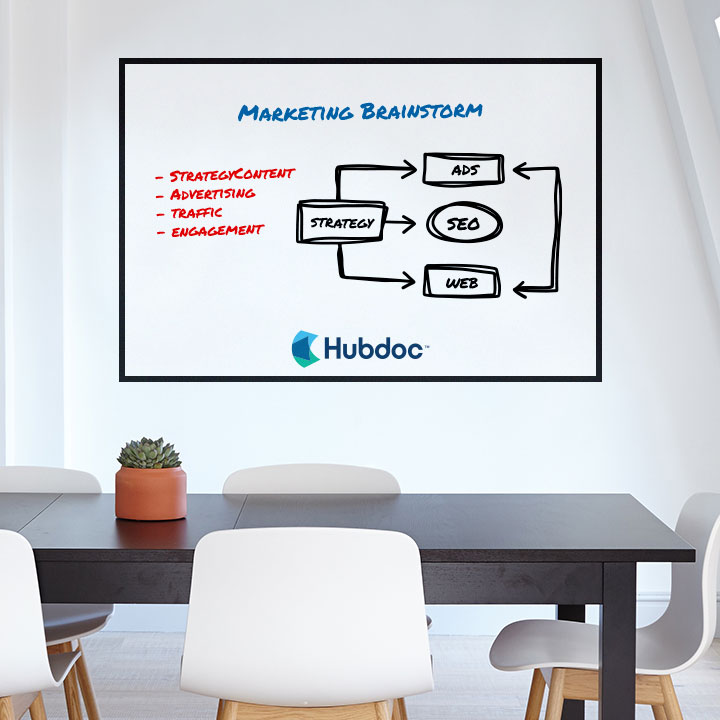 StickerYou's Custom Print Dry Erase Wall Decals help turn your wall into a whiteboard. Personalize with designs to track your to-do lists, leave fun notes for your family or roommates, or track your appointments with calendar whiteboards.
Buy Now and Customize Later
or get a quote below
$30
for 1 decal (20" x 20")
Learn More
More About Dry Erase Wall Decals
Organize your day with our custom print dry erase decals. You can use these decals within your home or office for tracking your appointments in calendar format, writing down your tasks, or a grocery list, and stick them on any indoor flat surface with our removable adhesive. Our larger formats are perfect for office buildings, conference rooms, and functional spaces that need white space to download and discuss the best thoughts and ideas.
Pick the size you want, customize the dry erase decals to your favorite template and upload your favorite graphics - like your company logo, or a goal thermometer. And the best part? We provide a no-ghosting guarantee. Check out the different sizes and shapes we have to offer now!
Fill out this custom quote form below and a StickerYou associate will respond to your inquiry promptly with a formal quote.
Product Features
100% Satisfaction Guaranteed
No Minimums
Easy to Apply
Perfect for Home or Office
Durable, Strong Adhesive
Unique & Stylish for Decor
Removable Without Residue
Indoor Use Only
---
Reviews (4060)

6/29/2020
Was everything we asked for
Was everything we asked for

6/29/2020
great product, great service and great prices
I loved how easy it was to customize my stickers online not just how I wanted them to look but the way I was able to design them to fit my budget and definitely appreciated the discount, also if I want to go back and order more they already have it saved so it makes it that much easier to buy again.

6/29/2020
Awesome Experience
AMAZING customer service - huge shoutout to Kimberley. Awesome experience working with her!

6/27/2020
Had the smaller 1" size
Had the smaller 1" size rpund stickers that I needed. Order arrived within just a few days and was perfect. Will use them again.

6/27/2020
Excellent, high quality product!
Excellent, high quality product!