Make custom Hydro Flask Stickers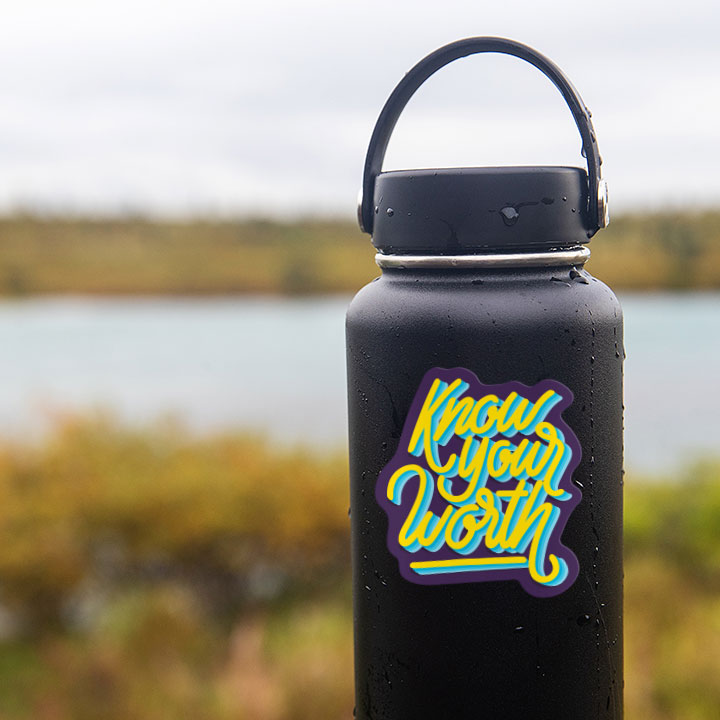 Decorate your hydro flask water bottle with any custom sticker design, the latest meme, social cause or reflection of you. Each sticker is printed on high-quality removable vinyl that's durable and waterproof. Just stick it on any hydro flask water bottle, and start showing off your style.
Learn More
Learn More
20 Stickers (1 Page)

40 Stickers (2 Pages)

60 Stickers (3 Pages)

80 Stickers (4 Pages)

100 Stickers (5 Pages)

160 Stickers (8 Pages)

200 Stickers (10 Pages)

500 Stickers (25 Pages)

1000 Stickers (50 Pages)
Custom Quantity
More About Hydro Flask Stickers
Hydro flasks all the craze right now, and at StickerYou, we make it easier than ever to deck out your hydro flask 32 oz or hydro flask 40 oz water bottle with some wicked custom stickers. Plastic water bottles end up in landfills, so save the turtles and create a hydro flask that is completely personal to you! We can print custom stickers in any shape and size you'd like, so you can print pages of various different designs and styles. Stay hydrated in the most fashionable way possible, and be the trendiest VSCO girl around with our custom stickers for hydro flasks!
To get started, simply click "Make Hydro Flask Stickers" at the top of the page. You can create stunning artwork online using our image bank and wide variety of editing tools, or you can upload your own custom artwork! We'll print and ship your hydro flask stickers directly to your door.
Frequently Asked Questions
Q: How many hydro flask stickers fit on one sheet?
A: That is all dependent on the final size of the stickers you create. We print on full pages of 8.5x11" white vinyl sheets, and allow you to fill your page with as many different sizes and shapes of artwork that you'd like! To give you a rough idea, you can fit 20 2x2" stickers on a single page. Regardless of the size you select, they'll all work amazing on your 32OZ or 40OZ hydro flask!
Q: What do you mean by "removable" adhesive?
A: Good question! Our adhesive is very strong, and will stay stuck to any smooth and flat surfaces you apply them to. This means that they'll stay put on your hydro flask, even if it gets wet or goes in the freezer! However, if you ever wish to remove your stickers, you can do so without damaging the surface that you applied them to, or leaving any unwanted gunk or residue behind.
Q: Can my hydro flask stickers have a clear backing?
A: You bet. We offer our vinyl in both white and clear, meaning you can have an opaque or transparent background. If you'd like your hydro flask to show through the background of the artwork you're printing, clear vinyl is your best bet. If you're looking for a solid or colored background, ensure you select white vinyl! Both materials will work great as stickers on your hydro flask.
Q: I have an idea of what I want to print, but I don't have artwork. Can you help me?
Of course we can! We have a dedicated art services team that can assist you in creating the perfect graphic based on the concept you have. If you have artwork that needs to be tweaked, we also got your back! Simply send your concept or artwork to [email protected], and our team will help you out - we're here to make your vision come to life!
Product Features
Writable with Permanent Marker
100% Satisfaction Guaranteed
No Minimums
Removable Without Residue
Waterproof
Microwave Safe
Dishwasher Safe
Any Size, Any Shape
---
Reviews (4189)

8/1/2020
Ordering Again because I Love my Stickers
I had been wanting to make my stickers for such a long time but I kept hesitating. I finally asked a friend and she sent me here. I was not expecting my stickers to be as fabulous as they are. Everyone loves them and wants one for their water bottle so I already have to order more. I ordered a couple of different stickers because I have two logos. One of the logos didn't fit appropriately in the design I chose so customer service contacted me promptly and helped me solve the problem, and to my surprise, better than I expected. And then they all arrived together in the mail faster than I thought I'd get them. Quick and easy. Excellent results. Great experience!

7/29/2020
Very satisfied! Thank you!
Very satisfied! Thank you!

7/23/2020
Overall impressed!
So far I have loved the quality! Exactly what I wanted and didn't take to long to ship to me.

7/23/2020
Overall great experience
Order came in great condition! Stickers were perfect quality. I will definitely order again

Mykisha C.
Verified Buyer
7/14/2020
Love it
I over love the sticks they is everything, and the pricing is very reasonable. I will always order from them, and oh yea the shipping is so good and fast. In they website is very easy to use. You can find what you need