Macbook Stickers & Decals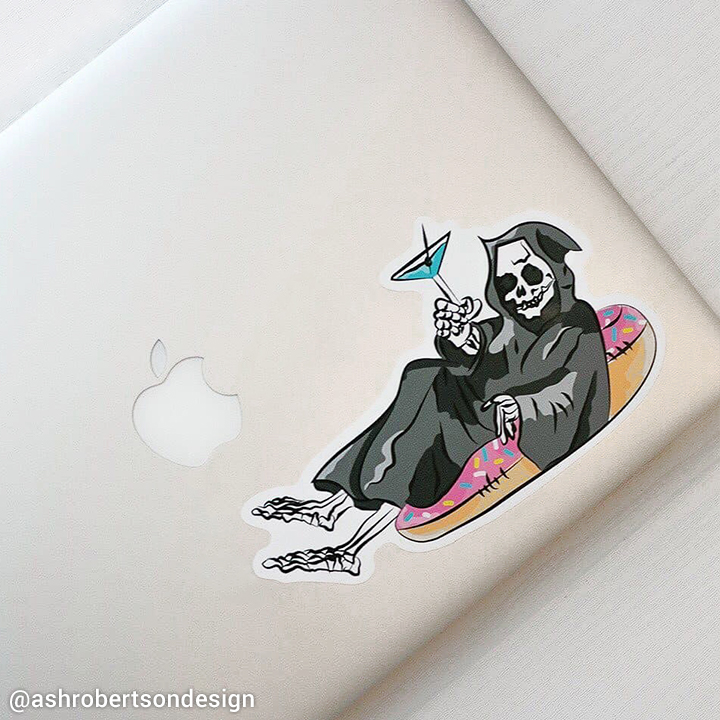 Custom Macbook stickers and decals can be printed in any shape, size and quantity. Use our PageMaker to design or edit art, add some text and choose the shape or make it die-cut. Personalize or brand your Mac, add your logo or just express yourself! Stickers are printed on vinyl and are removable.
Learn More
Learn More
20 Stickers (1 Page)

40 Stickers (2 Pages)

60 Stickers (3 Pages)

80 Stickers (4 Pages)

100 Stickers (5 Pages)

160 Stickers (8 Pages)

200 Stickers (10 Pages)

500 Stickers (25 Pages)

1000 Stickers (50 Pages)
Custom Quantity
More About Macbook Stickers & Decals
Designing pages of stickers for your Apple laptop with StickerYou's PageMaker is so easy anyone can do it! All you need to do is choose a piece of art from our art bank and customize it online, add text or change colors. Don't like the images that we have? Upload your own image and choose the size. If you're creating skins for your Mac, make sure to enter the proper size, as Macbook Pro is slightly thicker than Macbook Air. Have multiple designs you want to create stickers from? No problem, you can place multiple designs on one page and print several different images on one sheet for just $9.99! Upload your photos into PageMaker and print them as stickers. If you decide you want to put your vacation pictures or a photo of your dog on the back of your laptop - we can help! Our stickers are printed on vinyl and are bubble free, super easy to apply and remove. Removing them from your Mac does not leave residue, so you can update your vacation pictures on the back of the lid as many times as you want!
Macbook Stickers & Decals Vs. Transfer Stickers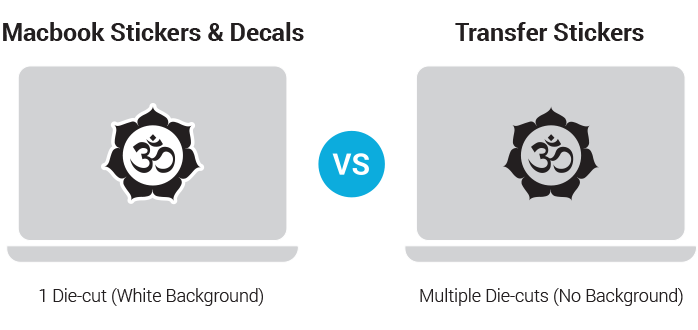 If your design easily fits in one standard or contour shape, then Macbook Stickers & Decals are a great choice for you! However, if you are looking for a more intricate design comprised of multiple pieces, we recommend placing a custom order for Transfer Stickers. Transfer Stickers are pre-masked for easy application, allowing you to adhere the transfer easily, evenly and bubble free. When it's time for a new design you can easily remove your Transfer Sticker without leaving behind any adhesive. Fill out the form below to order Transfer Stickers.
Product Features
Writable with Permanent Marker
100% Satisfaction Guaranteed
No Minimums
Removable Without Residue
Waterproof
Microwave Safe
Dishwasher Safe
Any Size, Any Shape
---
Reviews (4060)

Alexander H.
Verified Buyer
6/16/2020
Excellent quality
Received my vinyl stickers and couldn't be happier with the quality!

6/3/2020
Dependable, affordable, and always high
Dependable, affordable, and always high quality. What more could you ask for?

5/26/2020
These are great.
These are great.

5/18/2020
The colors are true to
The colors are true to my logo design I uploaded and the size was just right. I also really like how easy it was to customize to the exact size I needed.

5/8/2020
Great Stickers, Buggy editing program
The custom stickers I ordered turned out fantastic! Great quality and the colors are correct. The only thing that's quite frustrating is the program used to create my own custom sticker sheet. It's slow going if you want to rotate stickers in order to fit more on the sheet and use up the space given. Several times stickers that had the die cut lost their shape when I rotated and I had to mess with the sizing in order for the die cut to appear properly. Other than that, quality is great, turn around is good! I will order again but maybe not the die cut stickers because of the aforementioned issue. I'll keep my stickers simple circles or rectangles.