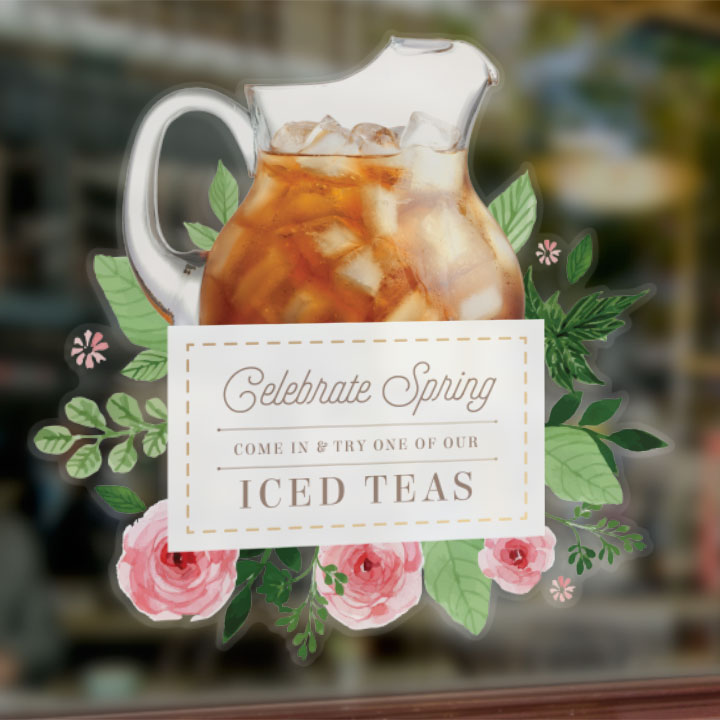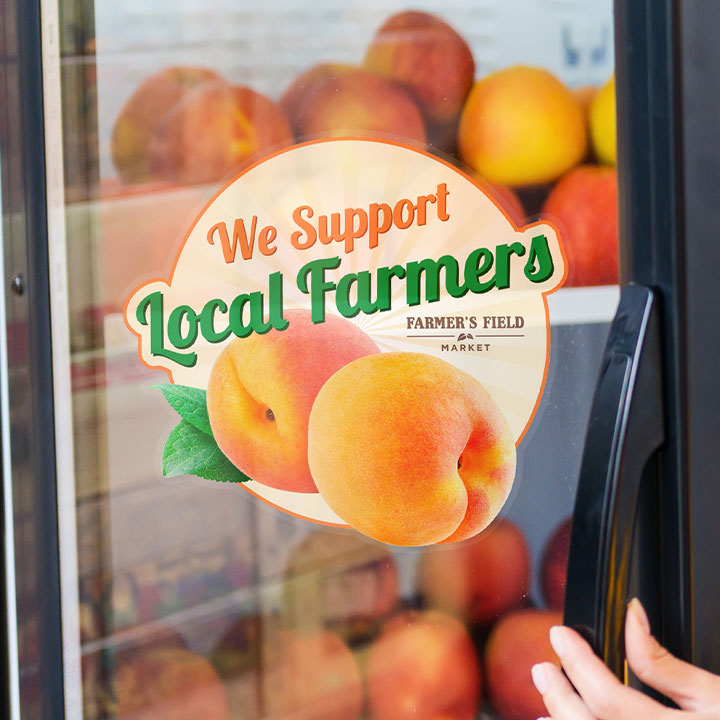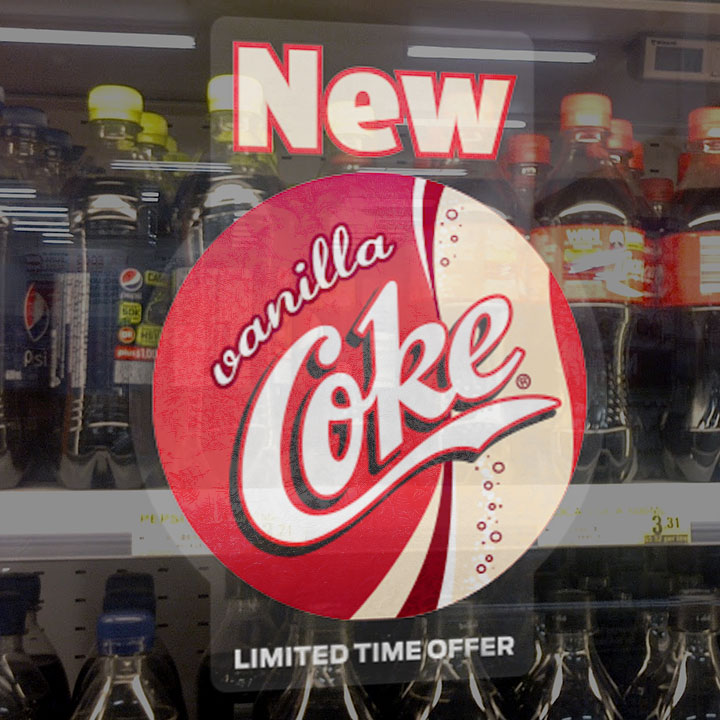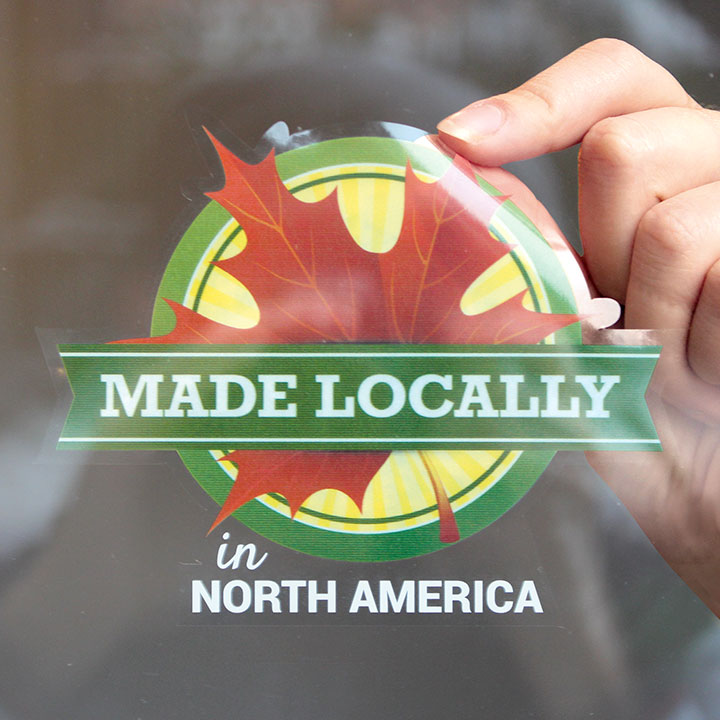 Window Clings are made with a durable material that uses static electricity to stay in place. Perfect for store front windows, car windows, mirrors and more!
Order in clear or white static clings, from 0.75" to 24" and every size and shape in between!
For sizes above 24" Get a Quote.
Learn More
More About Window Clings
Window clings are perfect for branding and promotional use. StickerYou's window clings are printed in full color, and are custom die-cut to any shape that you need. Using the power of static electricity to adhere to your surface instead of adhesive, our custom window clings can be easily removed without residue, and re-used again and again! This makes them an affordable signage tool that will look great on all of your windows, glass doors, mirrors, vehicles and more. Our window cling decals are durable and will stick strong to your surface, as they're also weather and sun resistant. For a flexible, adhesive-free solution, StickerYou's window clings are a great choice.
There's no limit in size, shape and quantity - so why not create non-adhesive window decals for all of your branding and promotional needs? Make customizable window clings for your vehicle windows as an affordable way of advertising. You can easily remove and reapply your window cling to switch from having a business to personal vehicle. Clings for windows are great as storefront signage for seasonal and annual sales, as you can remove and re-use them again each year! You can also promote events and deals by applying custom clings to mirrors at salons and spas. Give window cling window decals away to members of your club, community, or school as fundraiser materials or to show your support for a cause. The customization and messaging possibilities of window clings are endless, so make your brand or what matters to you stick!


Frequently Asked Questions:
Q: How many custom decals can I order?
A: As little or as many as you'd like - we have no minimums on our products! This gives you the flexibility to order one, or one thousand window clings! Not only this, but you can make each of your decals unique if you'd like. Feel free to experiment with different sizes, shapes, and designs. As long as you're ordering the same product, you'll still receive a bulk discount based on the total quantity you order! For example, if you're making window clings for various storefronts, you have the option to make each one unique and personalized for each of your business locations. When you upload your artwork to our Sticker Maker, you'll see a wide variety of tools and art assets that you can use to make each one of your masterpieces personal.

Q: Can my custom window clings have a clear backing?
A: Yes they can! Our standard window clings are printed on clear vinyl, and have a clear background. This makes them perfect for applications on windows, as they don't obstruct light or viewing when looking through them. You can create custom window clings for your business logo, hours of operation, upcoming sales and promos, and so much more! If you'd like a solid background, we can also make clings printed on white vinyl. Alternatively, if you'd like something completely custom (ie. specialty die-cutting or material), you can send your artwork to [email protected]. We have a dedicated sales team that will determine the best product for your use case, and can get you a free quote and digital proof of your designs!


Q: How can I make my own window clings on your website?
A: You can head over to our Sticker Maker, where you'll be asked some questions to determine which product is best for your use case. After this, simply upload your artwork, or create your own custom design using our editing tools and image bank. Once you select your size, you'll see a price breakdown based on different quantities. When your order is placed, we'll print and ship it directly to you!

Q: How do I know which side my window clings will adhere on?
A: When you're designing your custom window clings, you'll have the option of having your clings printed either front or back adhesive. If you're applying your clings on the outside of a window facing out, you'll want back-adhesive (this means the image area will face out, and the static will be on the back of the cling). If you're applying your clings on the inside of a window to face out, you'll want front-adhesive (so the image area and the adhesive are on the front of the decal, making them visible from the outside of the window). Alongside this, there's no need to flip your artwork in fear it will print backwards, our production team looks over every order, and will ensure we flip anything necessary before printing!

Q: I just got my custom window clings, how should I use them?
A: The great thing about our window clings is the fact that they can be used in a huge variety of ways. Clings are great for applying to glass surfaces like windows and mirrors, as they can be used time and time again. If you'd like to switch up your branding or visuals on a seasonal or frequent basis, you can simply peel your window cling off, and re-apply it once you're ready to use it! You're in total control in terms of how to use your custom window clings, don't be afraid to get creative!

Q: I think I may have made a mistake with my order, how can I contact you?
A: We're here to help! You can either live chat us through out website during business hours, or you can reach out to our team at [email protected]. We will strive to accomodate your changes and ensure you receive a product you love. If your order has already arrived and you're not satisfied, please reach out to us so we can fix it!
Product Features
Writable with Permanent Marker
100% Satisfaction Guaranteed
No Minimums
Removable Without Residue
Waterproof
Microwave Safe
Dishwasher Safe
Any Size, Any Shape
---
Reviews (4189)

Delaney B.
Verified Buyer
8/5/2020
My order was received a
My order was received a few days late, but it was worth the wait! They look amazing, and I can't wait to give them to my group!

Chelsea D.
Verified Buyer
8/5/2020
Affordable and exactly what I
Affordable and exactly what I had in mind! Great service

8/5/2020
Love my stickers!!!!
Such a great website! Stickers come fast and they're perfect!!

Letravian K.
Verified Buyer
8/5/2020
Gets the job done! They
Gets the job done! They worked perfect for my lemonade bottles!

8/5/2020