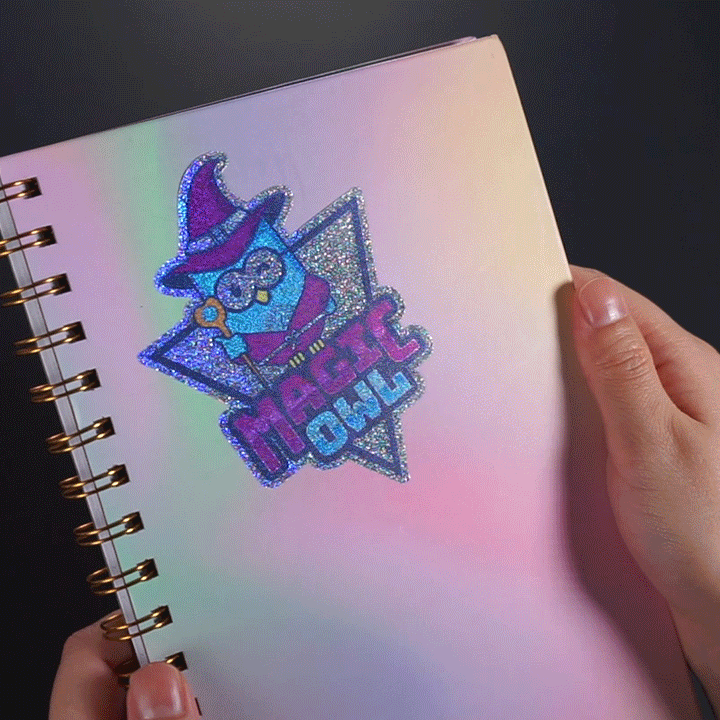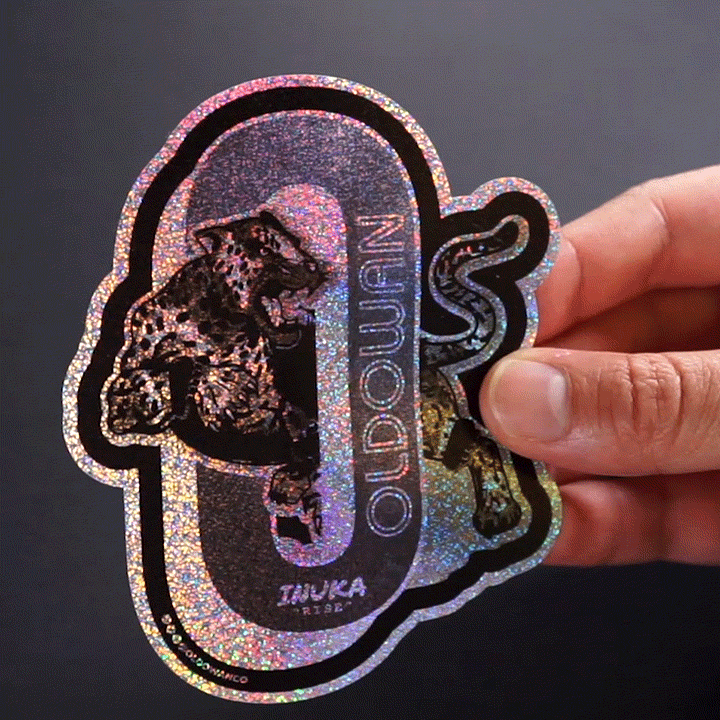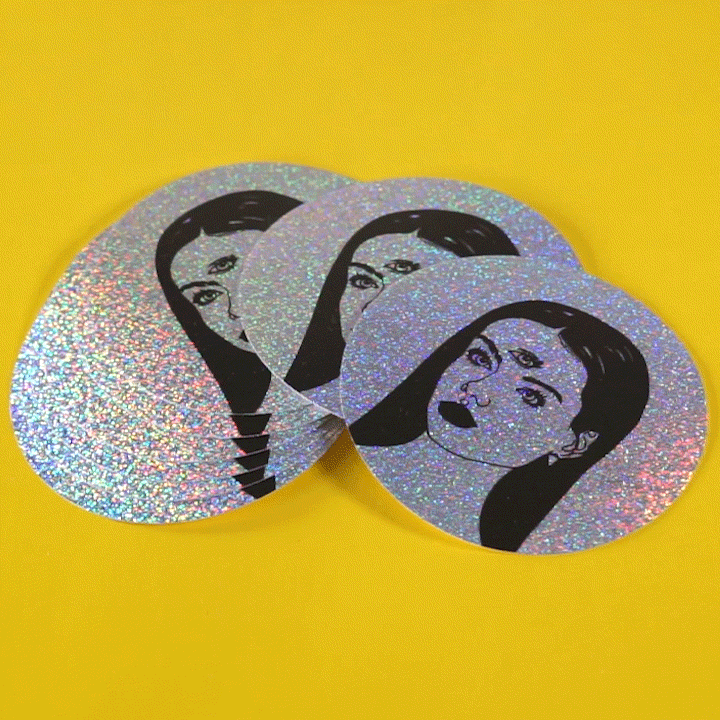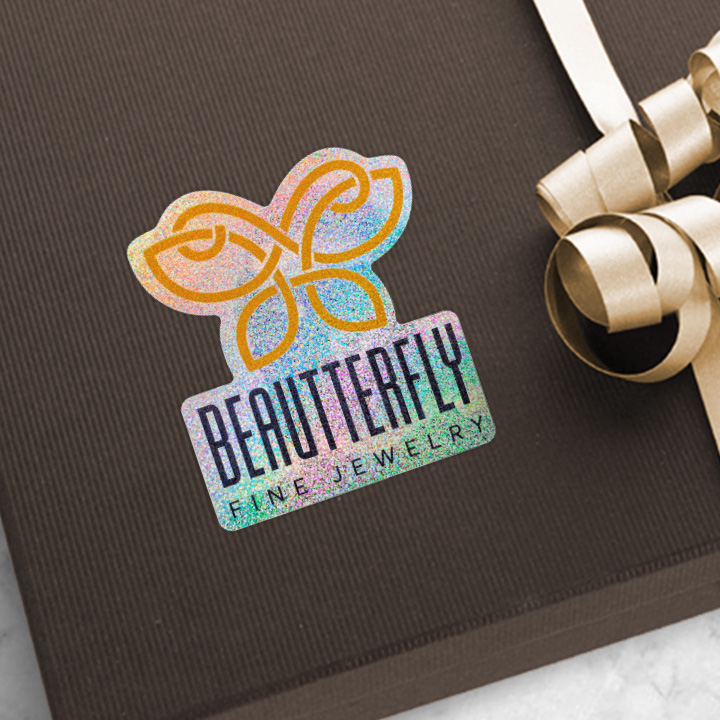 Don't hide! You were meant to sparkle! And what better way to shine than by creating your own, unique custom glitter stickers?!
Learn More
Learn More
25 Stickers

50 Stickers

100 Stickers

200 Stickers

300 Stickers

500 Stickers

1000 Stickers

2000 Stickers
Custom Quantity
More About Glitter Stickers
Add some sparkle into your life with our custom Glitter Stickers! These stickers are made from a high quality metalized matte vinyl. They have a permanent adhesive and will be weather resistant from 3-5 years. Get more shine for your bucks with this show-stopping, light-refracting material. Turn heads everywhere and give your brand that special, glittery boost! Give your special event, wedding, even your company logo that extra sparkle to stand out in the crowd, just like you!
Head over to our Sticker Maker where you can get started with your custom creations - you can place an order for as little or as many stickers as you'd like! If you're looking to order more than available online, you can reach out to our team at [email protected], we'd be happy to help you set up an order.
Frequently Asked Questions:
Q: How do I prepare my files when printing glitter die-cut stickers?
A: When preparing your artwork files for printing a glitter die-cut sticker, the most important consideration is ensuring that your artwork has transparent areas. Transparent areas will show as transparent when the artwork is printed. You also have to ensure that you save your artwork in a file format which supports transparencies such as a PNG. JPGs and GIFs, for example, do not support transparencies.
Q: How can I ensure that my artwork has transparent areas?
A: It is best to preview your artwork in a program which can visually show you transparent areas. Some programs will show backgrounds as checkerboards, thus any area where you see a checker board is transparent.
Q: These stickers are permanent, will they damage a surface if I try to remove them?
A:Depending on the surface they are applied to, it's possible that the surface may be damaged. Most surfaces that have been painted may be damaged when trying to remove a permanent die-cut sticker For example, surfaces such as laminates and painted walls. It may be possible to remove permanent stickers from lacquered / bake-dried surfaces such as car paint, however we do not guarantee that the surface will not be damaged.
Q: Are these glitter die-cut stickers water, dishwasher and freezer safe?
A:These stickers are certainly freezer safe and water repellant. They will also withstand dishwasher use die to their permanent adhesive. They are not recommended for use on fabrics and as such should not be put through a washer/dryer.
Q: Are these stickers microwave safe?
A: No, unfortunately glitter stickers are not microwave safe, due to the radiation and heat that is present. For your safety, we recommend you do not ever put glitter stickers in the microwave
Product Features
100% Satisfaction Guaranteed
Durable, Strong Adhesive
Waterproof
Dishwasher Safe
Any Size, Any Shape
No Set-Up Fees
Oil Resistant
---
Reviews (6)

8/4/2020
Sparkle sticker
We are very happy with our sparkle stickers! They are good quality and very beautiful.

7/27/2020
Steve W
Good product fast on getting your order to you and it's good work

7/19/2020
First time using
Yes.. this was the best brand for my first time use. The website software really did its thing. Meaning the process to get customized due cut stickers for my logo was easy. I bought 150 more stickers right after I got my first order of 14 test stickers. Now a fan. Thank you for targeting me on IG. You now have a life long customer lol :purple_heart:

kathryne m.
Verified Buyer
7/15/2020
Just perfect
I made my friend into a sticker and all my friends looove it. They came out beautiful and I will be making more. I'm so happy with my purchase!

7/14/2020
Great looking sticker
Got some custom stickers made for Canada Day and customers really enjoyed them. Very bright, colourful and stick well. Quick turn around as well from placing the order to receiving the goods