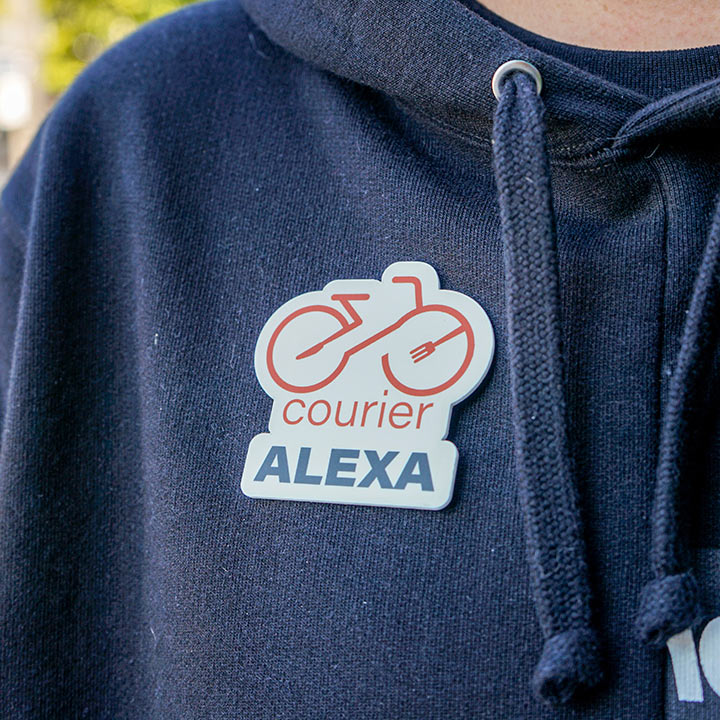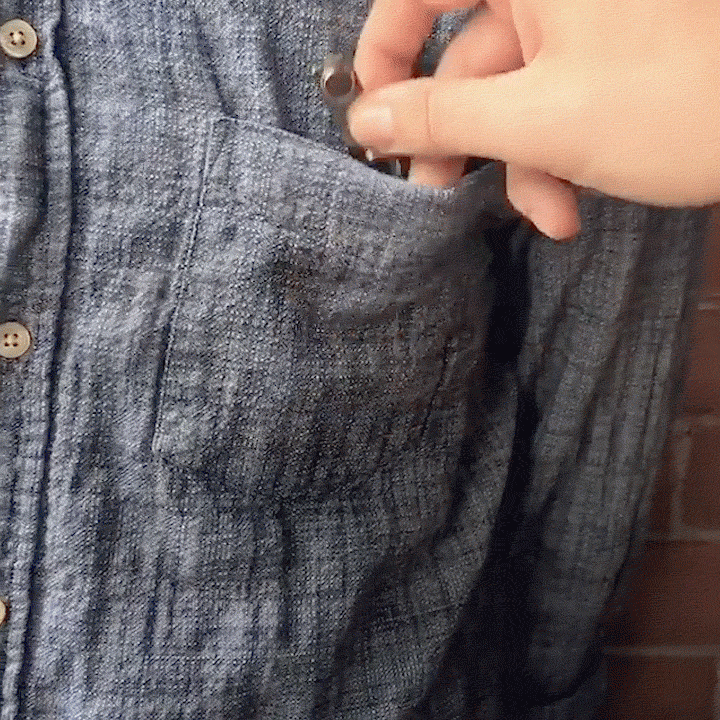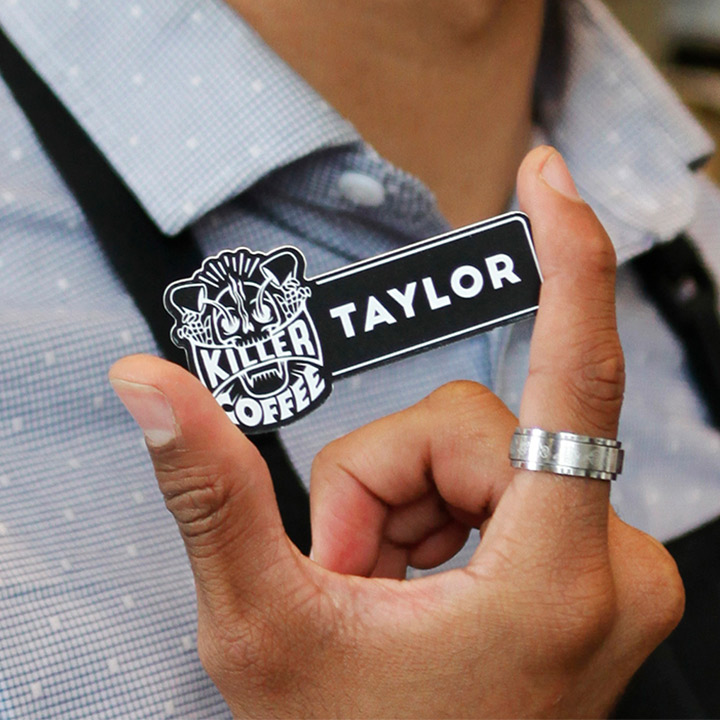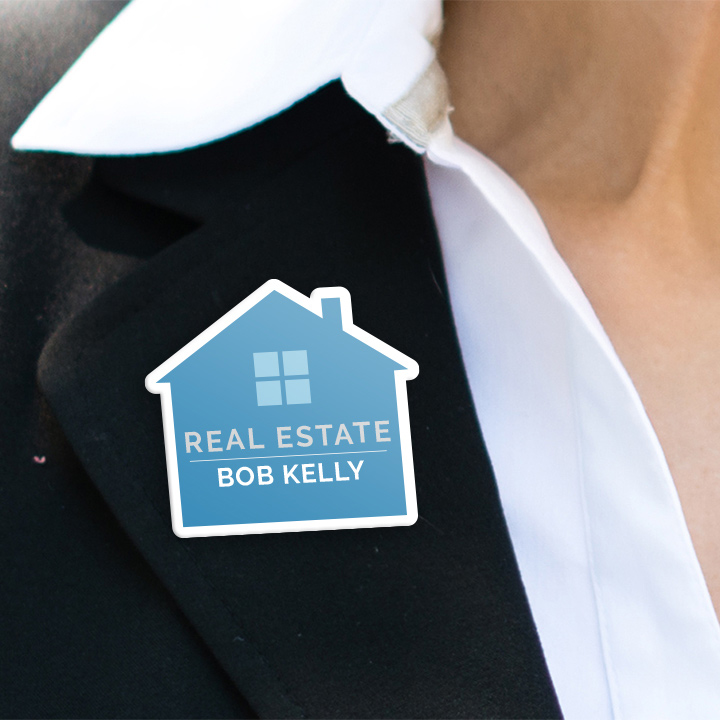 Create custom badges to make your logo and employees shine! Customize your die-cut badge with your favorite icon or brand and have your designs cut to any shape. Order in as little as 1 badge while leaving your clothing in perfect condition because of its magnetic attachments.
Learn More
Learn More
1 Badge

3 Badges

5 Badges

10 Badges

25 Badges

50 Badges

100 Badges

250 Badges
Custom Quantity
More About Badges
Make name badges by uploading your logo and employee names, or showcase your logo for your brand at tradeshows, panel discussions and other networking events! Our badges are made out of 60 thou styrene, and similarly to acrylic badges, are incredibly durable for all purposes. Our inks are scratch-resistant, meaning you can show off these badges for long periods of time without any wear and tear. Having a magnetic attachment is a terrific alternative to pinned badges, as you can express your brand, your ideas, your designs without leaving a hole in your clothing. The magnetic strength holds even if you're wearing your bulkiest sweater, or your thickest wool coat. Choosing our die-cut badges is also beneficial when compared to badges with lanyards, as it reduces the amount of accessories you need to purchase along with the badge, and the magnetic back makes it extremely easy to put on and take off. For more information and video of the magnetic badge backing, check out our blog "Introducing: Custom Badges at StickerYou!".

Not only can you customize your badge with your favorite icon or brand, you can further personalize it by adding on your name! In some businesses and events, name tags are crucial. Make your brand, design, and name stand out with our custom writable badges. You can choose to have your name printed on or even write it on yourself with permanent marker. You're unique, and so is your handwriting, so why not personalize your custom badge by writing on your own name or personal message? Embrace one of the many things that makes you one-of-a-kind and make what matters stick with StickerYou's custom badges!

Don't worry about lamination! Just like the acrylic pins you see elsewhere, our Styrene badges are waterproof, so you don't have to think twice about wearing your branded badge for outdoor events like concerts, farmer's markets, outdoor patios and more!

Not looking for badges that serve a business purpose? Our custom die-cut badges can be ordered in quantities as little as one! If you have a favorite logo, photo, or statement that you want a custom lapel pin for, our badges are a great alternative. With faster turnaround times compared to enamel badges or enamel pins, your designs will show up to your doorstep in no time, and with the advantage of full-color print! Use these as jacket badges, or even on your favorite bag or accessory to personalize your wardrobe and make your personality shine!

Need more than 250 badges? Fill out this Custom Quote Form, and one of our sales representatives will be in contact with you to help you place an order.
Frequently Asked Questions:
Q: How many badges can I order?
A: At StickerYou, you can order custom name badges in quantities as little as 1 or as many as your heart desires! Simply click on the Make Badges Now button above, then upload your own artwork or browse through thousands of designs in our Art Gallery. For orders with more than 250 badges, just fill out this form and one of our sales representatives will be in contact to help you place your order.
Q: Where can my custom badges be applied?
A: Since our custom badges use a magnetic attachment instead of a pin, you can show off your brand or personal expression without the fear of ruining your clothes. Whether you choose to wear your bulkiest sweater or thickest wool coat, you can be sure that your badge will stay on strong due to its powerful magnets! You can also use our custom magnetic badges as jacket badges or add them on other accessories to personalize your outfits. Another great way to show off your brand or personal expression on clothes or accessories include our Custom Patches which can be ironed or sewn onto fabric garments and accessories. If you still need some assistance in terms of which wearable product is right for you, check out our recent blog post "People Branding: The Power of Wearables"!
Q: What material are custom badges made out of?
A: Made out of 60-thou styrene, our custom magnetic name tags are durable and will stay on strong for all of your business or personal events! We also use high quality inks that are scratch-resistant, so you can show off your brand, ideas, and designs for years to come. Our name badges are great, as they use a powerful magnet to attach to your clothes instead of a traditional pin that leave behind holes. We've removed the worry factor of ruining your clothes so that you can focus on making your brand or what matters to you stick!
Q: What type of finish is available for custom badges?
A: Custom badges are available in a matte finish which gives them a beautiful, glare-free look. Matte badges offer a more natural appeal while still looking high-quality, making them perfect for any of your business or personal needs! Our custom name badges are printed on a thick styrene material, making them extremely durable, sturdy, and presentable.
Q: Will the color of the badge match the color of my design?
A: We print out your badges in full color using a CMYK process which lets you accurately achieve your desired brand color. With our custom die-cut badges, there's no limit in size, shape, quantity or colors so you can be as creative and colorful as you want! When designing the artwork you'd like to print, it's always a good idea to design in CMYK vs. RGB, so you have an accurate idea of how your custom name tags will print.
Q: Can my badge be die-cut to match the shape of my logo or design?
A: Our proprietary die-cutting technology allows your badge to be contour die-cut to the shape of your logo or design! Choose round, rectangular, square or create any shape for your custom die-cut badges to match your brand or design. You can get started by uploading the artwork you'd like to print to our Sticker Maker!
Q: Can I write on my custom badge?

A: Yes, you can further customize your badge and make it truly one-of-a-kind by writing on your own name! Choose to have your name printed on within your design or write it on yourself with permanent marker. Since name badges are crucial in some business and networking events, our custom writable badges are a great option to make your brand, design, and name stand out.
Q: I need help creating my badge, do you offer design services?

A: We do! Contact
[email protected]
and one of our sales team members will get back to you and help you with your order.
Q: What's the smallest size I can make my badge?

A: The smallest is 1.5"x1" as there needs to be enough room to be able to attach the magnets to make them badges.
Q: What's the largest size badge I can order?

A: With our editor the largest size you can order is 4"x4". If you have a larger size in mind, contact
[email protected]
and our team can look into it with you.
Q: I'm making badges for my employees with their names on them and our company logo. How do I create my badges so each one has a different name?

A: Once you've created the first badge and its in your cart, click on the "duplicate" icon. From there, it will bring you back to the editor with your artwork ready to go and you can change the names and keep adding to your cart until you have all the badges you need.
Q: How long will my custom badge last?

A: Along with being waterproof, weather resistant, and scratch-resistant, our custom name badges will last five or more years! So, you can be sure that your badges will stay on strong and last long. Thanks to the thick styrene material that our badges are printed on, our custom name tags will stand up to the harshest of climates and situations.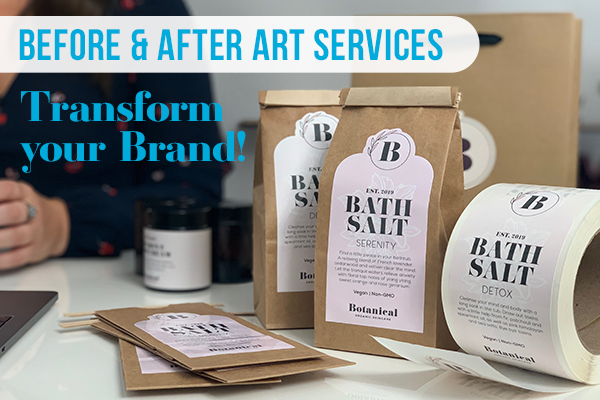 Take a peek inside the world of art services and transforming your brand!
---
Reviews (109)

11/5/2021
Product is amazing. Really high quality and a great price. Will repurchase for sure.

6/21/2021
Awesome products, awesome company! 100% recommendable!

6/14/2021
We love our new name badges! The online design tool was super easy to use and the badges look great. They arrived quick too!

5/24/2021

5/13/2021
They delivered the goods and the product quality was great.