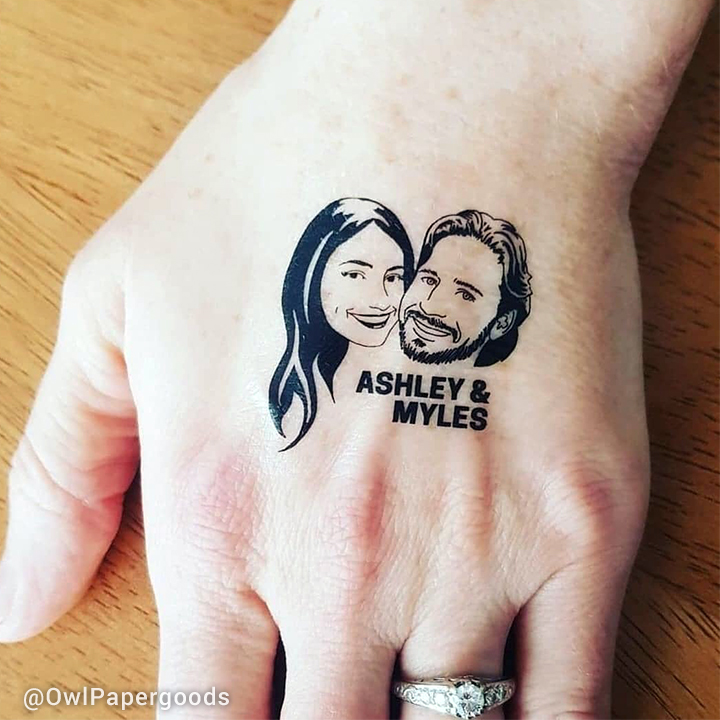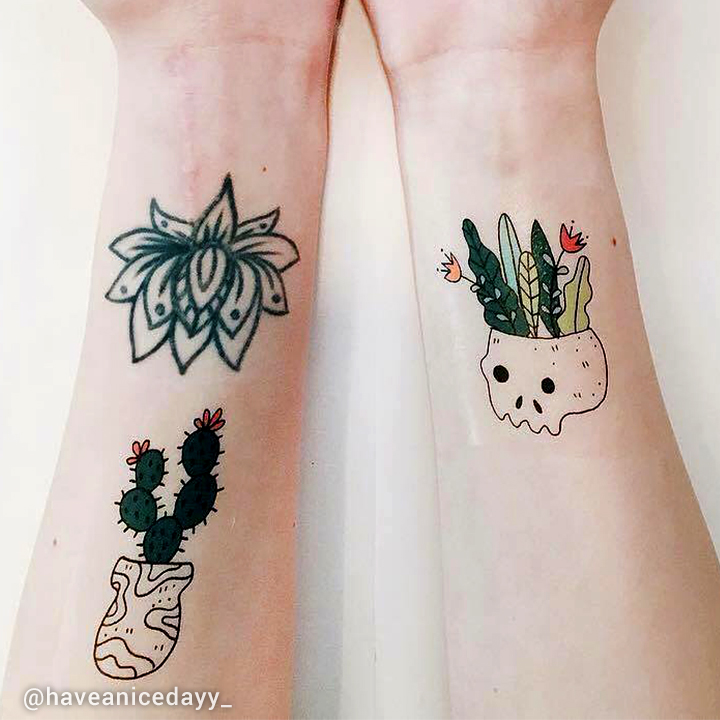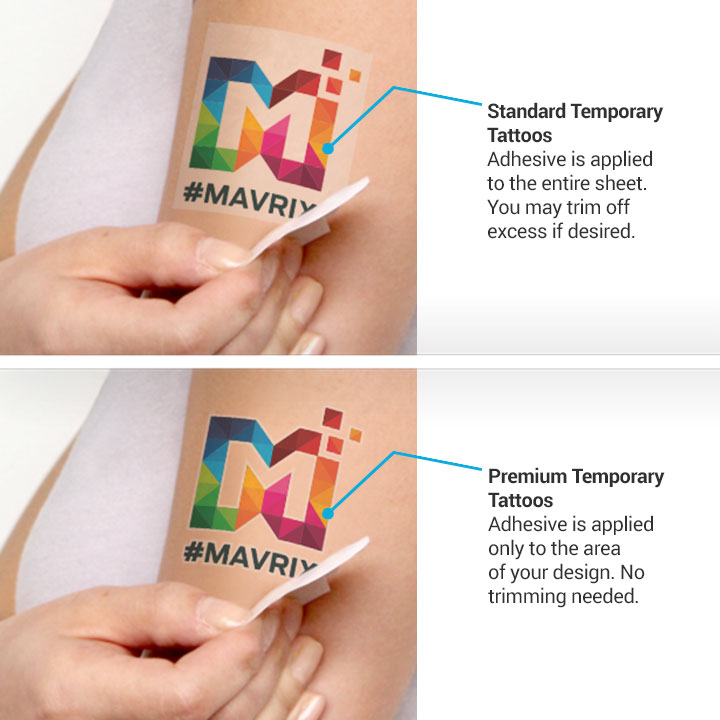 Create Custom Temporary Tattoos for business and DIY projects. Choose from our art or upload your own. Instructions are printed on the back of tattoos.
Tattoos are not image die-cut and are printed on clear film, so you can easily cut and apply your tattoo.
Learn More
Learn More
6 Tattoos (1 Page)

12 Tattoos (2 Pages)

18 Tattoos (3 Pages)

24 Tattoos (4 Pages)

30 Tattoos (5 Pages)

48 Tattoos (8 Pages)

60 Tattoos (10 Pages)

150 Tattoos (25 Pages)

300 Tattoos (50 Pages)
Custom Quantity
More About Custom Temporary Tattoos
Missing instructions? Get your temporary tattoo instructions here!
Custom temporary tattoos are great for any DIY project or event! Create your temporary tattoos by uploading your own image to our Sticker Maker, or browse through our art gallery of images to create something new. At StickerYou, there's no limit in size, shape and quantity of your custom temporary tattoo order - you have the ultimate freedom and creative control when it comes to celebrating all of your special events. Are you a bridesmaid planning a bachelorette party? Make fun temporary tattoos for the whole bridal party and the bride herself with the theme of the night. You could even create some photo or quote quote tattoos! Going to see a concert or a game? Create custom temporary tattoos to show support for your favorite artists and teams by using images of their faces, album covers, logos, mascots and more! Temporary tattoos are also great for birthday parties of all ages. If you're planning a kids' birthday party, make some fun party favors that kids can stick on for the party or bring home as party favors. You'll be amazed by all of the unique ways you can use custom temporary tattoos - check out our blog post for more inspo!
Our custom temporary tattoos are safe on the skin and can be easily removed with baby oil. Your tattoos are printed on a page, allowing you easily cut them out with scissors before applying. To order your own custom temporary tattoos, head over to our Sticker Maker, choose whether you want to create a page with a single design or with multiple designs, then upload your image or browse through our gallery of pre-loaded designs. You can also choose to have them printed as individually cut handouts instead of on pages. Temporary tattoos are easy to make, easy to apply, and super fun for any music or sporting event, parties and more. Make what matters stick with StickerYou's fun custom temporary tattoos!
Frequently Asked Questions:
Q: How can I use custom temporary tattoos?
A: With no limit in size, shape and quantity, you can create personalized temporary tattoos for any of your DIY projects or events! StickerYou allows you to customize your temporary tattoos using any design, color, message, picture and more, so you can make what matters to you stick. Create your own unique temporary tattoos for music festivals, charity events, theme park trips, family reunions, bachelorette parties, sporting events, company events and more. Our custom temporary tattoos are a great way to show off your love, spirit, and support!
Q: How do I apply my temporary tattoos?
A: To apply your temporary tattoos, first you must make sure your hands are dry. Start by cutting out your tattoo as close to the graphic as possible. Then remove the plastic layer and place the tattoo face-down with the image side touching your skin. Using a wet cloth or sponge, cover the entire tattoo, and hold it on top of the tat for 10-15 seconds - make sure the entire tattoo is wet. Finally, slide off the backing paper and let your customized tattoo air dry!
Q: How long will my temporary tattoo last?
A: Our custom temporary tattoos are durable and will last two to five or more days, depending on how you take care of them. They're also waterproof and weather resistant, so you can celebrate all of your special events without fear of them coming off!
Q: How do I remove my custom temporary tattoo?
A: There are two ways you can remove your temporary tattoo. One way is when your tattoo is dry, peel it off your skin from the edge of the tattoo. Another option is to soak a cloth with baby oil and use it to rub it off your skin.
Q: Will my temporary tattoo show up on my skin properly?
A: Yes, our custom temporary tattoos offer high visibility in order to show off your unique designs! To further ensure that your temporary tattoos stand out, we recommend using vibrant colors and designs. Rest assured, we print with very high quality inks that print very dense, and will result in a bold finish on any skin tone.
Q: Can I create specialty temporary tattoos?
A: Yes, you can create specialty temporary tattoos with special effects including metallic, glitter, glow in the dark and more! Speciality custom tattoos require a minimum order of 1000. To order specialized temporary tattoos, simply shoot our sales team an e-mail at [email protected] They would be happy to get you a free quote and digital proof of your artwork!
Product Features
100% Satisfaction Guaranteed
Without Scrubbing, Lasts 2-3 Days
Easy to Apply with Water
No White Ink (Tattoos are Transparent)
No Lead
No Mercury
Removable with Baby Oil
Related Videos & Tutorials
---
Reviews (793)

8/5/2020
Love the Temporary Tatts, Popular item
Temp Tatts were a huge hit at the last few markets where I featured my artwork. 3" x 3" seem like a good size. Print is neat and clean. The glue however kind of sticks around sharp edges so circular designs would be better, from my experience anyways. Will be happy to purchase more though

8/4/2020
Temporary Tattoos
I printed two test sheets of temporary tattoos for my book promo and tested them out. Perfect. They look great and stayed on for several days. I will be reordering.

8/3/2020

7/28/2020
Bachelorette tattoos!
I got tattoos made of my best friends face drinking a moscow mule and I just about won as best made of honor ever! Cant wait to have the whole wedding party decked out in her face, THANK YOU STICKER YOU!!!

7/28/2020
Looking good. Design came out
Looking good. Design came out just as i had asked. Well packaged and came on time! I cant wait to use them for my party.