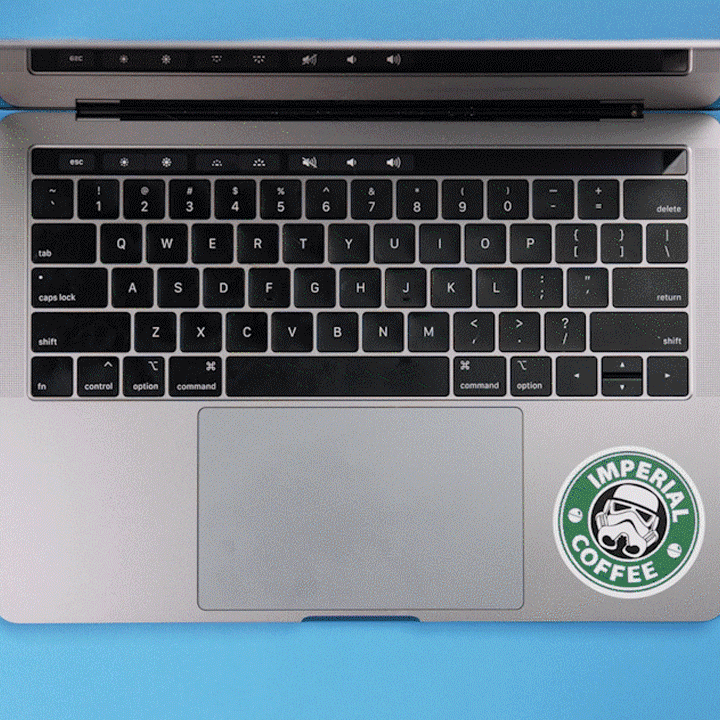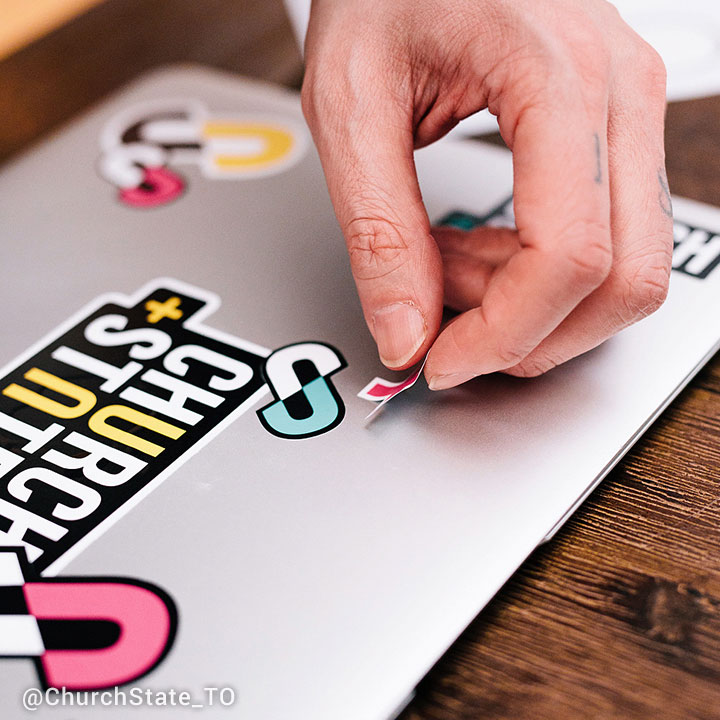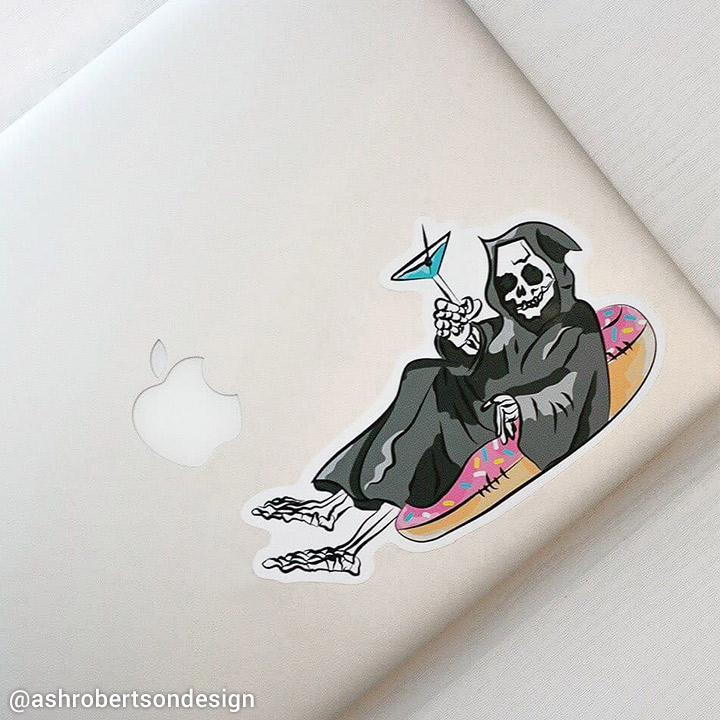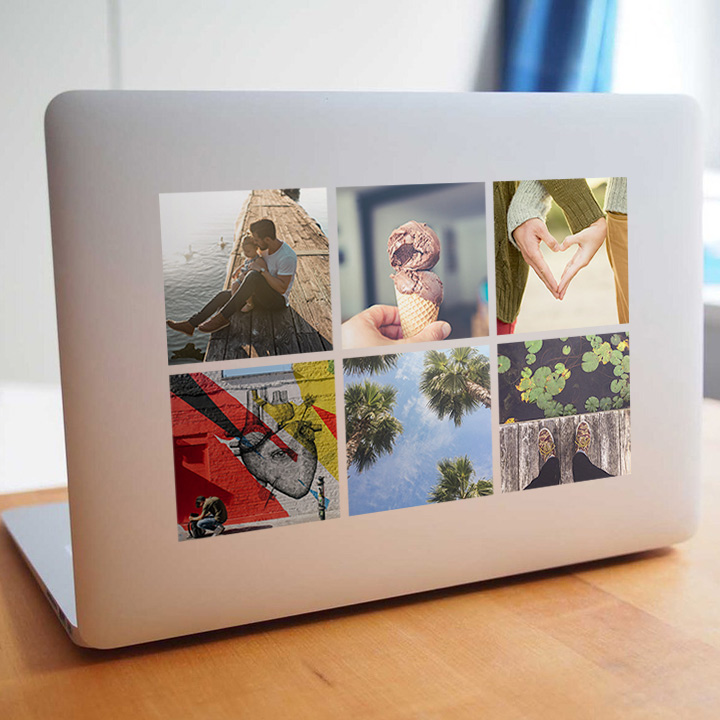 Make laptop stickers at StickerYou, or upload your logo to promote your company. Make your own custom stickers for any laptop or computer in any size, any shape and any quantity you need!
Learn More
Learn More
20 Stickers (1 Page)

40 Stickers (2 Pages)

60 Stickers (3 Pages)

80 Stickers (4 Pages)

100 Stickers (5 Pages)

160 Stickers (8 Pages)

200 Stickers (10 Pages)

500 Stickers (25 Pages)

1000 Stickers (50 Pages)
Custom Quantity
More About Laptop Stickers
Turn your favorite photos, characters, designs, or your company logo, all into laptop stickers! You can either cover your laptop with a bunch of different stickers, or select your favorite and switch them up when you're ready for a new design. For Mac users, get creative with the apple logo on the back and place your stickers around it, incorporate it into your artwork. Perhaps your favorite characters is trying to reach for the apple, or jumping over it? While you can make your stickers to cover just a portion of your laptop, you can make it to cover the whole back of it, too. Just measure the size the area you want to cover, and make your sticker accordingly! Not only can you make the stickers on the cover of your laptop, you can also make them to stick on the keyboard area so you can admire your stickers while you work.
Make your custom laptop stickers using our high quality, glossy vinyl material in either white or clear vinyl. Our stickers will stick strong and go on smoothly with bubble free material. When it comes time to change your stickers, they will come off clean and leave no messy residue or gunk behind to harm your computer. To help keep your laptop safe, while making your sticker, include your name, email, or phone number, so people can contact you if found!
Laptop Stickers Vs. Transfer Stickers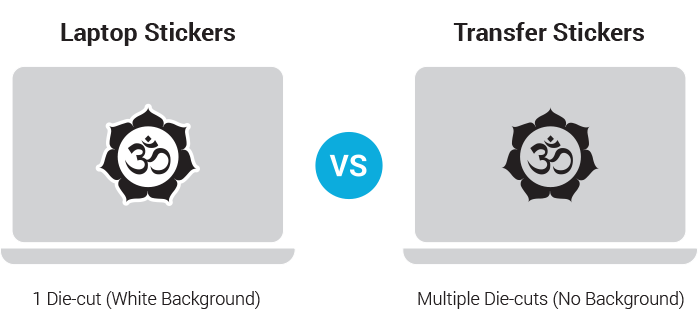 If your design easily fits in one standard or contour shape, then laptop stickers are a great choice for you! However, if you are looking for a more intricate design comprised of multiple pieces, we recommend placing a custom order for transfer stickers. Transfer stickers are pre-masked for easy application, allowing you to adhere the transfer easily, evenly and bubble free. When it's time for a new design you can easily remove your transfer sticker without leaving behind any adhesive. Fill out the form below to order some transfer stickers of your own!

Frequently Asked Questions:
Q: I have a pretty nice computer, are you sure a laptop sticker isn't going to ruin it?
A: Not at all! Our laptop stickers are printed on thick vinyl material, so peeling off and reapplying your laptop decal is super easy and leaves absolutely no sticky residue. All you have to worry about is having the coolest looking customized laptop around.
Q: I really love stickers that involve my Macbook's Apple logo, but they look hard to make. Do you make those?
A: We sure do! Our online sticker editor has a database of stickers which include cartoon characters, brand logos, letters, and borders and banners - many of which would look great interacting with your apple logo! If you have a specific image that we don't, you can simply upload it! Remember to resize all images so they fit your specific Macbook, and measure out the physical size on your laptop prior to ordering.
Q: I don't want to pay a fortune for a laptop skin, can I make one with StickerYou?
A: We do those too! Patterned skins look great and are easily removable when made with our clear vinyl material. Alternatively you can create a laptop skin or a decal with our transfer stickers as well. As long as you have the dimensions of the back of your laptop handy, simply upload into our online editor and customize away.
Q: I thought all your laptop stickers were die-cuts, what's the difference between those and transfer stickers?
A: Our die-cut laptop stickers are cut to contour the exact shape of your image and have a white background. Our transfer stickers for laptops allow for designs with multiples parts to be made without a background. Because they're backgroundless, they're perfect for computer stickers you want to use around apple logos. They're delivered pre-masked to make applying them smooth and easy. Both types of laptop decals can be applied bubble-free and are easily removable!
Q: I want a laptop sticker to look at while I use my computer, can I get a sticker for the keyboard area of my laptop?
A: For sure! Our die-cut laptop stickers are easily removable from the keyboard area of laptops as well! Just make sure you order your laptop decal to fit in the desired space. You can also order custom laptop stickers for the area around the front of your laptop, like beside the trackpad.

Q: I want to cover the back of my laptop with a variety of stickers with different images and sizes. Is this possible or does it have to be the same image?
A: If you go directly from the blue Make Stickers Now button above, it will bring you to our editor for a page of stickers. From there, you can upload multiple images and adjust the sizing. You can fit as many as you'd like that can fit a standard 8.5"x11" page. Need help? Contact [email protected] and a member of our team will get back to you.
Q: I have a tablet for my kids but they can get kind of messy, will my laptop stickers survive spills and drops?
A: All of our laptop stickers are totally water and food proof, so anything spilled on them can be easily wiped off. Our stickers for laptops are printed on an incredibly durable vinyl material, making them incredibly difficult to rip or tear, totally drop-proof, and kid friendly!
Q: Can I write my contact info on my laptop decals?
A: We encourage it! Our laptop decals can be written on with any permanent marker. Alternatively you can add text like contact info directly on your laptop sticker to ensure no one confuses it with their own, and ensuring the safe return if lost.
Q: Will a laptop skin or a laptop decal cause my computer to overheat?
A: Stickers and decals will not cause your computer to overheat if they do not obstruct any heat vents. Our computer stickers are generally considered safe for any on-computer application and can easily handle temperatures generated on the surface of the computer. We would recommend however that the computer stickers not be placed near any heat vents, on the underside of a laptop. or on the back of a desktop computers as temperatures there can high tepmeratures on serious gaming machines.

Q: I don't understand, what does "removable adhesive" mean?
A: Removable adhesive means your stickers aren't going to fall off your laptop or get ripped and torn when you carry your computer around. It also means that if you need to reposition or remove your custom stickers, your laptop will be residue and gunk free!

Q: Is there a minimum order requirement? I only want 1 laptop sticker.
A: There is no minimum! You can order as little as 1 laptop sticker/1 page of stickers if you want more than one design.

Q: Can I make stickers for my laptop with no material around so its just the artwork?
A: You can! These are called vinyl graphics and they can be custom made to your laptop. Contact [email protected] and a member of our team can help you place a custom order.

Q: When I'm ready to remove my stickers, I'm worried they will damage my laptop. Will this be an issue?
A: Not at all! As long as you don't use our permanent stickers to stick on your laptop, when you're ready to remove them, they will come off clean leaving no messy residue behind. So you can keep mixing them up and refreshing your style as you want!
Q: Are these stickers removable without leaving any residue behind?
A: They are! They will stick strong for as long as you want to use them, but when you're ready to remove them, they will come off clean leaving no residue behind to damage your laptop.

Q: What format can I upload my laptop stickers in?
A: Our editor accepts Jpegs, PNGs, Gifs, and now PDFs. With the PDFs, you can also include the die-cut line you're looking for for your stickers.

Q: I have a specific die-cut for my stickers in mind, is this possible to use?
A: Yes it is! If you create your cut line in a program like Illustrator and save your file as a PDF, you can upload it directly to our editor. When you upload it, you can then select to use the cut line in your file.

Q: I'm interested in creating a photo-bomb like sticker for my laptop, so it covers the full back of my laptop with many stickers/images to the correct size. How do I go about this?
A: You can either keep adding the correct amount of stickers and images you're looking for to a page of stickers in our editor and measure the size you need, or, you can contact [email protected] and a member of our team will help you with your order.

Q: I want to use photos for my laptop stickers, will they turn out okay?
A: Yes, as long as the photo resolution is good enough (a warning will pop up as you upload to the editor if it isn't), then they will work to stick on your laptop!

Q: I want a different font for my laptop sticker than what's available on your website, what do I do?
A: Contact [email protected] and we can help you with your artwork and order.

Q: What's the smallest size laptop sticker I can order?
A: In our editor, the smallest size you can order is 0.75"x0.75". If you need smaller still, contact [email protected].

Q: I want to make my laptop stickers a specific size of 4.5"x4.75. Is this possible or do you only offer standard sizes?
A: It is possible! At StickerYou, you can create your laptop stickers down to the 0.1" you're looking for.

Q: I'd like to order multiple products with the same artwork. Do I have to recreate my artwork every time to do this?
A: You do not! Once you've added one set to your cart, click on the "duplicate" icon in your cart. It will bring you back to the editor, and from there, you can add as many different products with the same artwork as you'd like!

Q: Can I make my laptop stickers on clear vinyl?
A: Absolutely! You can order clear laptop stickers by going to the Create Now button at the top of the page and selecting removable clear vinyl from the menu, or click on the link below- https://www.stickeryou.com/products/clear-stickers/491 .

Q: What type of sticker material works best for laptops?
A: We would recommend using our removable glossy or matte white vinyl stickers, or removable clear. If you click on the Make Stickers Now button above, the default material is our removable white vinyl glossy material. If you'd like to use removable matte vinyl, or removable clear vinyl, you can select it in the sticker editor, or contact [email protected] for help.


Q: I love the look of holographic stickers, can I order laptop stickers on them?
A: We wouldn't recommend it as holographic stickers are permanent, you wouldn't be able to remove them without damaging your laptop. If you have questions about a material before ordering and sticking on your laptop, contact [email protected]

Q: I want to make photo stickers all the same size to match on the back of my laptop. How can I ensure they are all exactly the same size?
A: You can either make them through this link here- https://www.stickeryou.com/products/4-photo-sticker-singles/759 and adjust the size as you need, or, if you contact [email protected] we can set you up with a custom order.

Q: Can I make keyboard stickers for my laptop?
A: Yes you can! It would be a custom order as its a special product, but if you contact [email protected] we can help you with your order.


Product Features
Writable with Permanent Marker
100% Satisfaction Guaranteed
Removable Without Residue
Reviews (7290)

9/12/2022
Would buy again if I could

9/8/2022
All good. They look great.

9/8/2022

9/8/2022
Looked perfect! Superb quality.

9/8/2022
The stickers are beautiful, high quality & I'm very pleased! The design process was confusing for me. One set of stickers came out light grey, which I didn't notice while designing them. There are lots of ways to customize your stickers which is great, but I didn't understand the significance of most of the options. Next time, I think I'll call to have someone walk me through what would work best for my project.