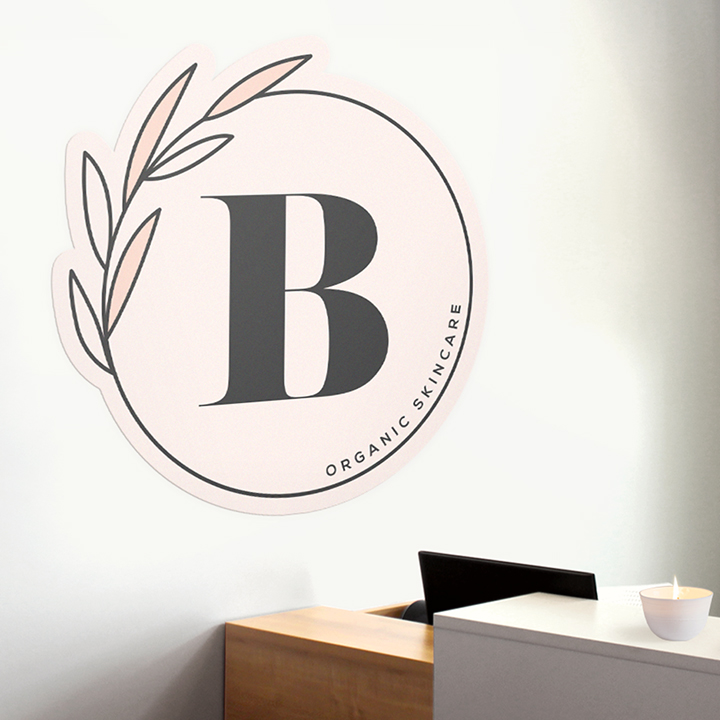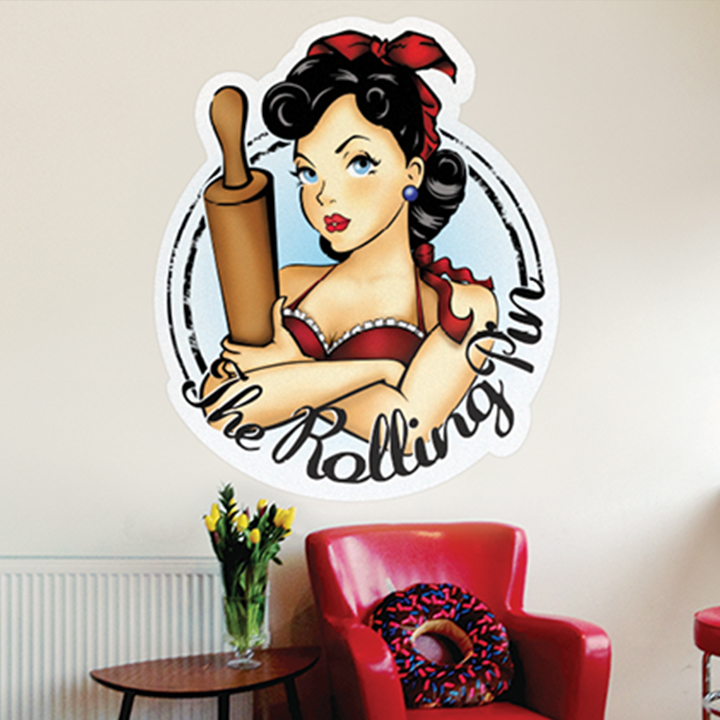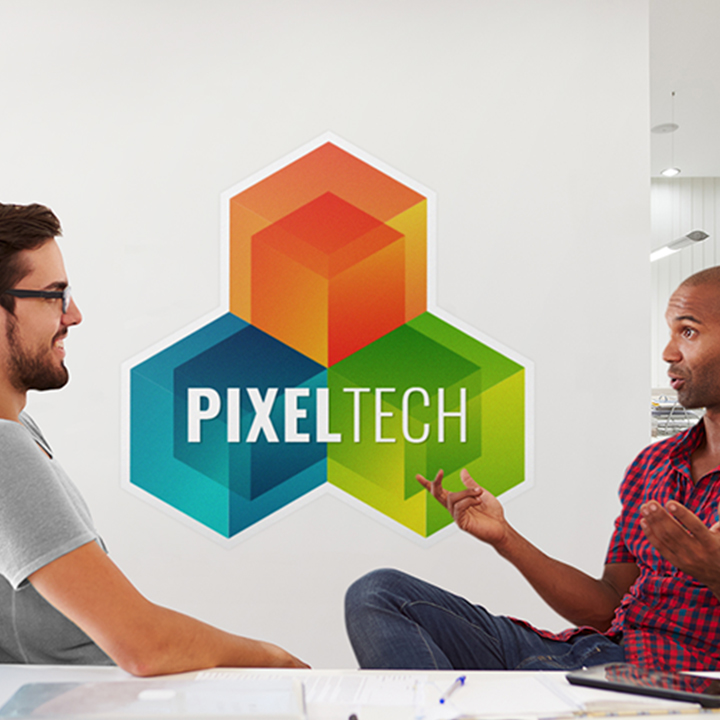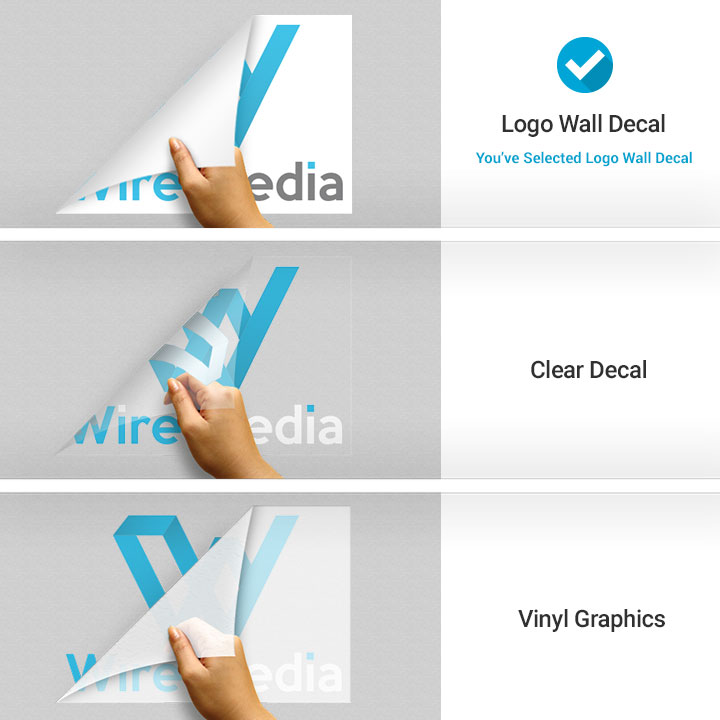 Customize your office, decorate any room, or brand your event with custom Logo Wall Decals. Works on indoor smooth wall surfaces. Our logo decals stick strong and are removable.
For sizes above 45" Get a Quote.
Want solid white static clings? Order White Static Clings

Learn More
Learn More
1 Decal

2 Decals

3 Decals

5 Decals

10 Decals

20 Decals

25 Decals

50 Decals
Custom Quantity
More About Logo Wall Decals
Missing instructions? Get your logo wall decal instructions here!
StickerYou's light-weight removable logo wall decal material is easy-to-apply and removes without leaving residue or damaging your walls. Custom logo wall decals can be custom die-cut to your design. The vinyl material stands out but the lustre composition removes visible glare. Decorate your space with Logo Wall Decals and make your message stick!

Our custom logo wall decals are the perfect solution to brand otherwise empty or lacklustre spaces. Got an empty wall in your office or storefront? Why not print a wide-format decal of your logo, upcoming sale or promotion, or mission statement! The options are truly limitless when it comes to your creative expression. To get started, head over to our StickerMaker where you can upload your existing artwork or logo, or create your own using our wide array of design tools!

Not only this, but thanks to our digital print and die-cut technology, you can order as little or as many custom logo wall decals as you'd like! At StickerYou, we have no minimums on our product offerings, meaning you can order one single wall decal if you'd like. Keep in mind, we offer bulk discounts as you order more, so it may be a good time to stock up!
Frequently Asked Questions
Q: What can I use custom wall decals for?
A: Custom wall decals are a great way to customize your office, decorate any room, or brand your business at an event. There's no limit in size, shape, colors, or quantity, so why not revamp your office, home, or event with custom wall stickers or custom logo wall decals? Our Sticker Maker makes it easy for you to upload your own logo or design, or you can browse through our extensive design collection! Custom logo wall decals can be die-cut a wide variety of shapes, or contour cut around your overall design. Add some extra imagery to your office or home with logo decals for walls to maximize your branding. Make your brand or what matters to you stick by creating custom wall decals of your company logo, motivational quote, or artwork in any color, design, message, and more!
Q: Where can my custom wall decals be applied?
A: Custom wall decals can be applied on any indoor smooth surface or wall including drywall and doors! You can customize your office, living room, bedroom, and anywhere else that your heart desires by creating your own logo wall decal or custom wall sticker! You can also create large logo stickers and make your own one-of-a-kind logo wall, or even a step-and-repeat! For best results, we don't recommend applying our custom wall decals on outdoor walls or floor surfaces. If you are looking for outdoor decals, we recommend our weather-proof outdoor decals. If you're looking for floor stickers, we recommend our floor decals, which are also a great way to add unique and creative signage, advertising or imagery to your business, home, or event!
Q: How do I apply custom wall decals?
A: To apply your custom wall decals, start by cleaning the surface of your wall to remove any dust and dirt - this helps to ensure that your wall decal stays on for as long as possible. Next, slowly peel off your custom wall decal from its backing paper. This should be done carefully to avoid damaging your wall decal. We recommend doing this step with help from another person to ensure that the wall decal also doesn't stick to itself. If your wall decal does accidentally stick to itself, simply peel it off slowly and carefully. Place your decal on the wall and start applying pressure from the middle, then outwards to the edges using your hands or a credit card.
Q: Can I remove my wall decal and apply it again?
A: Our custom wall decals are repositionable at the time of applying. This means that as long as you haven't completely stuck it on the wall, you can still remove the wall decal in order to reposition it. However, once fully applied on the surface, your wall decal cannot be re-used or re-applied.
Q: What material are logo custom wall decals made out of?
A: Our logo custom wall decals are made out of durable matte white vinyl. These custom wall stickers and logo decals are also lightweight and removable without leaving any residue, so you don't have to worry about them damaging the surfaces that they're applied to! Our removable matte white vinyl is also waterproof, sun resistant, writable with permanent marker, and offers high visibility to show off your logo or design. If you're looking for clear decals for your walls, we recommend our custom clear wall decals product, which is another great way to style any room or brand your business!
Q: What type of finish is available for logo wall stickers?
A: Custom logo wall decals are available in a matte finish. Not only does having a matte finish help make your artwork or logo look beautiful, but it also removes any visible glare. Having a matte finish also helps to add a more natural appeal to your custom wall decals and logo wall stickers!
Q: Will the color of the wall decal match the colors of my design?
A: In order to help make your brand or what matters to you stick, we print your custom wall decals using a 4-color CMYK process, which lets you accurately achieve your desired brand colors, with no limit to how many colors your design contains.
Q: How long will my logo custom wall decals last?
A: Made out of durable white matte removable vinyl, your custom wall decals will last you for 2+ years! You can be sure that your custom wall decal or wall logo will last long and stick strong.
Q: How do I order custom wall decals?
A: To order our custom wall decals, simply click on the Make Wall Decals button above. From there, you can upload your own logo or design, or choose from thousands of designs from our sticker art collection!
Product Features
100% Satisfaction Guaranteed
No Minimums
Easy to Apply
Perfect for Home or Office
Durable, Strong Adhesive
Unique & Stylish for Decor
Removable Without Residue
Any Size, Any Shape
---
Reviews (22)

1/16/2017
Quality
I ordered a large wall decal and the quality of it was very good! I was super happy with it. However I did receive my order in two separate shipments and was not aware that it would happen like that. None the less all stickers received were satisfactory

6/3/2016
Awesome work.
Very high-quality wall sticker - easy to apply - sturdy and well-printed. Thanks!

2/4/2016
Great Product
The quality lived up to my expectations and it looked great.

Maureen C.
Verified Buyer
1/13/2016
Perfect
This was the most cost effective way to have a sign for my office door. It was easy to put on and looks very clean and professional

12/16/2015
Love It!
The decal turned out great. Decal and lettering went on with out a hitch. Great quality product. Can't wait to order some more.