Last Updated: 11/13/2014 10:46:42 AM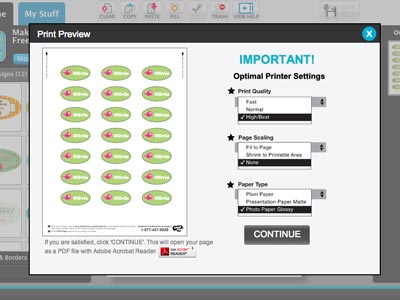 When creating your PDF, you will see this screen. These are your optimal printer settings. Please note that some printers will rephrase the page scaling option: depending on your printer drivers, you will want to select "100%," "None," or "Do Not Scale." Failure to select this option in your printer settings will result in your printer shrinking the image. Now that the image is not the full size, they will not line up with the die cuts. To prevent this, it is very important to ensure page scaling is disabled.
Please note that the image here is NOT your print settings. These are only for reference. These print settings must be selected manually when you print your PDF in your print dialog box.