Roll Labels - White Permanent Paper
Reviews (2656)

11/11/2023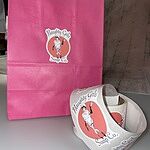 Loved everything about my experience with StickerYou! I had my logo put on label rolls and I couldn't be happier! The pricing is reasonable and the website is incredibly easy to use! I love how there is a preview option that allows you to see you project on items, ie on a bag or cup. Order turnaround was quick!! I especially like that the company is Canadian!! Major plus! Will definitely use StickerYou again!

9/25/2023

Darlene S.
Verified Buyer
9/21/2023

Rosemary S.
Verified Buyer
9/5/2023
I had a problem uploading my PDF's. A customer service rep helped adjust the size. Thank you. The only issue I want to mention is I order for a company. I work Monday-Friday 7:30-4:00 EST. The email for the sizing came on Saturday. Thankfully, I saw it and was able to respond. They were going to print if they didn't hear back by 2 PM. I won't order on Friday anymore to avoid getting $510 of unusable labels!

9/1/2023
We've ordered stickers from this site multiple times.. why? Bc the quality and prices are just tooooo good.

8/17/2023
I needed three different types of labels for equipment marking and the permanent paper labels worked perfectly.

8/16/2023
Excellent print quality and durability on the labels for the water bottles!

Rosemary M.
Verified Buyer
8/11/2023
We love our waterproof decals! I accidentally "tested" one when my water bottle got stuck in the bottom of my kayak (which had a fair amount of water in it from an earlier trip). The water bottle (and decal) were submerged in brown river water for 3-4 hours in a hot car, and the decal looked brand new (and still very white) when I finally retrieved my water bottle. I was very impressed!

7/24/2023
Great product and the service is always incredible.

Gabrielle S.
Verified Buyer
7/23/2023
great quality, even faster turnaround time than expected. Thanks, StickerYou.