Elevate Your Retail Sales with StickerYou's proven Sticker Program



If you are looking for exciting products that will not only captivate your customers, but also add flair to your store then look no further! Our StickerYou Sticker Program for Retailers is here to revolutionize your impulse merchandise sell-through.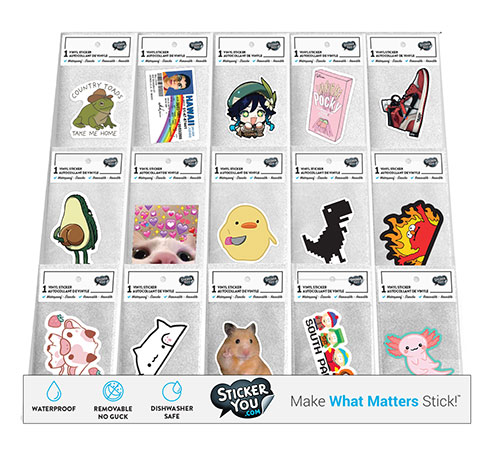 We bring an industry leading sticker quality that means they are waterproof, dishwasher safe, and stick well while being removable without guck.
All stickers are peggable at store or can be merchandised by a diverse range of our merchandising solutions.
Most of all we have mountains of trend data from StickerYou.com and our stores to enable our range of art and licensed designs to uphold the most desirable sticker assortment for you.
In recent years, stickers have undergone a remarkable resurgence in popularity, capturing the hearts of people of all ages. From teens decorating their school notebooks to adults adding personal touches to their laptops and water bottles, stickers have become an essential form of self-expression. This trend presents a unique opportunity for retailers to capitalize on this insatiable demand for customized and eye-catching sticker designs.
Let's dive into the incredible features that make our stickers a must-have addition to your retail space.


Dazzling Designs, Unmatched Durability:
Our die-cut single stickers boast an impressive range of designs that cater to every taste and preference. From cute and quirky to elegant and artistic, there's something for everyone. Crafted with top-notch premium vinyl, these stickers are built to last, ensuring they maintain their vibrant allure for a long time. Your customers will be thrilled to discover a myriad of proven selling designs, transforming their shopping experience into an adventure of self-expression.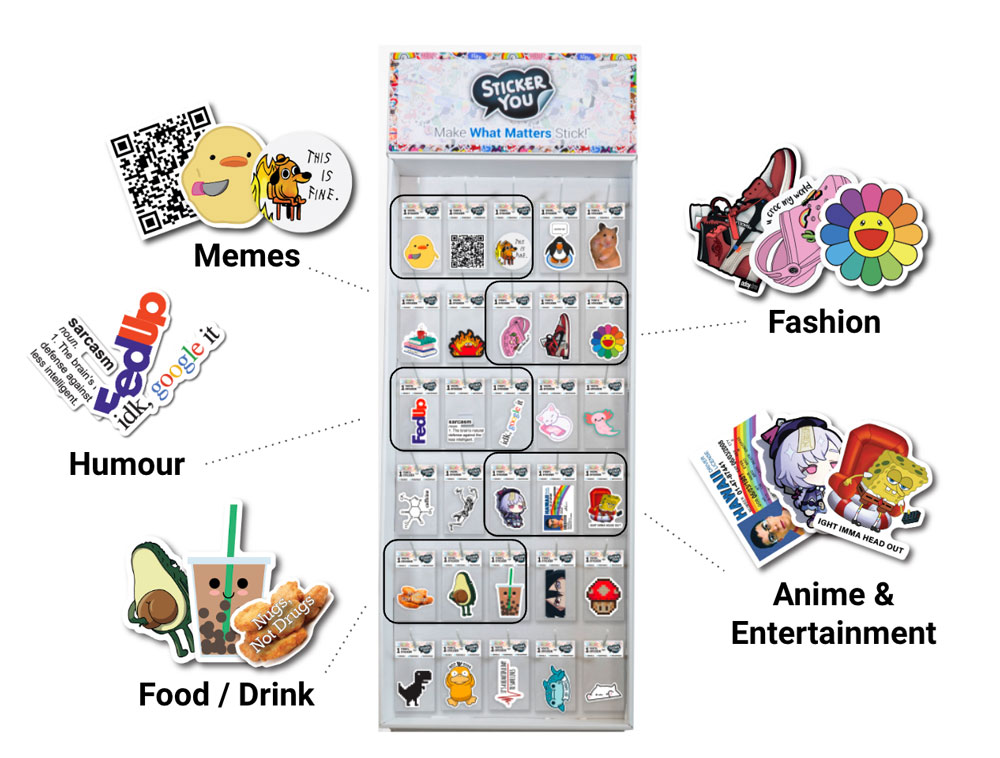 Waterproof Wonder:
Shower your customers with confidence by offering stickers that can withstand any weather. Our waterproof stickers are perfect for outdoor enthusiasts and anyone who loves to add a personal touch to their water bottles, laptops, or outdoor gear. Rain or shine, our stickers retain their charm, guaranteeing customer satisfaction and repeat purchases.

Easy Application and Residue-Free Removal:
Simplify your customers' lives with stickers that are a breeze to apply and remove. The special adhesive used in our stickers ensures a smooth and fuss-free application, while their residue-free removal prevents any damage to valuable possessions. Customers will appreciate the hassle-free experience of swapping stickers whenever they desire.
Increased Visibility:
A well-designed floorstand strategically placed at the entrance or high-traffic areas of your store instantly captures customers' attention. Countertop displays, on the other hand, are perfect for upselling and creating impulse buys during the checkout process.

Peggable Design for Seamless Merchandising:
Our stickers are thoughtfully designed to make your retail space shine. The peggable feature allows you to display them on eye-catching floorstands or conveniently on countertops. With easy accessibility, customers can explore and interact with our vast sticker collection, fostering impulse purchases and encouraging them to return for more.

Profit Margins:
Stickers offer an affordable impulse price-point, with higher than average profit margins, mixed with a low cost shippable item. When combined with strong sell-through designs it means you can enjoy impressive profit dollars.
Additionally, as the sticker craze continues to grow, you can expect a steady stream of repeat customers.Their small size and negligible weight also make them easy to handle and integrate into your existing product offerings.


Domestic Manufacturing
Our stickers are locally manufactured in Toronto, Canada, enabling shorter turnaround time for custom production and/or readymade goods to be shipped to stores.

Target Market:
StickerYou stickers are intended for anyone 12 and up (though tweens will still want them). The higher quality sticker we offer are the kind teens and adults look for with respect to durability, removability, and reflect older themes of personal expression.

Versatile and Perfect for Gifting:
These stickers are not only suitable for personal use but also make delightful gifts. Stickers are all about self-expression, and your customers will appreciate the freedom to browse and discover stickers that resonate with their unique personalities. This emotional connection translates into higher customer satisfaction and loyalty.

Elevate your store's ambiance and attract customers with our proven collection of best selling Stickers. Your customers will enjoy exploring the vast range of designs and find stickers that align perfectly with their unique personalities. Don't miss the chance to offer a product that brings joy, style, and practicality all in one package.
So, what are you waiting for? Take advantage of the sticker craze and revamp your retail space with our cutting-edge floorstands and countertops.


Get in contact with us
For inquiries or to request additional information, please contact us at [email protected]