Custom Products for Beer & Brewers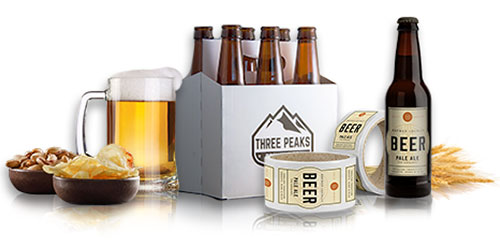 Your project, done for you. Work with a SickerYou Product Expert to take care of your task from start to finish.
Create Un-beer-lievable Branding
Brewing and creating high-quality beverages is an art, and your brand messaging and packaging should be too. Take your business to the next level with customized stickers, labels, decals, and so much more!
Order your personalized products in just a few clicks of a mouse. You can either upload your artwork directly to our StickerMaker, where you can select your material, size, and quantity, or you can work directly with our product experts to make your branding dreams a reality. We can help businesses of all sizes, as you're free to order your products in any quantity and size you'd like, with no minimums!
Getting Craft(y)
At StickerYou, we have a vast range of materials available to be completely customized and designed to perfection by you. Create jaw-dropping products to give your storefront branding, packaging, or employee apparel a complete makeover! We're here to enable your creativity, and give you the tools you need to completely revamp your marketing message.
From glitter and holographic, to metallic and foil, you're sure to find the perfect substrates to leverage for your product packaging. This is your opportunity to stand out from your competitors, and gain attention from potential customers and leads.
Secure the sale by communicating with your customers in unconventional ways. Do you have a sale, promotion, or loyalty program? Print it on a decal! Your floors and walls are free real-estate for you to build relationships with your customers, and get them in-the-know.
Make your branding even more seamless by extending it to your employees. Consider creating custom apparel using our iron-on transfers and patches. In just minutes, you can turn blank, unbranded apparel, into works of art that solidify your brand identity!
Using our custom products, we're here to help you grow your business and connect with new customers. It's time to start raising awareness with your brand, and building an even more dedicated fanbase!
We're confident in helping you grow your business, and connect with future loyal customers. By leveraging our products, you're equipped with the tools to raise awareness about your brand messaging, and begin relationships with your fans!
---
"I purchased beer bottle labels and neck labels and they came out phenomenal! The finish is perfect and application is super simple. Plus the value for the amount I was able to get was amazing! Great products! I will definitely purchase from StickerYou again."
- Eric S.
---
Custom Products for Beer & Brewing