Last Updated: 11/13/2014 3:46:49 PM
Why does my coupon code only cover part of my order?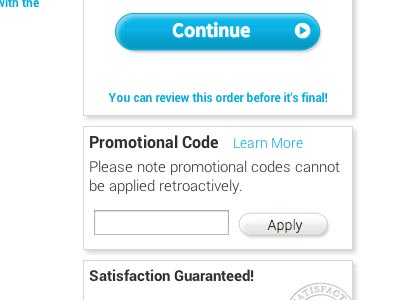 If you got your promotional code from a deal site, it may have been positioned as "good for X custom sticker sheets," Now you're at the checkout with the right number of sheets in your cart, but the balance didn't go down to zero. What gives?
Some of our products are priced differently than our standard sheets. These are not considered custom sticker sheets. These products include:
Kids Labels
Iron On Labels
Clear Stickers
Tattoos
If your cart contains some of these sheets, the code will only cover the original value.
Furthermore, it is possible that your code does not cover shipping. For more details on what your code does and does not cover, please refer to the original terms set out in the deal.
Other Info:
Only one promotional code can be applied per order.
Promotional codes must be entered exactly as provided to you, so we recommend copying and pasting the code from the original source.
If the total amount of your order is less than the coupon code value, the remaining value will become ZERO after one use.
If the total amount of your order is more than the coupon code value, you need to pay for the difference to be able to proceed with your order.