Last Updated: 9/28/2015 4:02:58 PM
If the color of my stickers are different than what I ordered what can I do?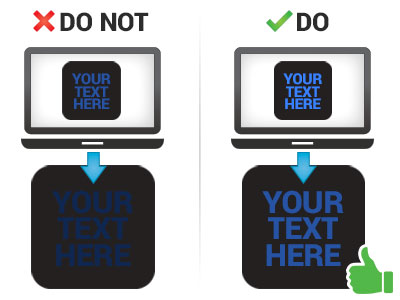 We advise all customers to first read our color best practices below. We use a 4 color digital printing process and this can lead to slight variance in color when compared to a Pantone swatch or an a value displayed on screen. If you feel that there is a major variance between the color you expected and the color that was printed, please send us a photo to help us resolve the issue.
Color Best practices
Color is one of the most important elements of your sticker. At StickerYou, we use 4-colour CMYK process, meaning you have an endless spectrum of colours to choose from. But which is the right choice?
Personal tastes will vary, but one of the biggest considerations should be contrast. Since your monitor is backlit, it can enhance contrast in ways that will not translate well to a printed product like a custom sticker or label. For example, navy blue text can be seen on a black background on screen quite clearly. As you can see in the comparison photos above, however, the lack of contrast makes the label very hard to read. For this reason, we recommend you try to stick to light-on-dark, or dark-on-light designs. We have many templates available on our site with the colors pre-selected for you. Going with these is always a safe bet if you are unsure.
When selecting colors it is also important to remember that you are viewing the selected color on a screen, which displays in RGB, and we will have to convert this colour to a print-friendly colour, made up of CMYK. All computer displays are RGB, so even designing in CMYK cannot avoid this natural conversion. As such, the printed product may vary slightly from your on-screen preview.
Some clients ask whether we print Pantone colors, or if we can color match to a previous print. Due to the nature of our printing process we cannot achieve 1:1 color matching on short-run orders. If you need a color to be exact we recommend getting in touch with our custom sales team to explore our solutions.