StickerYou's Guide to Custom Shirts
November 29, 2017
|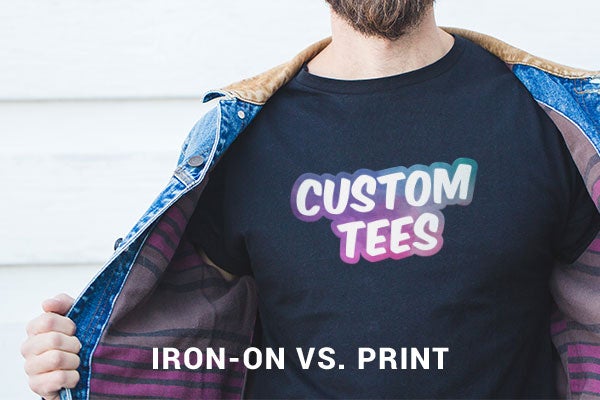 Share this post:
One of the most popular questions we get is in regards to our Custom Iron-Ons: Is it cheaper to order custom shirts or custom iron-ons?
Obviously we would prefer our customers to order custom iron-ons from us no matter the occasion, but there are times when ordering custom shirts from a printer would make more sense. More than anything, we want to help our customers make the right choice so, here is a breakdown of when you should use iron-ons and when it makes sense to go to a printer.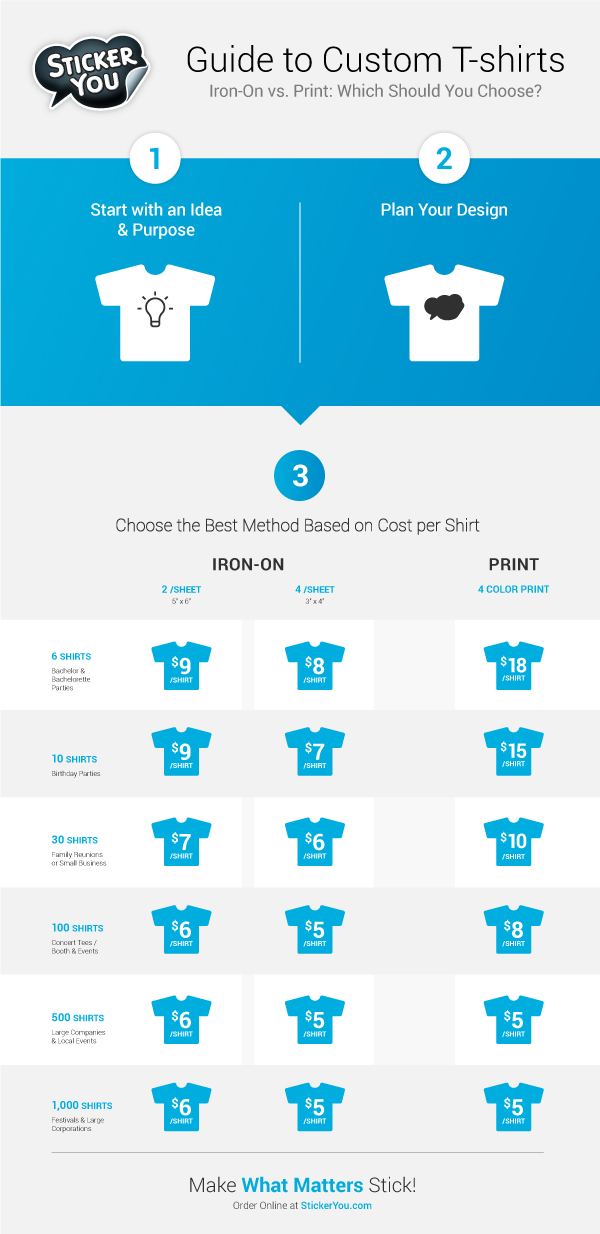 Note: about pricing: All of the prices include the cost of the shirt ($3.50). For print we used an average of the top 5 t-shirt printing services with 4-colors and for iron-ons we used a size of 4" x 5".
As you can see, if you need anywhere from 1 - 100 shirts then you would probably want to order custom iron-ons as you will save a significant amount of money, when you start ordering more than 100 shirts then you may want to consider a printer. The other factor is number of colors; for iron-ons there is no limit to the amount of colours you can print, whereas when you order a printed shirt, the more colors you use the higher the price will become (for 10 shirts with 8-colors you would be looking at about $20 per shirt). Although, if you are limited in terms of time then you still may want to consider a printer, even with the added cost but, if you have the time to spare you could save yourself a significant amount of money by ordering iron-ons. It is also worth noting that StickerYou offers die-cut iron-ons, whereas most iron-ons you would have to cut manually, so you are saving a lot of time compared to classic iron-ons, making StickerYou Iron-ons the best choice for many people.
We hope this infographic was helpful and if you have any questions or want a quote you can reach out to our customer service team (customerservice@stickeryou.com) or use our quick quote form. Happy designing!
Want more great ideas and inspiration? Follow us on social, or sign up for our newsletter for amazing deals delivered directly to your inbox.
StickerYou blog posts are written and published by members of the StickerYou team at our headquarters, located in the beautiful city of Toronto, Canada.