How to Make Holographic Stickers (Beginner's Guide)
July 28, 2023
|
Guides/Tutorials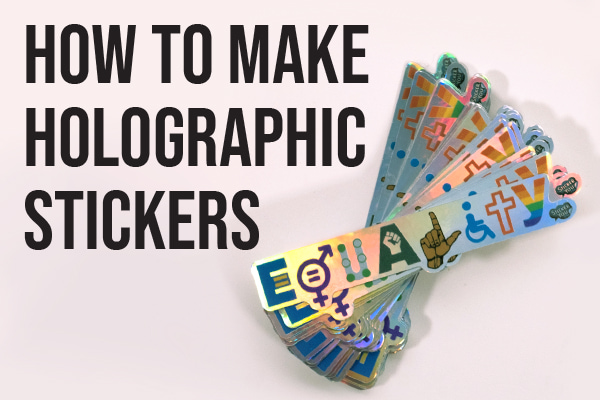 Holographic stickers are eye-catching, featuring colorful and reflective vinyl that makes any sticker design shine. If you want to add a unique effect to your stickers or labels, here's how to design and print your own holographic stickers.
What is a Holographic Sticker?
A holographic sticker is a design printed on iridescent vinyl material, which creates a reflective rainbow effect that changes color when it moves. It's an easy way to add dimension to a design without adding foil or metallic effects.
How Holographic Stickers are Made?
Holographic stickers may look complicated to make. But they undergo the same process as other types of stickers. The only difference is the design is printed into special holographic vinyl, and a clear laminate is applied over the print to protect the design. After, they are cut into the desired shape.
What Materials Do You Need to Make Holographic Stickers?
To start making holographic stickers, gather your materials. You'll need: ● 1 sheet of printable holographic sticker paper (or weatherproof matte sticker paper and a holographic laminate sheet) ● Inkjet printer ● Cricut machine ● Scissors ● Your design
Tips for Designing Holographic Stickers
Before anything else, you need to design the image or graphic that you want in your holographic stickers. Here are some tips.
Leave Empty Spaces on Your Design
Printing on holographic paper adds a unique reflective effect to the design. To make the holographic effect stand out, we recommend that you leave blank or empty spaces in your design.
Adjust Color Saturation
The colors you use will blend with holographic vinyl. Light colors look great with the reflective effect, while dark colors may block it out. Adjusting the color saturation of different elements in your design will help you control where you want more or less of a holographic effect.
Use Black and White
Black and white are must-use colors if you want to enhance your design's holographic effect. Black will help keep your outline prominent while the reflective material pops in the white fills of your design.
Use Color Background While Designing
To help you distinguish between white and empty fills in your design, use a colored background as you work. Just don't forget to remove it before rendering and printing!
Try Printing Some Holographic Sticker Samples
Before you mass print your holographic sticker designs, do a test run and print some samples. This will give you a better idea of how your design will look when printed and adjust colors, saturation, or elements to achieve your desired aesthetic.
How to Laminate and Cut Out Your Designs?
There are two ways to cut your stickers depending on the type of laminate you use: either the foil-on method or the self-adhesive laminate method. 1. Foil-On Method: Turn on your laminator and wait for it to heat up. While waiting, cut your stickers with your Cricut machine. Fold a piece of print paper in half and lay the stickers out on the bottom half. Cut a sheet of hollow laminate to size and place it over the stickers. Fold the top half of the printer paper to cover the laminate paper. Run your paper through the laminator, starting with the folded end. Do this twice to ensure the laminate adheres to the stickers securely. 2. Self-Adhesive Laminate Method: If you're using self-adhesive hollow laminate, you're not going to need a laminator. Instead, you simply place the laminate onto the sticker sheet and cut it to size. Then use your Cricut machine to cut the individual stickers.
What material is used for making hologram stickers?
Hologram stickers are made by printing your design on holographic vinyl to create an iridescent effect.
How is holographic vinyl made?
Holographic vinyl is made with metalized polyester film, which is embossed to alter the surface and cause light to diffract. This creates a unique light pattern that yields the holographic or iridescent effect.
Can you print on holographic sticker paper?
Yes, you can print on holographic sticker paper to enhance your design with a colorful and reflective effect.
Can I print holographic stickers on an Inkjet printer?
Yes. Inkjet printers are the most effective at printing on holographic vinyl. But keep in mind that the ink you use should be dye ink instead of pigment ink.
Make and Print Your Own Holo Stickers with Us!
There you have it. Creating your own holographic stickers is easy as long as you observe the right design practices and have access to the required materials.

If you want a faster and more affordable way to design and print holographic stickers in bulk, you can make custom orders at StickerYou. All you have to do is upload your design or use our platform to create one and leave the printing and shipping to us!