Which Label Material is Right for You?
September 29, 2020
|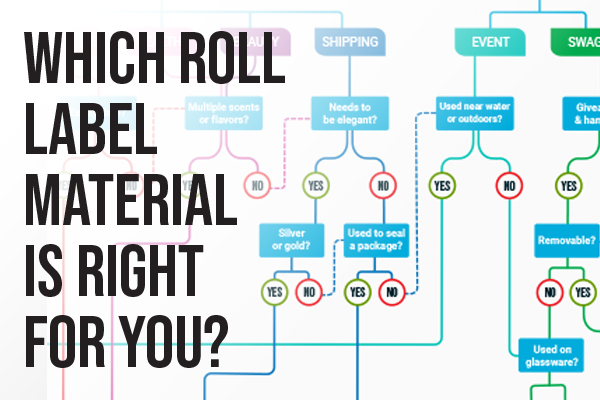 Share this post:
At StickerYou, we work around the clock to make improvements to our products and services, so in turn, you can Make What Matters Stick. Today, we're revisiting one of our most popular products, labels. StickerYou provides two main types of custom labels: Roll Labels and Customisable Labels on sheets.


Roll Labels
Roll labels are the easiest and most inexpensive way to order custom die-cut labels in bulk, and can be applied to a variety of products and surfaces. They're also an excellent solution for packaging, events, and branding! Looking to advertise your product, or perfect your branding? Look no further!

Our roll labels can also be custom die-cut to the precise shape and size of your desired application, giving you the freedom to source the packaging of your wildest dreams. Each of our materials have their own unique features, and most suitable end-use applications. Below, we've put together a flow chart, to assist you in choosing the perfect one for you.


Custom Labels on Sheets
If you're looking for less than 250 labels, your best option would be our custom product labels. These labels are printed onto vinyl sheets, meaning you can order as little or as many as you'd like!

Our pages can be designed for both large and short runs, and also allow you to place several different types of artwork on the same sheet. This is the perfect solution for smaller businesses, or for testing out a small packaging run of your new product. They're also bubble free, so you can apply with confidence, knowing you'll get the perfect application every time.


Product Breakdowns:
Durable Roll Labels or BOPP Labels (Biaxially Oriented Polypropylene - essentially a plastic based label) are ideal for labeling products that require extra durability. They're water resistant, UV fade resistant, oil resistant, heat resistant, and abrasion resistant. This makes them truly durable for products in the health and beauty, beverage, and industrial industry. They're also outdoor-friendly, allowing them to be used on outdoor products.
Matte-Writable Roll Labels & Matte-Writable Label Sheets are a quick and easy way to label your products while customizing each label manually with the date of production, best before, or flavor or scent categorization. These labels also offer the most "organic" look and feel, as they have no gloss, and are appropriate for products that have a "natural" positioning, such as certain foods and beauty products.
Silver Foil Labels add a high-quality, luxurious look to your product. The SILVERVAC material gives your packaging the extra oomph it deserves. They can be used for industrial, consumer product, and apparel packaging, as well as for event packaging such as birthdays, anniversaries, marriages and more!

Gold Foil Labels are printed with a shiny, metallic finish, these gold foil stickers are perfect for sealing gift boxes or packaging, and give your products an elegant look.

Clear Roll Labels & Clear Label Sheets have great full-color reproduction, which will ensure your logo or label design looks great - particularly on glass objects. Perfect for honey or jam jars and beer bottles, the durable, tear-proof material with permanent adhesive will help keep your label intact and in place on your product.
Paper (Standard) Roll Labels are a quick and easy way to order custom labels in bulk and at a reasonable price. Paper roll labels are easy to dispense and distribute. Simply put, they're the most popular economic choice for blank packaging and label branding.

Eco-Safe Roll Labels are a paper laminate material made from paper pulp, and bio-degrade naturally! They're also safe for a variety of types of packaging, including food, as they are certified food-grade.

Removable Roll Labels are printed on glossy stock with totally removable adhesive, meaning your labels appear bold and bright, and can be removed without any residue.



Check out the chart below to get more in-depth information on each of the materials we offer: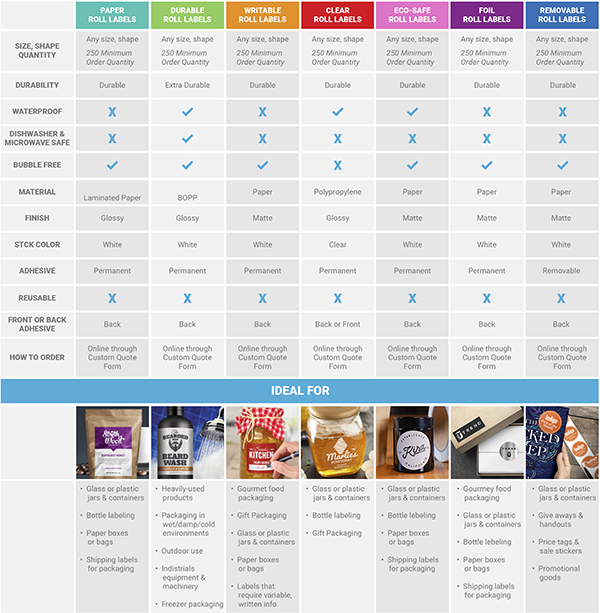 If you're looking to order a product not available directly through the website, feel free to fill out a quote form, or send your artwork to our team at [email protected]!
Want more great ideas and inspiration? Follow us on social, or sign up for our newsletter for amazing deals delivered directly to your inbox.
StickerYou blog posts are written and published by members of the StickerYou team at our headquarters, located in the beautiful city of Toronto, Canada.