Custom Products For Bakeries & Bakers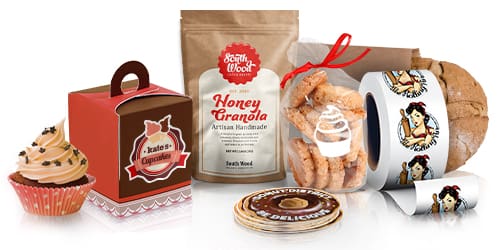 Your project, done for you. Work with a StickerYou Product Expert to take care of your task from start to finish.
Give Your Branding the Love it Kneads
Baking is an art, and your branding and packaging should be too. Brand your products and business with high quality stickers, labels, decals, iron-ons, patches, and so much more!
Order your personalized products in just a few clicks of a mouse. You can either upload your artwork directly to our StickerMaker, where you can select your material, size, and quantity, or you can work directly with our product experts to make your branding dreams a reality. We can help businesses of all sizes, as you're free to order your products in any quantity and size you'd like, with no minimums!
Get Down to the Crust
Do you create and sell baked goods and desserts? Check out our wide array of materials, available to be completely customized and personalized by you! From silver and gold foil, to glitter and metallic finishes, our stickers and labels give you the ability to stand out from your competitors, and attract the interest of your audience!
Alongside packaging, your brand messaging is a key tool for communicating with your customers. Consider leveraging floor or street decals to print your business logo, social media handles, or promotions! Your storefront walls and floors are premium real estate to raise brand awareness, and connect with your audience.
But wait, there's more! Branding goes even further than your packaging and decals. Add a layer of identity to your apron, chef hats, or uniforms with our custom iron-on transfers. If you're looking for a more durable product, stitch on some printed canvas patches and give your apparel some love (or loaf).
We're confident in helping you grow your business, and connect with future loyal customers. By leveraging our products, you're equipped with the tools to raise awareness about your brand messaging, and begin relationships with your fans!
---
---
Custom Products for Bakeries