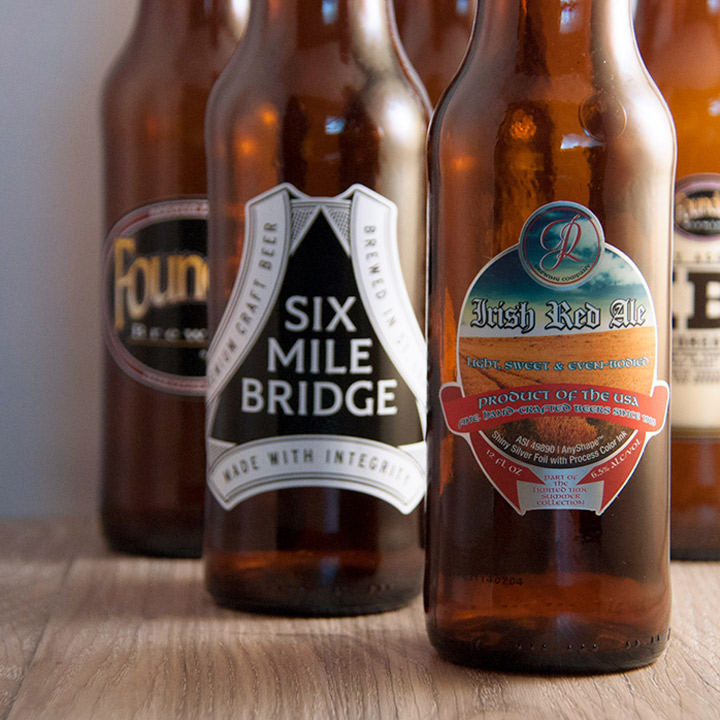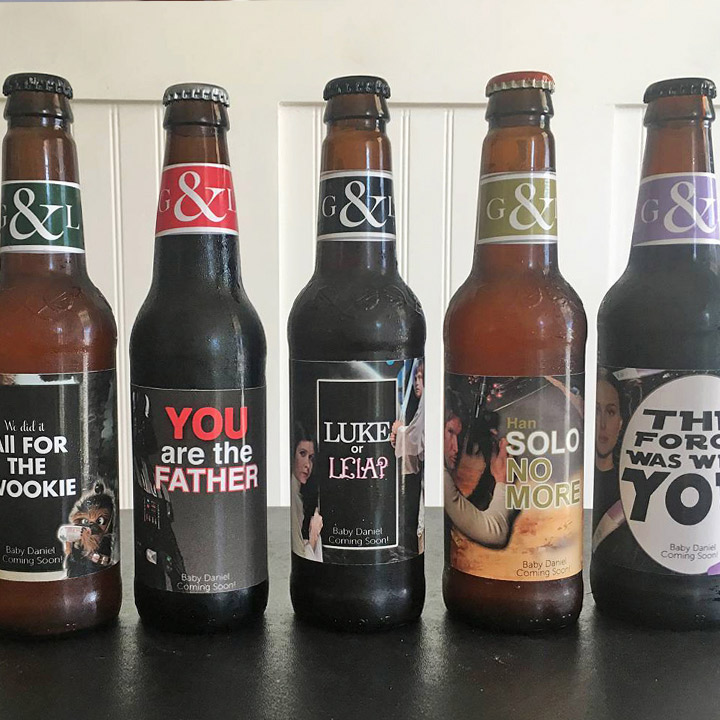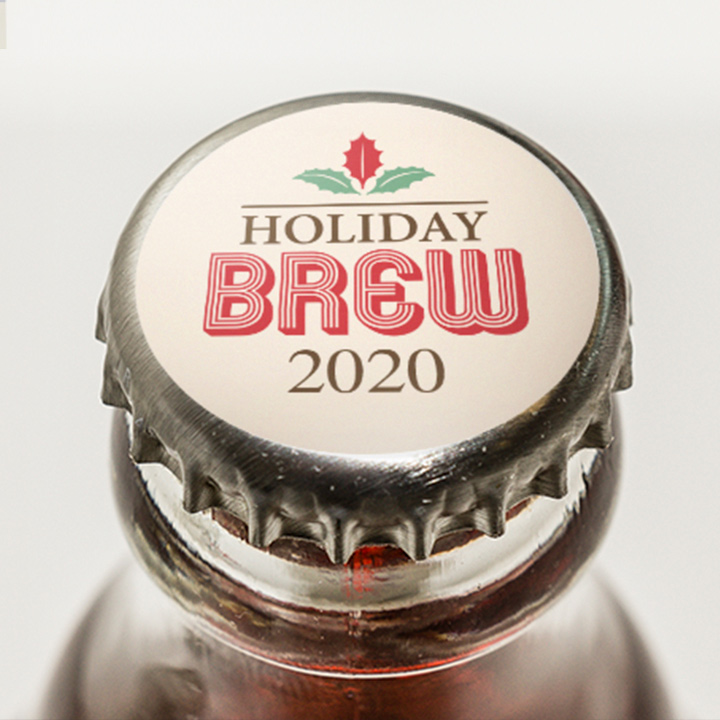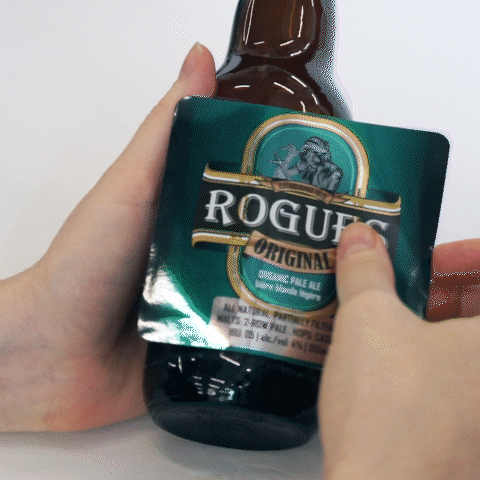 If you like to make your own craft beer, you've come to the right place to make your own beer labels to match. We have a great reputation in the industry for providing quality custom beer bottle labels & stickers that are vibrant and bright. Personalized beer labels are also great for birthday parties, bachelor parties, weddings, corporate events, barbecues or just for fun. Label your beer bottles, cans, bottle necks, even bottle caps! Great for bottles or growlers.
Choose your format:

Choose Beer Labels:
Beer Bottle Cap Labels 0.88"x0.88"

Beer Bottle Neck Labels 2.3"x1.26"

Beer Oval Labels 2.5" x 3

Beer Bottle Oval Growler Labels 4"x3.33"

Beer Labels Rectangle 3.75"x3.5"

Beer Rectangle Growler Labels 5"x4"
63 Stickers (1 Page)

126 Stickers (2 Pages)

189 Stickers (3 Pages)

252 Stickers (4 Pages)

315 Stickers (5 Pages)

504 Stickers (8 Pages)

630 Stickers (10 Pages)

1575 Stickers (25 Pages)

3150 Stickers (50 Pages)
Custom Quantity
Summary
Size

0.875 x 0.885416666666667

Finish

Gloss

Material

White Vinyl

Adhesive

Removable

Quantity

1

Price

USD 11.99
Order in any size,
die-cut shape, and quantity.
Receive your order in as little
as days.
Order in the next:
Get this by:
Make Beer Labels Now
Need help creating? Let's get in touch.
Our Product Experts are here to assist you with your order free of charge.
More About Beer Labels
More About Beer Labels
It's bubbly, frothy, delicious, and can now be covered in custom labels. Whether you're brewing an ale, lager, stout or malt, StickerYou has you and your craftbrew covered. Home and craft brewing is becoming an increasingly popular way beer drinkers are enjoying their favorite fermented beverage, and more beer means more custom beer bottle labels. With custom labels for the bottle neck, middle and even caps, the possibilities are bottomless when it comes to your customized beer labels. StickerYou also has beer label templates in a variety of shapes, styles and sizes so your bombers, growlers, and even kegs can be decked out in your home brew 's custom logo or seasonal designs. You can make your own beer label online using our label maker – select one of our cool label templates and customize it to your taste.
Give your bestie the happiest birthday ever by creating quality custom labels with an image of yourselves, or personalize it to the holiday season. They apply smoothly on your brewski, and are guaranteed to be waterproof, so your custom beer labels stay on as strong as a porter while your beer stays chilled. Our custom labels are even dishwasher safe, so you can keep mementos from your favorite limited edition runs. Go past the pint of no return and exercise the 21st amendment with durable custom beer labels from StickerYou. There is no other company that can match our custom labels in quality and price.
Product features
Writable with Permanent Marker
100% Satisfaction Guaranteed
No Minimums
Removable Without Residue
Waterproof
Microwave Safe
Dishwasher Safe
Any Size, Any Shape
FAQs - Beer Labels
Q: What's the difference between a sticker and a label?
A: This is a much debated topic, you may find different answers from different people. In general, we refer to a product as a "label" when it goes on packaging, or is being used for branding and labelling purposes (i.e for home brewers and craft breweries). Stickers are often used as an outlet of personal expression, and are applied in creative and diverse ways. That being said, they're often the same or very similar material and product. When it comes to your use case and personal expression, you can order either product, and apply them wherever and however you'd like!
Q: How do I know which product will be best for my custom beer labels?
A: When it comes to product variety, we offer many different finishes and adhesive strengths, to ensure you always find the perfect self adhesive product for your business. Whether you'd like glossy or matte vinyl, or want to print on white or clear vinyl, we strive to always accommodate your needs. At StickerYou, we have no minimums - this allows you to order products in any quantity, making it easier than ever to test different materials, sizes, and artwork. If you'd like some assistance with finding the best material for you, check out our blog post "Which Sticker Material is Right for You?"!
Q: I am Looking for a specific color on my beer labels, do you Pantone Match?
A: Unfortunately we're unable to do exact Pantone matching at the moment. However, we print all of our products with vivid CMYK ink, to ensure you receive a vivid color label that is very similar to what you upload. In general, we recommend you design your artwork and branding in CMYK color space (as opposed to RGB). This means when you upload your artwork to our website, we won't need to convert your design to CMYK, and can print your design exactly how it was created!
Q: How do I know the exact size I need for my custom beer labels?
A: Our website has a variety of custom beer label templates that offer a variety of shapes and layouts based on sizes that are commonly used for beer labels. However, if you have a custom design in mind, and want to create an order from scratch, we recommend you measure the physical beer bottle or growler you're applying your product to prior to ordering. This will ensure that the labels you order fit your product perfectly! If you'd like, you can put multiple different sized labels on a single page, allowing you to test our different sizes and determine which works best for you.
Q: How many custom beer labels should I order?
A: The great thing about StickerYou is the fact that we have no minimum. If you'd like, you can order as little as single sheet of custom beer labels. If you're ordering a larger batch of printed labels for a special occasion (ie. more than 250 units), we'd recommend you order your beer labels on rolls. This allows you to easily peel and apply your custom beer labels, or put them in a label dispenser for higher volume applications. Roll labels are also the most cost-friendly option. Keep in mind, the more you order, the more you save, so it's never a bad idea to stock up!
Q: Are Custom Beer Bottle Labels Waterproof?
A: Yes they are! Make sure the surface is clean and dry when applying, but once stuck on they will last long.
Reviews (7971)

12/7/2023

12/8/2023
Perfect! Not only did y'all work with me but these stickers are legit solid…I use to make my own so I've learned…I am a loyal customer. Thank you!

Jasmine M.
Verified Buyer
12/8/2023
They look amazing. Turned out better than I was expecting.

12/8/2023
Better than expected. Perfection could not be better.