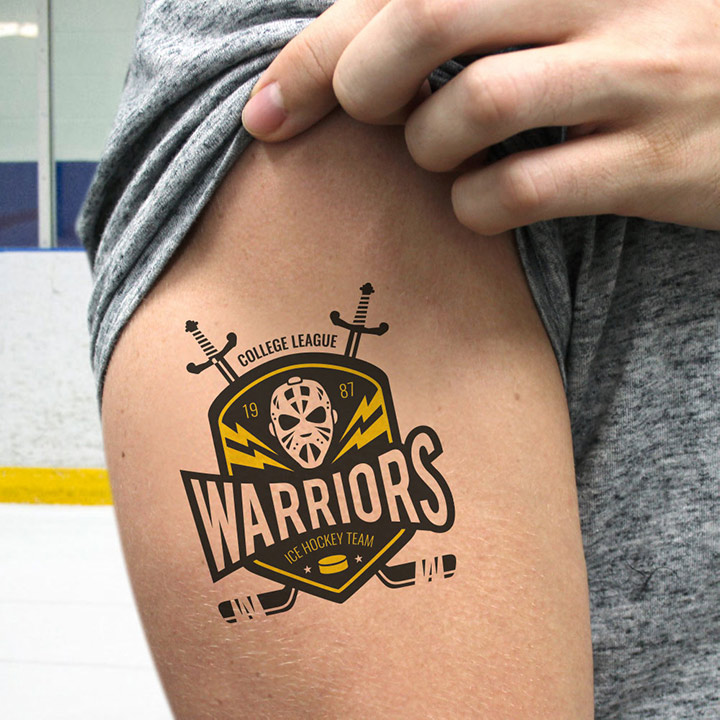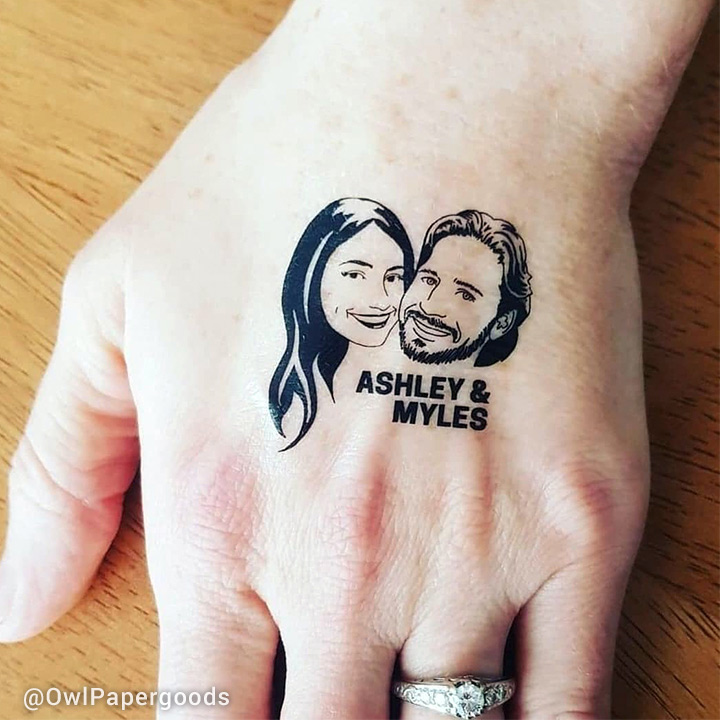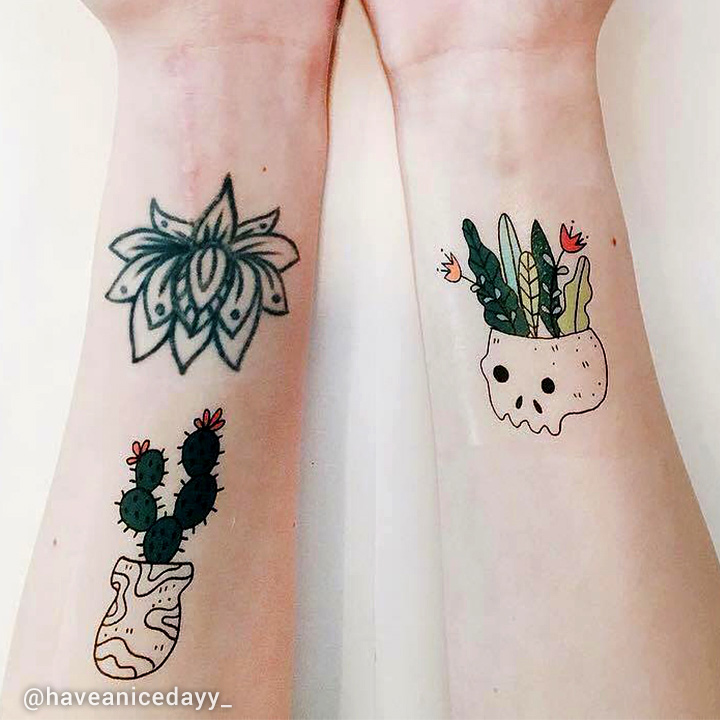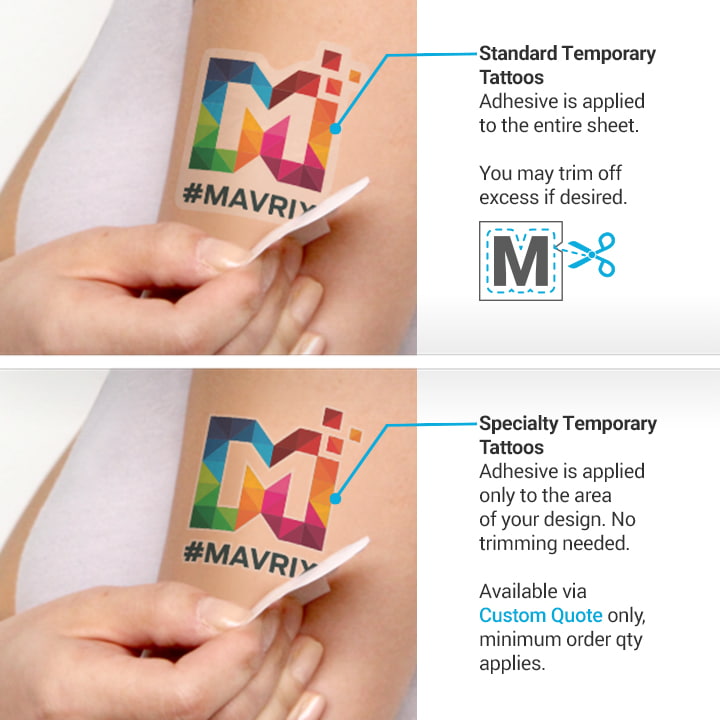 Custom Temporary Tattoo Pages
Create Custom Temporary Tattoos for business and DIY projects. Choose from our art or upload your very own design. Instructions are printed on the back of all custom tattoos.
Custom tattoos are not image die-cut and are printed on clear film, so you can easily cut and apply your tattoo.
Learn More
Choose your size and quantity
6 Tattoos (1 Page)

12 Tattoos (2 Pages)

18 Tattoos (3 Pages)

24 Tattoos (4 Pages)

30 Tattoos (5 Pages)

48 Tattoos (8 Pages)

60 Tattoos (10 Pages)

150 Tattoos (25 Pages)

300 Tattoos (50 Pages)
Custom Quantity
Summary
Size

2" x 2"

Finish

Material

Adhesive

Quantity

5

Price

USD 17.24
Order in any size,
die-cut shape, and quantity.
Receive your order in as little
as days.
Order in the next:
Get this by:
Need help creating? Let's get in touch.
Our Product Experts are here to assist you with your order free of charge.
More About Custom Temporary Tattoos
Missing instructions? Get your temporary tattoo instructions here!
Custom temporary tattoos are great for any DIY project or event, both for adults and for kids! Create your custom temporary or fake tattoos from scratch by uploading your own image to our Sticker Maker, or find what you're looking for in our collections by browsing through our art gallery of images to design something new. Roses, logos, flowers... we're ready to help you tell your own story.
Design Your Own Custom Temporary Tattoo
At StickerYou, you're not forced to any minimum order quantities and there's no limit in size, or shape - you have the ultimate freedom and creative control when it comes to celebrating all of your special moments with a custom temporary tattoo. Are you a bridesmaid planning a bachelorette party with your friends? Make everybody happy with custom tattoos for the whole bridal party and the bride herself with the theme of the night.
You could even create some photo or quote custom tattoos! Going to see a concert or a game? Design your own custom temporary tattoo to show support for your favorite artists and teams by using images of their faces, album covers, mascots and more!
A custom temporary tattoo is also great for companies and self-promotion. But one of our customers' favorites is the tats to wear at birthday parties of all ages. If you're planning a kids' birthday celebration, make some awesome party favors that kids can stick on for the celebration or bring home as party favors. You'll be amazed by all of the fun and unique ways you can use a custom temporary tattoo - check out our blog post "6 Unique & Unexpected Ways to Use Temporary Tatts" for more inspiration and tutorials! We promise you won't regret it.
Just Like Real Tattoos, But Without The Long Lasting Commitment
Our custom temporary tattoo mimics the look and feel of real ink, is safe on the skin and can be easily removed with baby oil. Your custom tattoos are printed on a page, allowing you to easily cut them out with scissors before applying. Want more details? We also offer easy ordering!

To order your own custom temporary tattoos, head over to our Sticker Maker, choose whether you want a page with prints of a single design or with multiple designs, then upload your image or browse through our website gallery of pre-loaded designs. You can also choose to have them as individually cut handouts instead of on pages.
Temporary tattoos are easy to make, easy to apply, and super entertaining for any occasion: music or sporting event, parties and more. Make what matters stick with a fun custom temporary tattoo!
But be careful, once you get started you'll know you've never realized how much attention tattoos get... and you won't be able to stop!
Product features
Without Scrubbing, Lasts 2-3 Days
Easy to Apply with Water
No White Ink (Tattoos are Transparent)
No Lead
No Mercury
Removable with Baby Oil
FAQs - Custom Temporary Tattoo Pages
Q: How can I use custom temporary tattoos?
A: With no limit in size, shape, style and quantity, you can order personalized temporary tattoos for any of your DIY projects or events! StickerYou allows you to customize your temporary tattoos using any design, color, message, picture and more, so you can make what matters to you stick. Create your own unique temporary tattoos for music festivals, charity events, theme park trips, family reunions, bachelorette parties, sporting events, corporate events... you have endless possibilities. Our custom temporary tattoos are a great way to show off your love, spirit, and support. And whatever you need, we have you covered!
Q: How do I apply my temporary tattoos?
A: To apply your temporary tattoos, first you must make sure your hands are dry. Start by cutting out your tattoo as close to the graphic as possible. Then remove the plastic layer and place the tattoo face-down with the image side touching your skin. Using a wet cloth or sponge, cover the entire tattoo, and hold it on top of the tat for 10-15 seconds - make sure the entire tattoo is wet. Finally, slide off the backing paper and let your customized tattoo air dry!
Q: How long will my temporary tattoo last?
A: Each custom temporary tattoo is durable and will last two to five or more days, depending on how you take care of them. They're also weather resistant, so you can celebrate all of your special events without fear of them coming off!
Q: How do I remove my custom temporary tattoo?
A: There are two ways you can remove your custom temporary tattoo before or after they fade a little bit. One way is when your custom temporary tattoo is dry, peel it off your skin from the edge of the tattoo. Another option is to soak a cloth with baby oil and use it to rub it off your skin.
Q: Will my temporary tattoo show up on my skin properly?
A: Yes, our custom temporary tattoos offer high visibility in order to show off your unique designs! To further ensure that your temporary tattoo stands out, we recommend using vibrant and shiny colors and designs. Rest assured, we print your custom temporary tattoo with very high quality inks that print very dense, and will result in a bold finish on any skin tone.
Q: I want white ink in my tattoo but it doesn't seem to be an option on the editor?
A: We do offer white ink for custom tattoos although dark ink is the most common. ! It is a special request and would require a minimum order. If you reach out to [email protected], a member of our sales team will help you place your order and buy a pack of custom tattoos with white ink.
Q: Does exposure to sweat and water reduce the longevity of the tattoo?
A: Your tattoo longevity may be reduced due to the exposure to water and sweat. So in case your goal is to have these tattoos for sport events, or to go to the swimming pool with a tattoo - it can cause longevity issues. The same goes for taking showers.
Reviews (1584)

12/7/2023
Got these temporary tattoos as a gag gift for White Elephant and they were a big hit! It was a fast and easy process to order. I tested one of the tattoos on my arm and it looks perfect! Stuck on for most of the day with no major signs of wear and tear even when under a thick Christmas sweater, only started to rub off in the shower but that goes to show these temp tattoos are high quality! Will absolutely order from stickeryou again in the future :)

12/3/2023

LaDonna R.
Verified Buyer
12/1/2023
Amazing temporary Tattoos - they capture EVERY detail. I get them for my son and he loves them so much - he says they look real.

Cynthia B.
Verified Buyer
11/20/2023
The tattoos however were great. Hard to peel off the backing but good picture was good quality and they transferred to the skin good!

11/12/2023
Easy to use website. Fast shipping. The tattoos are exactly what I wanted / expected. Excellent experience all round.