Reviews (140)

11/18/2023
Awesome outcome! Colours are vibrant and the detail is precise.

Nicholas K.
Verified Buyer
11/17/2023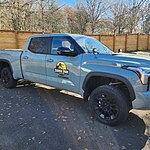 Came out great, quality is great, no pixelation in my art. Colors seem very true to my computer monitor. I'd definitely talk to the art team to make sure the die-cut is as close as possible to what you want from your design, and the bleed help make up the rest. Instal was reasonable, was able to smooth put most of my bubbles fairly easily.

11/3/2023

11/2/2023

10/31/2023
Excellent product, fair price and on-time delivery.

10/9/2023
Great job and great processing time.. will order again for sure

9/11/2023
Was perfectly as I ordered

9/1/2023

8/30/2023
Not only did they arrive on time - the packaging was superb. Quality buying experience from first click to first smile!

8/21/2023
Quick shipping and stickers came out great. Sticker was used on a boat. So far it has held up well.