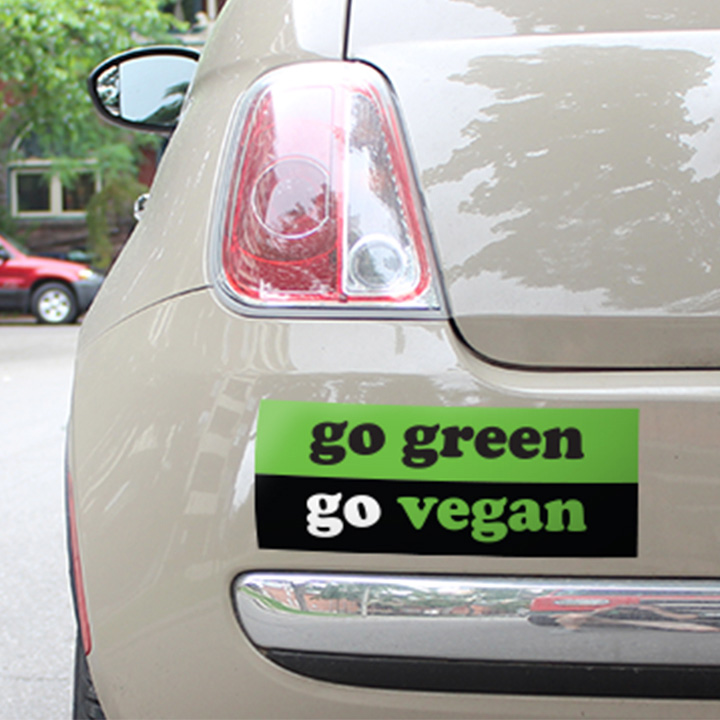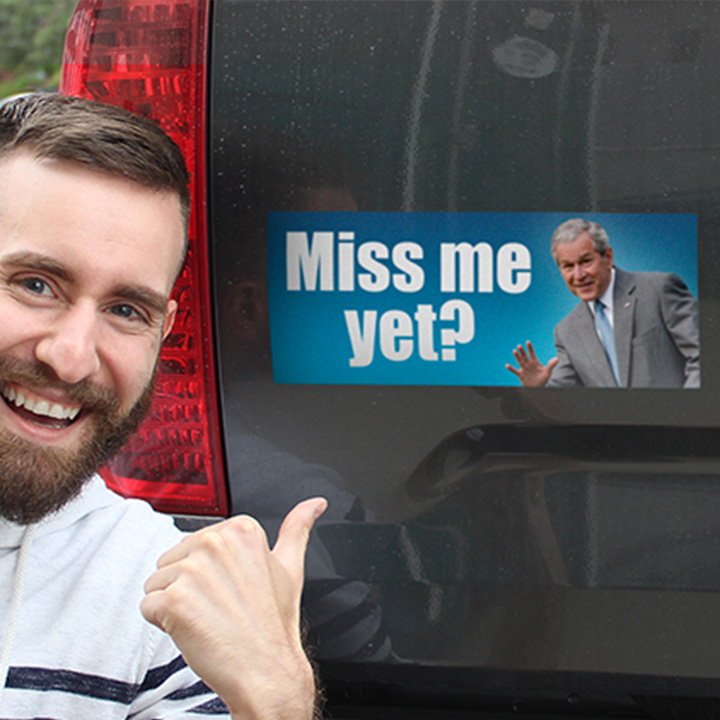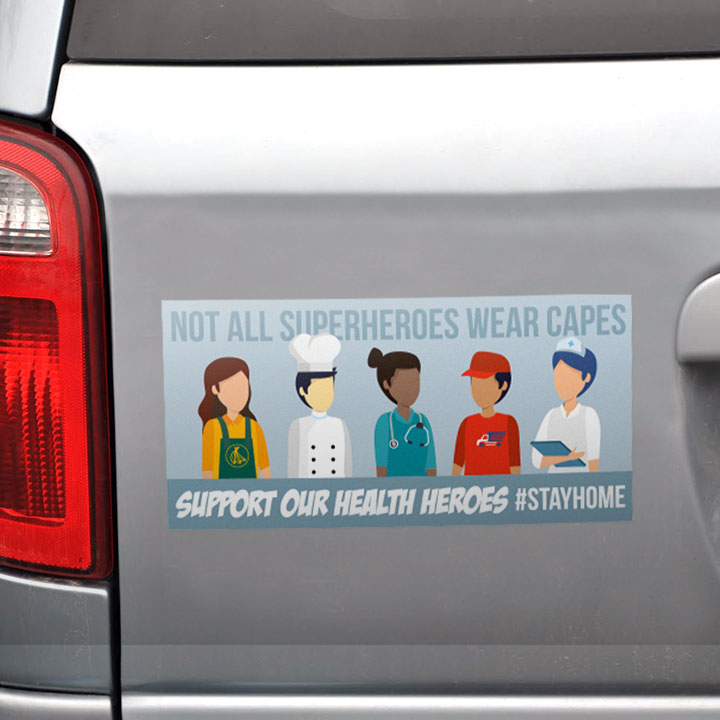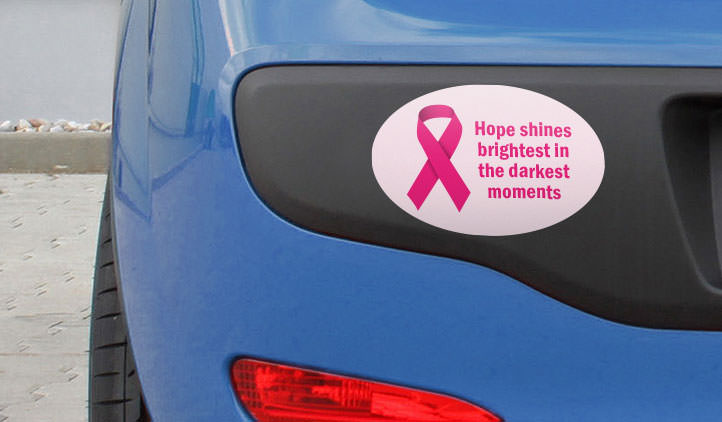 Our waterproof vinyl bumper stickers are great for promoting your business, cause, or any funny quotes and graphics. Upload any logo or create your own custom bumper stickers using our Sticker Editor.
$9.99
for 1 page of stickers
Learn More
Learn More
More About Bumper Stickers
Take advantage of traffic jams and make custom bumper stickers for your car with your business logo or personal expression! With no limit in size, shape and quantity, the messaging possibilities of bumper stickers are endless. Get creative and make your own bumper stickers that can be used to help brand your business, or show off your personality! Our custom bumper stickers are a great way to represent your favorite teams, brands, and anything else that inspires you! So why not make bumper stickers of your logo, your favorite charity, your lifestyle, or a funny bumper stickers to brighten up the traffic jam around you?
Custom bumper stickers provide an easy way for you to advertise your company every time you're on the road. You can create bumper stickers with your company logo or social media handle, and stick them anywhere on your car, as they are easy to apply and remove without leaving any residue! You could also give bumper stickers to customers for free and offer a discount on their next visit if they put them on their car for extra advertising. Along with custom bumper stickers, you can also create custom car decals and car stickers to promote your business or express yourself!
Your custom bumper stickers are made out of durable vinyl that is also writable with permanent marker, waterproof, and weather resistant, so they will stick vibrantly for years to come! There's no need to worry about custom bumper stickers creasing, as they are bubble-free and will apply smoothly on any surface! Use our bumper sticker maker to create your rectangle, oval, or custom-shaped bumper stickers by uploading your own artwork, or browse through thousands of designs from our art gallery. Make your brand or what matters stick, and drive in style with StickerYou's custom bumper stickers!


Frequently Asked Questions:
Q: Why should I choose StickerYou to create my custom bumper stickers?
A: At StickerYou, we pride ourselves on being able to help you with your order every step of the way. One of the great benefits of using an e-commerce company to order your products is the fact that we're available around the clock to help you with any questions or assistance you may need. Alongside this, we make it easier than ever to place an order for your custom bumper stickers. Simply upload your artwork to our Sticker Maker, and follow the steps to create your custom order. We'll print and ship your bumper stickers directly to your door! If you are interested in setting up a custom order, we have a dedicated sales team that can get you a free quote and digital proof of your artwork. If this interests you, simply send your artwork to us at [email protected]!

Q: How many bumper stickers can I order?
A: As little or as many as your heart desires! Thanks to our advanced printing processes, we have the ability to print as little as one single bumper sticker. That being said, we can also print custom bumper stickers in very high order quantities. In general, if you're ordering more than 250 units, we recommend you print your bumper stickers on roll labels, as they're extremely cost effective. We can even perforate your roll labels, making them super easy to rip and handout or apply. This makes them great for events, marketing, and raising brand awareness. Keep in mind for all of our products, the more you order, the more you save - so it's never a bad idea to stock up!

Q: Are your bumper stickers only available on one type of material?
A: Absolutely not! We can print custom bumper stickers on a wide variety of materials, ensuring you always have the perfect substrate for your end use. If you're ordering a lower quantity of bumper stickers (less than 250), the best material for bumper stickers is most likely our standard removable white vinyl. This white vinyl is waterproof, weatherproof, and very durable - it also uses a removable adhesive, meaning it can be applied and removed without causing any damage or leaving residue behind. If you'd prefer a transparent background, or will be applying these stickers to a window or glass surface, you may also like the look of our clear removable vinyl. If you need some more insight in terms of choosing the best sticker material, check out this blog post "Which Sticker Material is Right for You?".

Q: How many custom bumper stickers will fit on a sticker page?
A: That depends on the final size of your stickers. For example, a 2x2" bumper sticker will fit 20-up per page, meaning that if you order 5 pages, you'll get 100 total. When creating your order online, you're in full control over the final size of your bumper stickers - so feel free to make them as large or as small as you'd like! Not only this, but you can also print different sizes or designs on the same page. This allows you to experiment with different shapes, sizes, or even personalize and customize each individual bumper sticker!

Q: Are bumper stickers weather resistant?
A: Yes, they are! If applied properly, they will stick strong and last long through all seasons.

Q: Can I have the shape of my bumper sticker match the shape of my artwork?
A: Yes you can! Upload your artwork through the Create Now link at the top of this page. From there, you can make your sticker directly in the editor as you want it and change the shape design to "image die- cut" and create your own sticker in just a few clicks!

Q: I'm looking to make my bumper sticker at 5.75"x2". Is this possible or can I only use the templates?
A: It is possible! If you click on the blue Create Now link at the top of this page, follow the link to through the editor and upload your artwork. From there, you can edit the size of your bumper sticker down to the 0.1".

Q: I want to use a photo for my bumper sticker, will it show up clearly?
A: Yes, as long as the photo is high resolution they should show up clearly.

Q: I think I've made a mistake with my order, how can I get in touch with you?
A: Do not worry! We have a whole customer service team dedicated to assisting you with any order issues. You can contact us at [email protected], please e-mail us your order number and we'll do our best to make any changes possible.
Product Features
Writable with Permanent Marker
100% Satisfaction Guaranteed
Removable Without Residue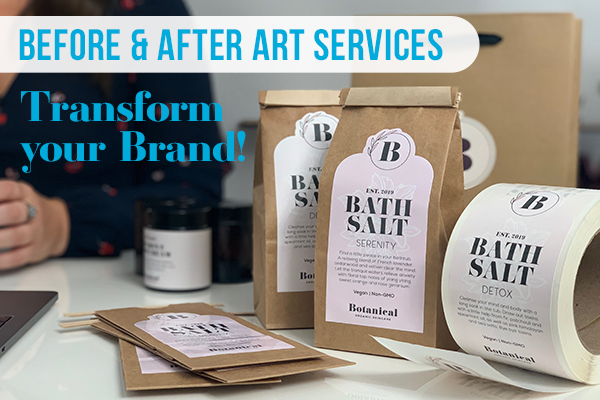 Take a peek inside the world of art services and transforming your brand!
---
Reviews (1765)

Arlinda W.
Verified Buyer
10/22/2021
Stickers were perfect. They were exactly what I had been hoping for.

10/20/2021
The labels are wonderful and I will be ordering more. Thank you!

10/18/2021
They look good and so far, stick well. However, I was under the impression they could be stuck on the inside of a window. For example, the inside of a car window.

Lillian C.
Verified Buyer
10/7/2021
The service has been great. The labels are so easy to peel off and apply to the jars. I had an issue with a few pages of labels not cut and when I contacted them they quickly got those pages reprinted cut, and shipped to me. I could not be more pleased with their customer service.

10/5/2021
love! best labels for my candles ever