Reviews (7971)

12/7/2023

12/4/2023

12/1/2023

Anthony M.
Verified Buyer
11/30/2023

Mahogany T.
Verified Buyer
11/9/2023

11/5/2023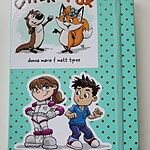 I'm an author and have 2 book series coming out in 2024. "Otter & Fox" picture books and "The Fantastical Adventures of Nova and Locke" chapter books. I wanted some stickers of my characters to put on my planners. These came out great. I love them. 💗 I was concerned about the die cut coming out well and they are awesome.

12/8/2023
Perfect! Not only did y'all work with me but these stickers are legit solid…I use to make my own so I've learned…I am a loyal customer. Thank you!

Jasmine M.
Verified Buyer
12/8/2023
They look amazing. Turned out better than I was expecting.