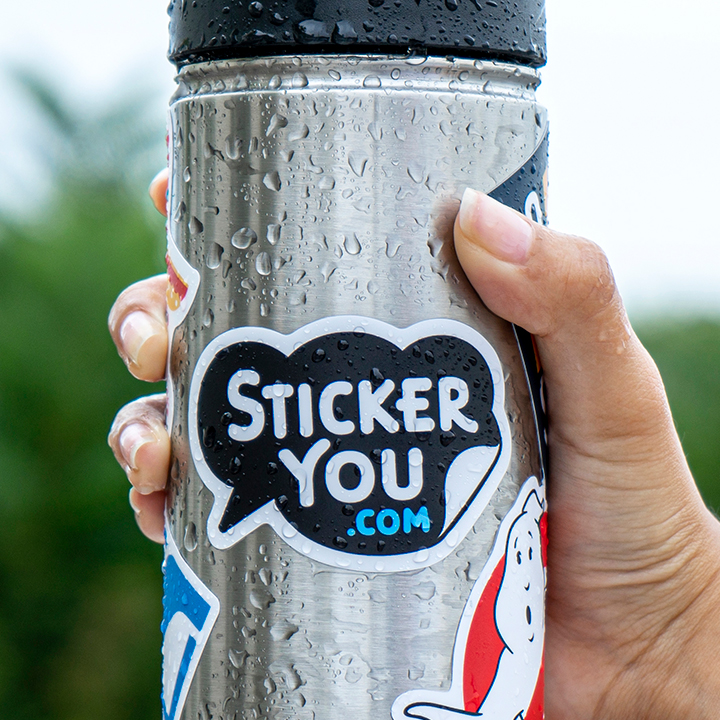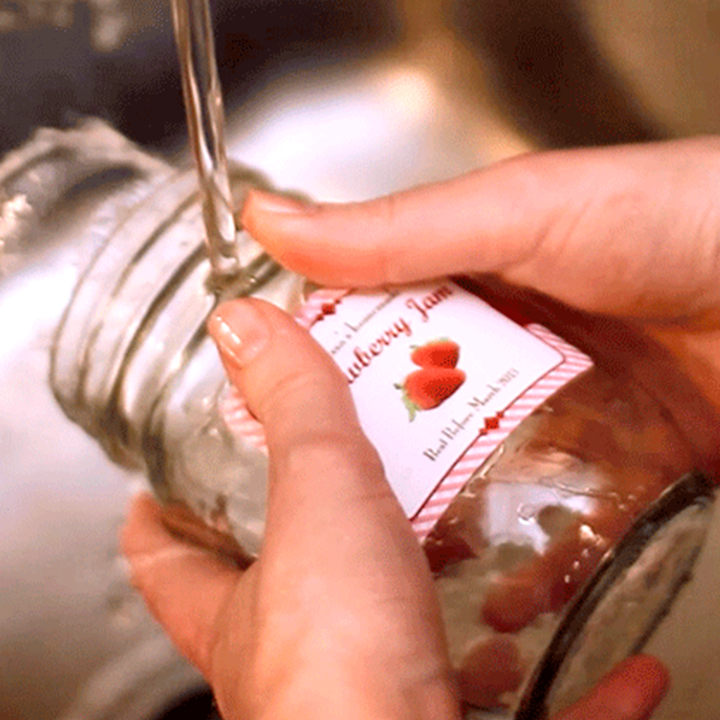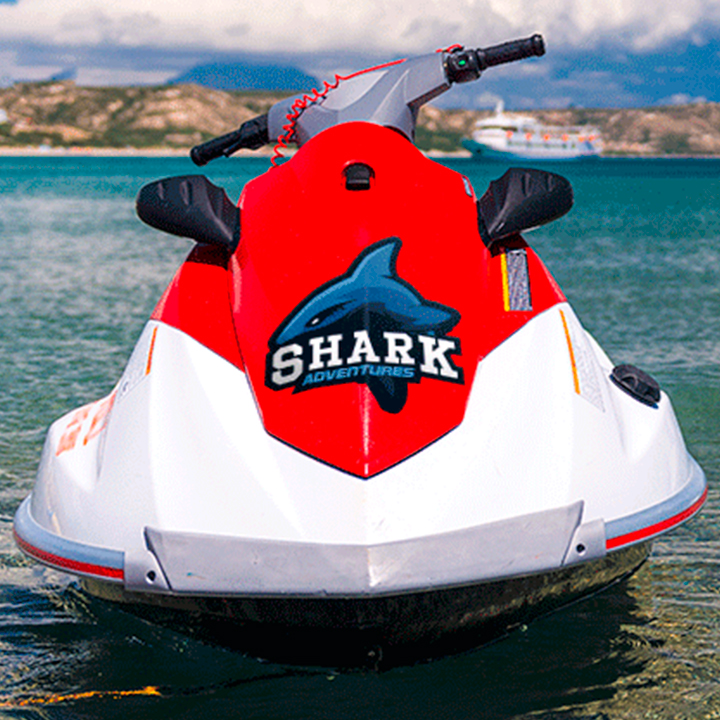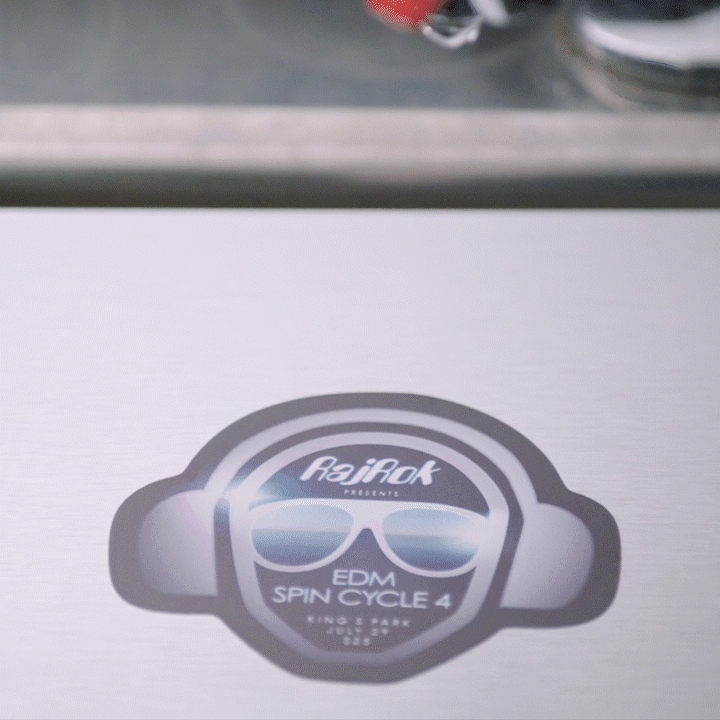 StickerYou lets you create custom stickers that are 100% waterproof! Customize your canoe, personalize your powder room or decorate your diving equipment with confidence. With no order minimums, it's time to drench yourself in custom waterproof stickers from StickerYou!
Learn More
Learn More
20 Stickers (1 Page)

40 Stickers (2 Pages)

60 Stickers (3 Pages)

80 Stickers (4 Pages)

100 Stickers (5 Pages)

160 Stickers (8 Pages)

200 Stickers (10 Pages)

500 Stickers (25 Pages)

1000 Stickers (50 Pages)
Custom Quantity
More About Custom Waterproof Stickers
Stickers are a great tool for decorating all your personal belongings, and now with StickerYou's custom waterproof stickers, you can really soak in your style. Waterproof stickers are the perfect tool for personalizing water bottles, food containers that need to be stored in a fridge or freezer, aquatic sporting supplies, and outdoor gear used in rainy conditions. Our stickers are totally customizable, putting you in total control of how they look and what they say! Create a personal sticker with the names of every family member, friend, or teammate and never lose your personal belongings again. Waterproof stickers are also great for labelling food packages that can potentially come into contact with water, as important information won't ever fade or get washed away.

StickerYou's waterproof stickers are made with waterproof vinyl, and are printed with non-soluble inks. This means your stickers won't slide off in wet conditions, and your colors will remain bold and vibrant. With no order minimums, you'll never have to worry about pouring money down the drain again. We believe in only paying for the amount of stickers that you need! Our custom waterproof vinyl stickers are also available in any size or shape, so whether you want to deck out your surf and snowboards, or personalize glassware, StickerYou has you covered. Don't let your sticker designs float away - order your personalized waterproof stickers from StickerYou today!


Frequently Asked Questions:
Q: How waterproof are these stickers really?
A: Our waterproof vinyl stickers are truly the best of the best. We create these stickers using a thin, durable, and flexible vinyl material. The adhesive is extremely sticky, meaning that they will stay stuck until removed. Feel free to use your custom waterproof stickers on mugs, glasses, and plates, as the adhesive is even microwave and dishwasher safe! This makes them great for making custom drinkware for events like bridesmaids parties, weddings, or personalized gifts. The best part is when you're ready to remove them, your waterproof stickers will remove without any residue or gunk left behind.

Q: How long do custom waterproof stickers last?
A: As long as you'd like! We've stuck some waterproof stickers to the mugs around the office, and they're still going strong, even after several years! If you're also looking for weatherproof stickers, this product is extremely versatile. They will hold up great stuck to windows, cars, and pretty much any flat outdoor surface you can imagine. Hand out your custom waterproof stickers at events like trade shows, networking parties, and conferences - people will love sticking them places where they can continue to raise brand awareness for years to come!

Q: Can I apply my waterproof stickers to a wet surface?
A: We would definitely advise against this. It's best to prep the surface you're applying your waterproof stickers to ahead of time. Ensuring you're working with a clean, flat surface will help the stickers adhesion, and will ultimately make them last significantly longer. If the surface you're applying your stickers to is wet, the adhesive may not dry down as well as it could, and this could cause them to fall off. However, once your custom waterproof stickers are applied, they are A-OK to get soaked! They will even hold up on the underside of boats, kayaks, and canoes! Let your creativity take the wheel with our weatherproof stickers.

Q: How many waterproof stickers do I need to order?
A: Totally up to you! Thanks to our proprietary digital die-cutting technology, we can produce orders of any quantity! This means you can order as little as one single sheet of custom waterproof stickers. Not only this, but you also have the option of printing multiple different designs per page. This makes them great for experimenting with different sizes and shapes, prototyping your product, or experimenting with branding concepts. To get started, simply upload your artwork to our Sticker Maker, or click "Make Waterproof Stickers".

Q: Are custom waterproof stickers limited in terms of shape?
A: Absolutely not! You can die-cut your waterproof stickers to whatever shape works best for you. We offer a variety of standard shapes in our online editor, allowing you to create standard waterproof stickers. We also offer a contour die-cut that registers the shape around the perimeter of your overall design - this can help eliminate padding, and create a more "custom" appearance.

If you have your own die-cut file that you'd like to use for your waterproof stickers order, feel free to send it to [email protected]. We'd be happy to make a custom digital proof of your artwork!
Product Features
Writable with Permanent Marker
100% Satisfaction Guaranteed
No Minimums
Removable Without Residue
Waterproof
Microwave Safe
Dishwasher Safe
Any Size, Any Shape
---
Reviews (4189)

Delaney B.
Verified Buyer
8/5/2020
My order was received a
My order was received a few days late, but it was worth the wait! They look amazing, and I can't wait to give them to my group!

Chelsea D.
Verified Buyer
8/5/2020
Affordable and exactly what I
Affordable and exactly what I had in mind! Great service

8/5/2020
Love my stickers!!!!
Such a great website! Stickers come fast and they're perfect!!

Letravian K.
Verified Buyer
8/5/2020
Gets the job done! They
Gets the job done! They worked perfect for my lemonade bottles!

8/5/2020