Last Updated: 8/4/2023 1:09:18 PM
What are the bleed and safe zones?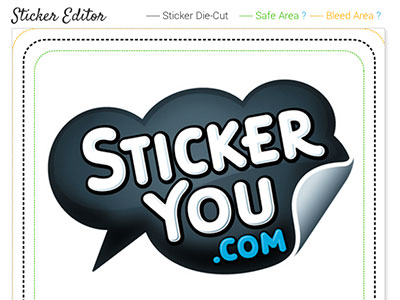 The bleed and safe zone lines are visible in the sticker editor, but what do they mean?
Safe Zone
The safe zone line is designated by a green line inside the die-cut. Keep all elements within this zone unless you want them to bleed off the edge of the sticker.
Bleed Zone
The bleed zone is designated by an orange line outside the die-cut. If you have a colour or element you would like to reach the edge of the sticker, please ensure it reaches this line. Die-cuts do shift a bit at the time of printing, and this bleed zone ensures that the colour goes all the way to the edge on all sides. Without it, you may have a small area of white on one side of your sticker.
Watch a video tutorial explaining Bleed and Safe Zones and the eyedropper button to fill your background here.