Last Updated: 8/14/2023 3:05:56 PM
How do I check the resolution of my images?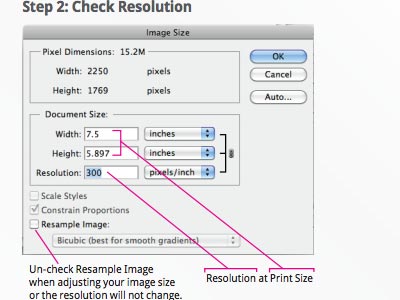 File resolution - also known as DPI (Dots Per Inch) or PPI (Pixels Per Inch) - refers to the number of dots or pixels in an image. Generally, the more dots per inch, the more detail captured and the sharper the actual image.
For an image to print properly, the image resolution must be at least 300 dots per inch (DPI) at 100% of the final output size.
If your file is not 300 dpi, you can not simply change a low resolution image to a higher one by increasing the DPI in your imaging program. The printed result will be a very blurry image.
As such, it's important to start out with an image that has a resolution of at least 300 dpi. You may have to contact the original designer of your image to get a higher resolution file, or you can decrease the print size of your image.
Our editing tools will notify you if it detects that your image resolution is too low, and recommend the maximum size your image should be in order for it to print properly.
Download the attached PDF guide for checking the resolution for your JPG/PNG/GIF image upload using Adobe Photoshop.