Last Updated: 8/11/2021 3:28:48 PM
How do I check my order status?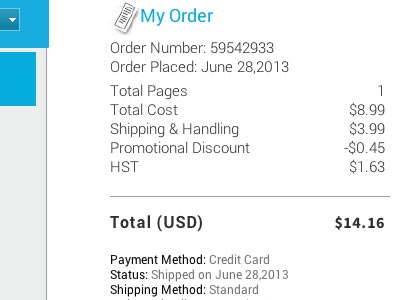 Once you are signed in, you will see your name in the top right hand corner. Hover your mouse over your name, and a dropdown menu will appear. From this menu, select "My Account."
Once you have navigated to your account, you'll see along the top a number of account options. Choose "Order History." From here you can review your order details such as order status, shipping method, estimated arrival date, and the date it was shipped. Please note that order statuses cannot be provided by email.
Tracking Information
Orders placed with Rush or Express shipping will have tracking available after the order has been shipped.When your order has been shipped, you will see the order status display "Shipped on..." follow by a date of shipment. Tracking numbers will appear as soon as the shipping label has been created by our shipping team. In some cases, there is a 4-6 hour window where your order will have a status "Shipped", and no tracking information will be displayed. This is because the shipping label is still be created. Don't panic! If this is the case, simply check back a few hours later.
We use two different methods for tracking. If your tracking number begins with a "1Z", then you can enter this tracking number at www.UPS.com.
If your tracking number begins with "9," your order was shipped with USPS Priority Mail. You can track this on the USPS website, or by pasting the number into the Google search field in most browsers (cool, right?)
(Note: Sometimes the page quantity on the order status screen differs from your original order. Rest assured this will not affect the number of pages you are sent.)