Last Updated: 8/2/2023 4:26:37 PM
Why is my Credit Card not working?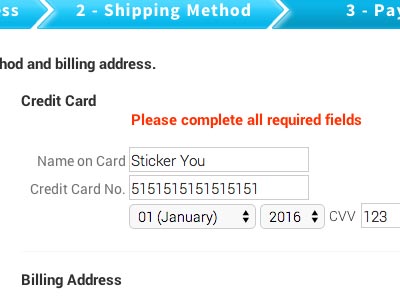 ERROR: "Please Complete All Required Fields", even if all fields are completed
This error is appearing because our checkout is attempting to verify the payment but cannot, and payment is being declined. In most cases, the reason for the decline is because the billing address does not match the address on the credit card statement.
To fix this:
In Step three of checkout (Payment), select "Card billing address is different from my shipping address"
Fill out the required fields
(pre-paid VISA cards may not always be accepted.)
ERROR: If you are able to get to Step 4-Review Order, and an error appears when you click "Place Order":
Your card is being declined. Our checkout has verified that the card information is correct, but payment cannot be completed. This could be for any number of reasons. In this case, we suggest contacting your credit card company for a resolution, as we do not receive any detailed error reports.
If paying via PayPal/AMEX or by Credit Card:
Ensure all fields match the credit card statement.
If you already have a PayPal account linked to the credit card you are attempting to pay with, you must log-in. (Although sometimes you can still pay as a guest, the easiest fix is to log-in and pay).
More often than not, one of these will fix the issue. If the error persists, you should contact your credit card company and inquire with them. In some cases, you will see pending charges on your credit card. These will disappear within a few days. If they do not, please contact us so that we can look into the issue further. It's important to note that since you're seeing this error, your order has not yet been received by StickerYou. (As a side note, all confirmed orders will appear in your Order History.)
My order didn't process, but my card was charged!
Our validation process checks first to see if you have the funds. Then it checks to make sure your billing address is correct. If it is, then your payment goes through correctly. If not, the authorization hold remains for the amount we were trying to take, but the payment is declined and StickerYou will never receive the funds. These funds will automatically be returned to you in 5-10 business days depending on your bank's policy.
Still not working?
Sometimes the payment is being declined even when all of these fields have been filled out correctly. We are trying to resolve this with our payment processer, but if you still can't check out please fill out our contact form and we will be happy to process your payment over the phone.