Last Updated: 8/11/2021 3:29:33 PM
How do I open an account?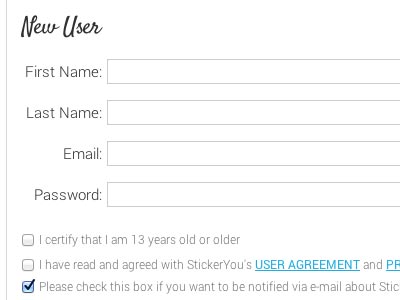 You can create an account by clicking on the "Log In" link found at the top-right of the website and fill in the New User section. All we need is your name, email address, and a password. Please ensure that your password must be alphanumeric and includes at least ONE upper and lower case letters and a number.
You'll have to certify that you're over 13 years of age, and have agreed to our User Agreement and Privacy Policy. You may also choose to be sign up for our newsletter.
Your account is now registered, and you can begin to order stickers from StickerYou!