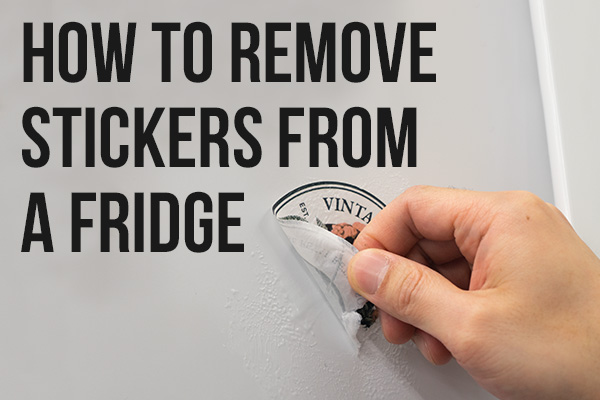 Stickers and fridge magnets have become an integral part of fridge doors in many family kitchens, along with travel souvenir stickers and magnets and the plethora of family photos, grocery lists, and Post-Its. However, when your fridge needs a new sticker or custom magnet facelift, it's time to get the right cleaning solutions, applications, and tools.
Why not follow these steps on how to remove stickers? They'll leave your fridge door free of scrapes, unsightly marks, or sticky residue that attracts dirt and grime.
How to Remove Stickers From Your Fridge Door With Oil?
Step 1: Start by pulling off the sticker as much as possible.
Step 2: Gently rub oil onto what's left of the sticker and its residue.
Step 3: Grasp the sticker's edges and pull it slowly upwards.
Step 4: Get an oil-soaked cloth and dab the oil onto the sticker. Ensure the sticker is adequately covered so that the oil seeps into the remaining edges of the sticker.
Step 5: Let the oil sit for a few minutes before wiping off the adhesive and oil.
Step 6: Be sure to use an appropriate cleaner for your fridge's surface to make it shine like new.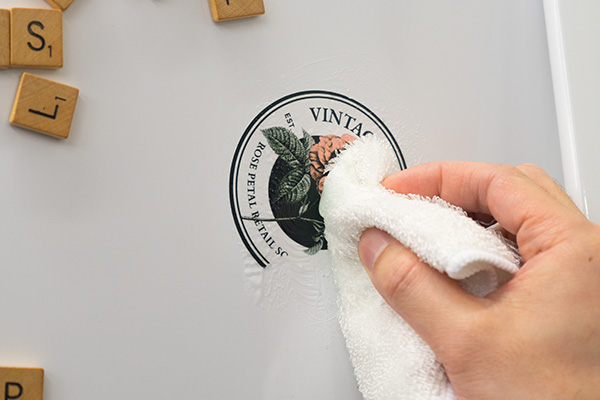 How to Remove Stickers From Your Fridge Door With Soapy Water?
Step 1: Should the stickers on your fridge be water-based and not oil-based, gently clean off the sticker and its residue with a soft sponge or soft scrubber and soapy water.
Step 2: Repeatedly wash the sticker area with the soapy mixture and a damp cloth before wiping it down with clean water and a dry cloth.
Step 3: Use wax to buffer the surface.
Common Mistakes When Removing Stickers From a Fridge Door
Using baking soda directly on the fridge door and other metal surfaces, as this could become abrasive. Instead, create a paste with baking soda and water or oil.
Not checking the fridge's manufacturer's instructions and using the wrong cleaning solution. Be sure of what products cause damage to your particular fridge door and the make of the fridge.
Hard rubbing or wiping of the sticker-removal solution on the fridge door. Fridge doors are easily marked and scratched and can look dull quickly.
Using a water-based solution to remove stickers from a fridge door might be a mistake if the fridge stickers' glue is mainly oil-based.
Forgetting to buff and brighten the area with a semi-rough, but not hard, wash cloth and appropriate wax product.
While WD-40 is also effective for removing sticker residue, use it only on the suitable surface or stainless fridge.
Using acetone and sticker-removal solutions or cleaning products containing acetone, as they can damage the enamel and some plastics used in fridge door manufacturing.
If you have a stainless steel fridge, ensure you rub and wipe according to the stainless steel grain.
We hope with these easy steps and tips on how to remove stickers, your fridge will be ready for your family's fresh personal expression when you purchase more customized stickers!


Want more great ideas and inspiration? Follow us on social, or sign up for our newsletter for amazing deals delivered directly to your inbox.
StickerYou blog posts are written and published by members of the StickerYou team at our headquarters, located in the beautiful city of Toronto, Canada.