How to Sell Stickers on Etsy in 2023: Complete Guide
October 4, 2023
|
Guides/Tutorials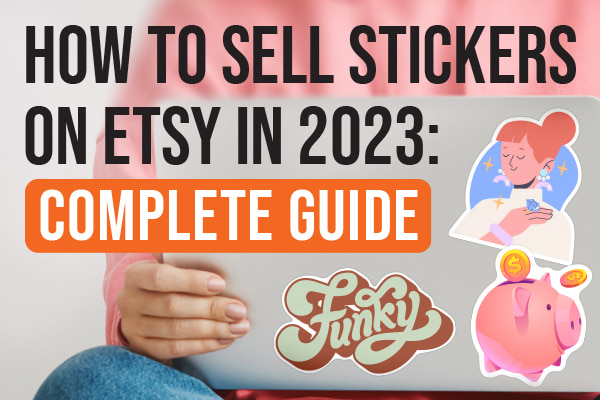 If you absolutely love stickers that you either have a whole collection or almost all your things are covered in unique cut-outs and designs, then you're not alone. Custom printed stickers are well-loved by many — they're simply impossible to resist with their attractive designs, customizability, and ability to bring life to any object.

That's why selling stickers is a lucrative business these days. If you want to share your love for stickers with the market, you should start selling on Etsy. Here's a complete guide to help you set up your small sticker business on the platform.
Why Sell Stickers on Etsy?
Etsy is one of the most popular e-commerce platforms today and is ranked as one of the fastest-growing e-commerce companies in the world. But unlike its competitors that sell a range of merchandise across different categories, Etsy focuses on listing handmade, vintage, and craft items — which makes it the perfect place to sell your stickers online!
Getting started selling on Etsy is easy. There is a very low entry barrier, which means you can start listing your products with no upfront costs.
The market of potential customers on Etsy is vast. With 81.9 million active buyers as of writing, the platform allows your sticker business to reach a large audience. Most of these buyers are also crafters like you who are looking for unique personalized items, so you have plenty of opportunities to attract them to support your sticker business.
No matter how small your sticker business is at the moment, Etsy provides you with a platform to market your brand, generate revenue, and make it big in your business venture.
Is Selling on Etsy Worth It?
With the Etsy marketplace growing at such a fast pace, you might be concerned about competition in the platform. Despite plenty of businesses currently operating out of Etsy, it remains a good place to build your sticker business.
Profitability
The Etsy e-commerce marketplace is booming, reporting revenue of $594.5 million in the third quarter of 2022. This is more than the company expected to make in that time period. Among its top-selling categories are personalized stickers, which makes sense considering that the global die-cut sticker market size is forecasted to value $191.1 million by 2028.

Plenty of sticker businesses are making large profits from selling personalized stickers on Etsy. In fact, one of the star sellers, AcornandCrowStudio, reports that it secures 40,400 monthly purchases from Etsy buyers.

These numbers only go to show how profitable a sticker business can be on Etsy. The market is vast, the audience is large, and the fees are fair, making Etsy a good starting point for your sticker business.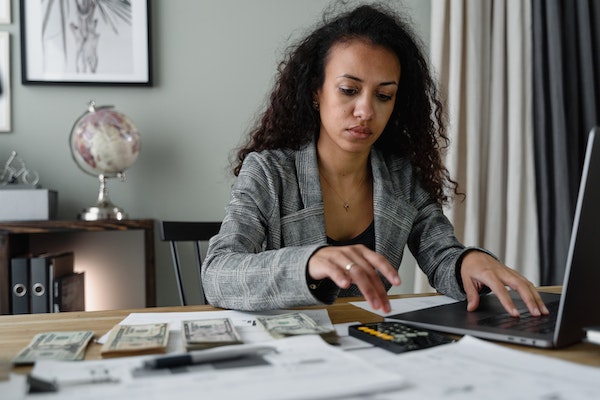 Etsy Fees
Aside from its focus on personalized, handmade merchandise, plenty of sellers also choose Etsy for their sticker business because of its relatively low fees.

Unlike other platforms that charge sellers before they can make their listings, Etsty allows you to get started for free. From there, you can opt to join a subscription plan to access more of the platform's features, such as the Plus Plan, which costs $10/month.

Although Etsy charges transaction fees, they are relatively low compared to other e-commerce platforms. Its listing fees are $0.20 for each item, while its transaction fees cost 6.5% of the price of the product. Etsy also charges payment fees of 3% plus $0.25 per transaction.

Worth noting is the shipping transaction fee, where Etsy charges 6.5% of the total cost of shipping. However, it does offer discounted shipping prices for USPS shipping, which helps you save and optimize your operating expenses.
How to Make Money Selling Stickers on Etsy?
Step 1: Research the Market and Identify Your Target Audience
Personalized stickers are among Etsy's top-selling products, which means that the market for them is strong. But don't just take our word for it. We recommend doing further research on the sticker market on the platform and identifying your target audience. This will help you gain more insights about your customers and your competition.
Step 2: Select a Niche
With the sticker market being big on Etsy, it should come as no surprise that there's going to be a lot of competition. There are sticker businesses left and right competing over active buyers, which means your business needs to stand out.
The good news is that the sticker market is far from being oversaturated. Every business has something unique to bring to the table, whether it be an unconventional design or an attractive personalization feature. The most successful sticker businesses on Etsy are those that sell stickers people can't find anywhere else. In other words, those businesses that found their niche.
Speaking from the e-commerce context, a niche is a product that strongly appeals to a specific audience. Your market research becomes significant in this step. Once you've learned who your customers are and what they like, you should sell products that cater to their personal preferences, needs, and passions.
For example, you might want to focus on creating custom stickers for businesses, supplying them with their branding merchandise. Or you might opt to create stickers aligning with a theme, like spiritual enlightenment or pop culture. Don't be afraid to get specific and narrow down your niche. The more targeted you are about your consumer group, the easier it will be for you to entice them to make a purchase.
So, how do you find your niche? When it comes to a creative industry like a sticker business, there's no better way than to go with what you're passionate about. That way, you can create stickers that resonate with you and the people who share the same interests. Plus, it will make it much easier for you to craft unique designs that align with your niche!
Step 3: Create Your Designs
You know who your market is, and you found your niche. Now, onto the fun part: creating your designs!
Your sticker designs are the heart and soul of your sticker business. They're what your audience will look for and use to decide whether or not to make a purchase. Needless to say, your designs can make or break the success of your venture — so you need to create stickers that outshine the competition.
Don't let that intimidate you, though. While a knack for good design is needed to craft unique stickers, you don't need to be a seasoned graphic designer or digital artist to do it. There are plenty of beginner-friendly tools online. Some examples are:
● Canva: Canva is a cloud-based design platform with a range of templates, illustrations, shapes, and art you can take advantage of to create your unique design. Its intuitive interface makes it easy for you to navigate the different tools and have fun designing your stickers.
● Adobe Photoshop: Adobe Photoshop is the most powerful design tool in the market, complete with features and functionalities that you can use to create original, professional-grade graphics. It's a must-use in a sticker designer's arsenal.
● Pixlr: Pixlr is a cloud-based design tool and photo editing software that has features apt for both beginner and advanced graphic designing. With this platform, you can create sticker designs right in your browser.
StickerYou also has a special Sticker Maker you can use to craft a sticker design. It's easy to use — all you have to do is upload your image or add art, select a shape, input your desired size, configure the settings, and place an order!
Step 4: Create Your Etsy Store
When you've finished creating your sticker designs, you're ready to start selling! But before you can post listings on Etsy, you first have to register as a seller on the platform. Lucky for you, Etsy is popular for its low-barrier entry, which means it makes signing up as easy as possible. To sell stickers on Etsy, you need to create a seller account. You can opt to set up your store on an existing Etsy account you use to shop on the platform or create a new one. Once you've logged in or created an account, click the "Sell on Etsy" button in the top upper right corner of the screen. This should redirect you to the "Sell on Etsy" page, where you can begin setting up your store.
Step 5: Add Listings
On Etsy, sticker listings are what show up on your customers' browsers. So, if you want to attract them to view your product and make a purchase, this is one step you should perform to perfection.
Adding listings on Etsy can be done in your seller account's "Shop Manager" or your Etsy Seller App's "Listings" page. In the "Listings" section, find and click the "+ Create" button. On the next page, do the following:
1. Add photos and videos.
2. Choose a thumbnail image.
3. Add listing details.
4. Describe your listing.
5. Add your inventory and pricing.
6. Set up shipping.
7. Optimize marketing.
8. Save and publish your listing.
Step 6: Packaging Stickers
Stickers can easily tear or crumple if not handled with care. The last thing you want is for your customer's orders to arrive in terrible condition. That's where proper packaging comes in. Investing in your packaging will ensure your stickers are protected as they're shipped to your customers. Not only that, but it also makes a good brand impression and improves the buyer's experience.
There are plenty of ways you can pack your stickers to protect them during transit. Common options are sleeves, boxes, envelopes, rigid mailers, and cello bags. Some sellers even go the extra mile and add backing cards to the package for extra protection.
Step 7: Promote Your Etsy Business
To compete in the competitive market for stickers on Etsy, you need to have a plan for promoting your business. SEO strategies, social media marketing, and ads should all be part of your business plan.
Add the Etsy Fees to Your Final Price
Etsy charges fees for the transactions you perform on its site. These include the listing fee ($0.20), transaction fees (6.5%), payment processing fees (3% + $0.25), currency conversion fee (2.5%), VAT and sales tax, and regulatory operating fee (in specific countries only).

Especially since you're a small business selling small products that don't cost much, these fees can easily add up and put a strain on your income. That's why it's important to consider Etsy fees when pricing your products. Add the accompanying fees to your final price to maximize your profit.
Optimize Your Listing
Your listing needs to be attractive and engaging so your products appeal to your customers. To optimize your Etsy listings, pay attention to the following:
Using high-quality photos: You need to show off your sticker designs with high-quality images. Take clear and crisp photos of your stickers and their details and add a couple of shots showcasing how your designs can be used and applied.
Writing detailed descriptions: Include complete and accurate information about your stickers, such as their size, materials, and design. This will help buyers make informed decisions and avoid them having to request further details.
Highlighting your product's unique features: In your listing, make sure to highlight any unique or distinguishing qualities your stickers have. It can be anything from the texture or finish to the design or durability.
Using keywords: Using keywords in your listings will help increase your visibility. Help your audience find your products by optimizing your titles and tags with the right terms that describe your stickers.
Offering multiple variations and combinations: Instead of using one listing slot for a single sticker design, you can maximize the listing fee by adding variations. Sell your stickers in packs, bundles, or sheets — this also gives your buyers more options.
Etsy SEO
Etsy SEO is a strategy to improve your store's visibility on the platform. In Layman's terms, it helps customers find your products and, ultimately, generates more profit for your sticker business. There are a couple of things you need to do to optimize your Etsy store:
Conduct keyword research. This might seem like a daunting first step, but it's actually pretty easy. You can start with Etsy's search bar. Type in a few letters and you'll get search suggestions — these are searches that people have made and are currently trending on the platform.
To take your keyword research a step further, you can utilize tools like Keyword Tool Dominator, Alura, and eRank, which are all made for Etsy merchants.
Use keywords in your listing. Once you've learned the keywords people are searching for to find products on Etsy, use them in your listing. Particularly, place the most relevant keywords at the beginning of your title and descriptions.
Renew your listings. The older your listings are, the less visible they become on the platform. Renew your listings regularly to boost your search rankings. We recommend doing this during peak hours when most buyers are actively browsing.
Optimize your store name. This isn't mandatory, but it's worth saying that having a competitive keyword in your store name can help boost your visibility on Etsy.
Social Media Marketing
Social media is a great place to convert your followers into your Etsy business customers. It also gives your business more visibility and reach.

Consider signing up with your business name on popular social media platforms like Facebook and Instagram. Optimize your profile, pool followers, and regularly post and showcase your stickers in your accounts. You can also use the platform to make announcements, initiate conversations, offer deals and giveaways, and conduct other gimmicks to attract buyers.

Don't forget to direct your audience to your Etsy store so they know where they can avail of your stickers! Have a clickable link in your bio and relevant posts.
Etsy Ads
Etsy also has its very own feature you can use to promote your sticker business. Called Etsy Ads, this is a paid ads function run inside the e-commerce platform. When you avail of this, you can place your listings in visible spots on the Etsy site and app, including the search results, categories, and market pages.

You can set up Etsy Ads in your seller's account by going to "Shop Manager" > "Marketing" > "Etsy Ads." From here, set your daily ad budget, which you can change at any time. When you're happy to get started, click "Start Advertising".

Etsy Ads also allows you to choose which countries buyers can see your ads in, as well as which listings you want to advertise. By default, however, all your listings will be promoted when you start an Etsy Ads campaign.
How to Make Stickers to Sell on Etsy?
There are three ways you can bring your sticker business to life and produce products to sell on Etsy. Depending on your needs and preferences, you can either sell with a print-on-demand (POD) service, use a printing partner, or make your stickers yourself.
Print-On-Demand (POD) Services
Print-on-demand (POD) services allow you to sell stickers on Etsy right away. You don't need to invest in materials and equipment to get started — all you have to do is engage a supplier who will print and ship your stickers for you on a made-to-order basis, reducing any further investment on your part.

A lot of sticker businesses on Etsy go the POD service route because of its benefits, which include:
Low startup costs: You don't need to invest in any materials, tools, or equipment to start a sticker business.
No inventory management: Because the provider prints and ships the stickers for you, you won't be handling any complex inventory management tasks.
High level of customization: POD services operate on a made-to-order basis, which allows your customers to personalize their orders.
Less effort is required to manage the sticker business: The POD service essentially handles the bulk of your operations. All that's left for you to do is create new designs, promote your business, and deal with customer service.
However, before deciding on engaging a POD service, you should be aware of its cons. POD services may have the following disadvantages:
Small profit margin: POD services are more expensive than making stickers on your own. You should only choose this route if you're willing to make a profit trade-off for less hassle and effort operating your sticker business.
Long shipping times: Because POD services only print the stickers upon purchase, the time it takes them to process orders and ship them out can be relatively longer.
Use a Printing Partner
Alternatively, you can use a sticker printing partner for your Etsy business. These companies, like StickerYou, can offer you features to create your stickers on their platforms, set specifications, and place your order to be delivered to your home or warehouse.

For example, our Sticker Maker makes it easy for you to customize a design and add your sticker orders to your cart. Here's how to use this handy tool:
Step 1: Log in or create an account. For quick and secure checkout, create an account with StickerYou. If you already have one, make sure you're logged in before using the Sticker Maker.
Step 2: Upload an image, photo, or PDF document. You can also browse our gallery and choose art for your custom stickers. At this point, you can edit the image to add text, change the background color, or make a border.
Step 3: Select a shape. You can choose between popular shapes, such as image die-cut, circle/oval, square/ rectangular, or rounded corners. Or you can browse the range of templates for a more unique cut.
Step 4: Select the size of your sticker. Set your desired sticker width and height either in inches or cm. Then click "Apply" to make the changes.
Step 5: Configure the settings. Review the details of your sticker order and make changes where needed. Select the quantity of your order and if any, provide your print instructions. For future use, you can name your project for easy access.
Step 6: Place your order. When you're done, click "Save to Cart" and place your order.
The main benefit of working with a printing partner is it allows you to maximize your profit margin. They can help you produce stickers in bulk, lowering the price of each order. However, most printing providers only accept orders in bulk, which means that you'll have to store some stickers in your inventory. If not sold, this can lead to overstock.
Make Your Own Stickers
If you don't want to work with third-party suppliers, you can always opt to make your own stickers to sell on Etsy. This gives you more control over your business, including the production process. Among its advantages include:
Higher profit margins: Because you control the production of your stickers, you can reduce costs where needed and optimize your pricing for higher revenue.
Creative freedom: You are also able to experiment with the sticker-making process as you please, whether that's trying new materials, textures, finishes, or printing techniques.
Better branding opportunities: Handling the production process means you can insert your branding into every aspect of your business, such as by adding promo cards or choosing your packaging designs.
Better marketing campaigns: With your stickers on hand, you can take more pictures of your products that you can use for marketing and promotional campaigns.
Be aware, however, that making your own stickers can also come with its own set of challenges. Some things to consider are:
Higher startup costs: Before you can start building your business, you will need to shell out money upfront for your materials, tools, and equipment.
Limited scalability: When your business grows, it will demand more of your time and resources. A one-person team might not be enough to meet your increasing orders.
More responsibilities: Making your own stickers takes a lot of work. Couple that with your other responsibilities, such as managing your Etsy store, answering customer inquiries, and marketing your brand.
How to Make Your Own Stickers to Sell on Etsy?
If you decide you want to make your own stickers for your Etsy store, then here are the steps to get you started on the right foot.
Step 1: Create Your Designs
When creating designs for your stickers, you can either sketch them yourself with digital drawing tools (such as an iPad or drawing tablet) or use online design software. The latter is a comfortable route for those who aren't too familiar with graphic design. Some of your options include GIMP, Canva, Adobe Photoshop, PicMonkey, or InkScape.
Step 2: Print Your Designs
When you're happy with your design, you can begin printing them out. Here, consider the type of paper and type of printer you'll be using.
Sticker paper comes in two common variations: paper and vinyl. Which one to choose will depend on your intended results. Paper is not waterproof and can easily crumple. Vinyl, on the other hand, has a more professional-looking texture and is durable.
Depending on what type of paper you select, you need to find the right printer. You can use either an Inkjet printer or a laser printer. The former is more affordable upfront but uses a lot of ink, which may make it less economical when printing saturated images. The latter is more expensive initially, but the money you spend is worth it, considering its print quality and longevity.
Step 3: Cut Out Your Stickers
When you've printed out your stickers, you can begin cutting them into individual pieces. While you can definitely use regular scissors for this, we recommend investing in a cutting tool for faster and cleaner cuts.
Two of the most popular cutting tools in the market are the Cricut Explore Air 2 and the Silhouette Cameo 3. They can be handy pieces of equipment for your sticker business, especially in case you get a huge volume of orders.
Step 4: Package Your Stickers
When packing your stickers, you should prioritize protection. Ensure that your packing materials are enough to prevent crumpling and tearing the stickers while they're being shipped to your customers.
Some good packaging options include:
● Envelopes
● Rigid mailers
● Cello bags
● Boxes
If you want to add a personal touch to each order, insert promo cards or thank you notes with the package!
Conclusion
An Etsy sticker business is a profitable venture that you would be wise to take on. There's a huge market for personalized stickers, not to mention that it allows you to share your passion and interests with the world — while making money off of it!

With our complete guide above, you should be well-equipped with everything you need to build your sticker store and make a profit on Etsy.