Which StickerYou Custom Product is Right For You?
August 29, 2014
|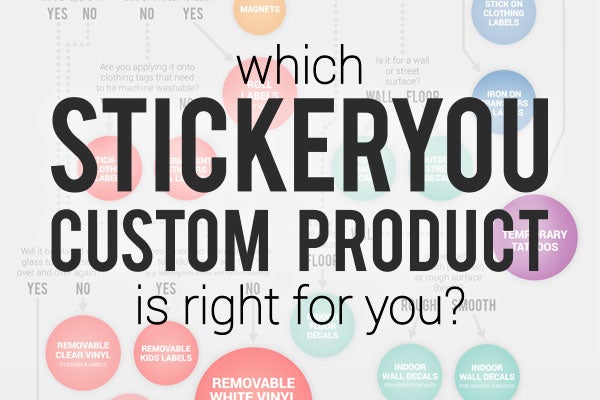 Share this post:
We know how the story goes; you have a great idea for that party you're planning, small business you're running, or the DIY project you have been planning, and in all of your excitement you rush over to StickerYou.com (great choice for custom sticker products, by the way) and set your order up, then you get to the materials selection and.. you're stumped. You know exactly what you want your custom product to do, but you're not sure which material will give the right outcome.
We understand that you don't want to waste your time or money ordering a product from StickerYou that isn't going to fit your needs, so we created this chart to help you determine which material is best for you custom stickers, labels, iron-ons and branded canvas patches or wall and floor decals.
As always, if the chart isn't clear, or you still have questions about our product's features or benefits, please feel free to contact our Product Expert team at Support@StickerYou.com. They will provide all the information you need to make the proper product choice.
Want more great ideas and inspiration? Follow us on social, or sign up for our newsletter for amazing deals delivered directly to your inbox.
StickerYou blog posts are written and published by members of the StickerYou team at our headquarters, located in the beautiful city of Toronto, Canada.