Last Updated: 2/7/2023 9:23:19 PM
What is a front-side adhesive sticker?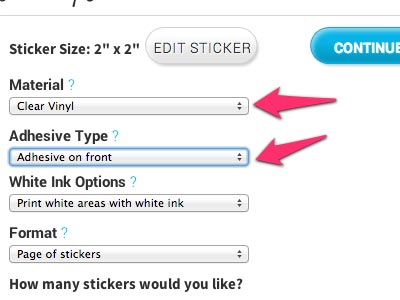 Front side adhesive stickers are best suited for applications where the sticker is applied on the inside of a window for viewing from the outside of the window. (e.g., a sign on a window of a store).
Quick tip: After creating your sticker, click "Done Editing". From the "Material" drop-down menu, select "Clear Vinyl". From the "Adhesive Type" drop-down menu, select "Adhesive on front". Click "Continue".
How it works: We can't print ink on the adhesive side of stickers. However, we discovered that printing a wrong-reading (backwards) image on the non-sticky side of a transparent vinyl will allow the user to see graphic from the sticky side of the sticker.
Front-side adhesive is not available on White Vinyl sticker material because the material is opaque. If we were to print using the same technique... You'd be left with just a backwards image on a sticker!