Last Updated: 11/13/2014 3:46:54 PM
How do I order stickers and other products?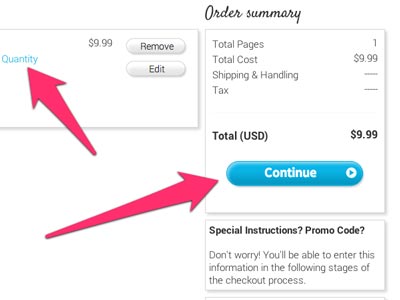 Once you're satisfied with your design, you can click the cart icon in the top-right corner of our website, or done editing within the Sticker Maker. Once you've landed in the checkout you will see the contents of your shopping cart. You can preview your page by selecting the page. Your sticker sheet material is listed directly beside the sheet thumbnail. You can change the sheet quantity by clicking "Change Quantity" and typing in how many sheets you'd like. Then click "Update". Your new price will be adjusted accordingly. When you're ready to checkout, click "Continue"
If you're not logged in, you'll be asked to! Or, if you don't already have an account, you can set one up really quickly. Creating an account is necessary for placing the order, and it allows you to conveniently check your order status, view previous orders, and keep track of orders in case you'd like to re order your sticker sheets in the future!
Make sure you review your order before placing the order. When you place the order, it is considered a confirmed order. Once the order is confirmed it will be printed!