Introducing: Colored Foil Labels!
January 31, 2023
|
Innovation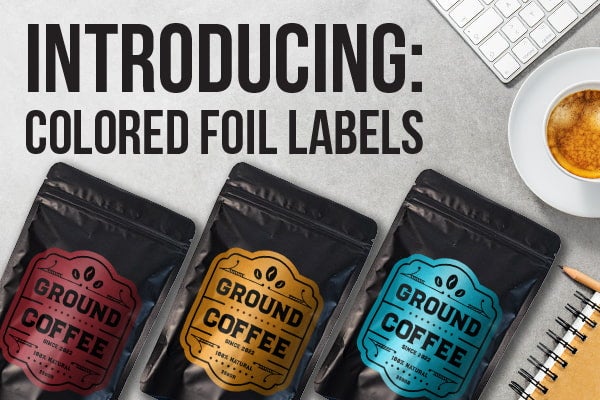 We've been busy in our innovation lab working tirelessly to bring you cutting-edge products that enable you to create a standout brand experience with your business. That's why we're excited to introduce our latest product to you - Colored Foil Labels, available in 16.7 million colors!

It's never been easier (and more cost effective) to give your brand a premium, polished product presentation without high minimum order commitments. Available in any size, die-cut shape, and color, you're in the driver's seat when it comes to your brand's self expression and identity.


The Nitty Gritty
Admit it - you're curious! Let's break down this exciting new product capability even further.

Our Colored Foil Labels are available in 8 core foil colors listed below. If you would rather a more customized color, choose from any CMYK value!
- Rose Gold Foil
- Browse Foil
- Saffron Orange Foil
- Premium Purple Foil
- Cyan Foil
- Pinot Noir Red
- Smooth Green Foil
- Sky Blue Foil
These labels can be printed from sizes ranging from as small as 0.75x0.75", all the way up to 8.5x11", and are available in quantities from as low as 250, and into the tens of thousands.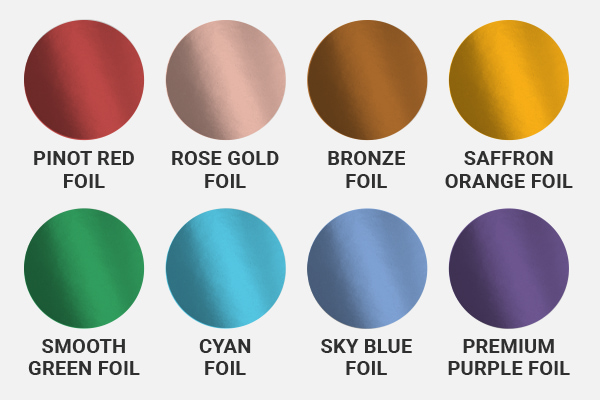 Make Your Business Shine
Our Colored Foil Labels showcase your designs on a 2 mil metalized, top-coated polypropylene film with a strong, removable adhesive - resulting in an elegant, professional finish. Long story short, foil labels are not only durable and built to last, but made to impress. These labels are perfect for health and beauty packaging, luxury products, food and beverage labeling, and everything in between.

With a wide range of colors to choose from, you can easily create the perfect custom labels for your exact needs. Regardless of your business size, we're here to make your branding dreams and wishes a vivid, colorful reality!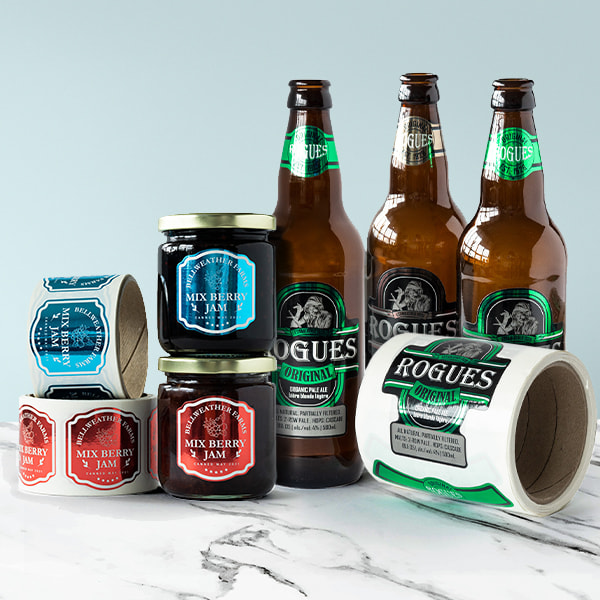 Every range of Colored Foil Labels are laminated and built to last, making them perfect for promotional use, branding and packaging, or personal expression. Alongside this, we offer all varieties with the following competitive advantages:
- Any size, any shape, any color
- No setup fees
- Available in the Online Editor
- Quantities starting at 250
- 16.7 million color options
What are you waiting for? Get started with your custom foil masterpiece in just a few clicks by heading over to our Online Editor! Got questions or need some assistance with a custom request? Send us a live chat message, or fill out this form and we'll be in touch!
Want more great ideas and inspiration? Follow us on social, or sign up for our newsletter for amazing deals delivered directly to your inbox.
StickerYou blog posts are written and published by members of the StickerYou team at our headquarters, located in the beautiful city of Toronto, Canada.