Burning Questions Customers Want Answered
March 17, 2020
|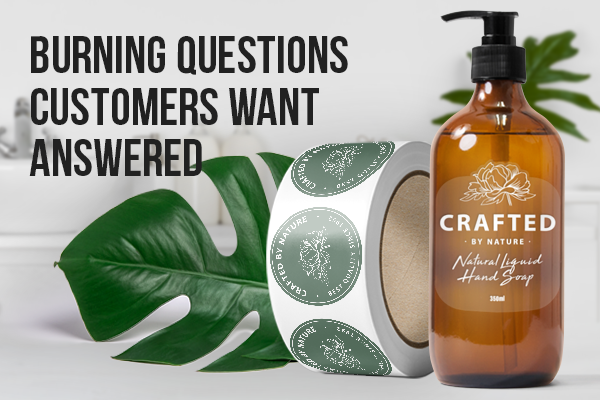 Share this post:
Ordering custom products can be tricky, but at StickerYou, we do our best to make the ordering process as easy as possible. That being said, we still receive a fair amount of questions, as the printing industry uses some terminology that most may not be familiar with. Today, we're looking at some of the most common questions we get, and answering them in detail to help make your creative journey as smooth as we can!


How do I ensure the background of my clear vinyl is transparent?
Clear vinyl is a great product, especially if you'd like the background of your artwork to be see-through. This typically looks best on glass or translucent applications, or for product packaging applications such as jams, lotions, and liquids. If you're uploading artwork that has a white background to our Sticker Maker, it can automatically detect this background and remove it from the artwork when creating clear vinyl pages or handouts (note: this will only work for a standard white background). However, it's recommended that you upload a transparent PNG image that already has the desired areas removed. This will result in a clean high resolution print, and also gives you the option to selectively use white if desired!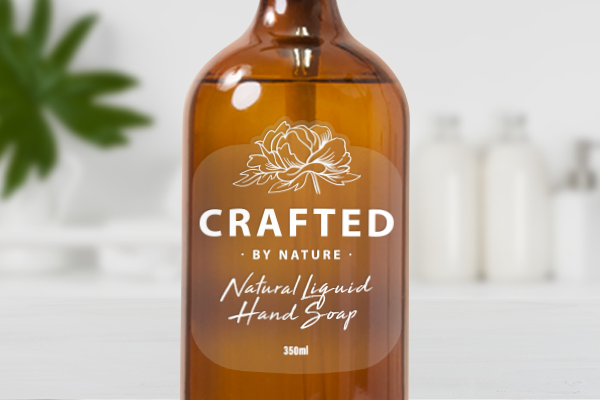 What is a vector file? When do I need one?
Vector files are a type of format most commonly created in Adobe Illustrator, although they can be made using other software such as Sketch, CorelDraw, and Affinity Designer. Designing and exporting your artwork as a vector allows you to scale it to any size, which will effectively avoid any pixelation or jagged edges if your artwork is scaled too large for wide-format print. This also gives our support team the ability to add intricate die-cuts around your artwork - which is helpful if you're looking to order something custom die-cut, such as as a vinyl graphic. If you're printing standard products like stickers or sticker labels, you don't need to worry about having a vector file. You can upload any proper resolution JPG or PNG image to our online creator!


Is there a difference between BOPP and vinyl?
Although these materials can look and feel very similar, there are some subtle differences that may help you differentiate between the two. BOPP is a polypropylene material, and is thinner than regular vinyl. It does not have as much stretch, and is only available on rolls (meaning it has a minimum of 250 labels), whereas our vinyl is available on rolls, pages, handouts, and decals. Vinyl in general is slightly thicker and has more flexibility. They are both excellent, durable materials, so you're in great hands regardless of your decision!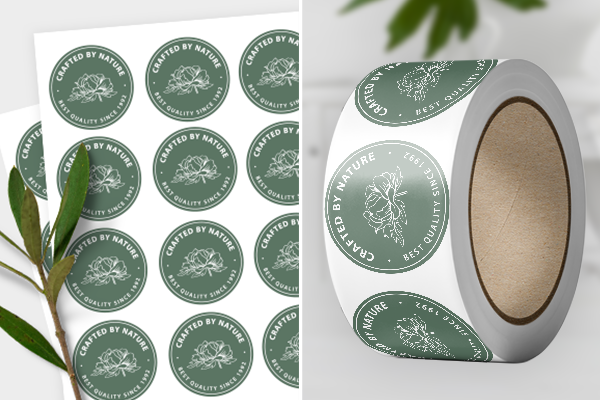 Should I order kiss-cut or die-cut?
Kiss-cut sticker singles can best be described as small mini-pages. Your stickers will arrive on square or rectangle vinyl, with the shape of the actual sticker die-cut inside the mini page. Die-cut singles are cut through both layers of the vinyl (the actual sticker, as well as the backing), so what you receive are stickers cut to the direct shape of your design, without any waste or extra vinyl around the outside. Both stickers will look the same once applied, so the difference simply comes down to the shape you'd like! In general, die-cut singles have a more "luxurious" finish, making them great for events like trade shows and business marketing.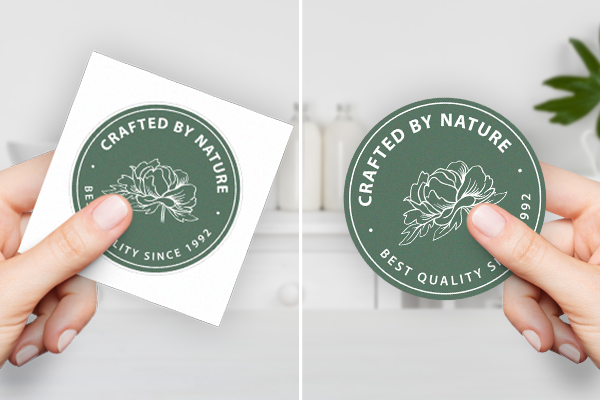 Are my stickers opaque or see-through?
This is totally up to you, we offer materials that are opaque, see-through, and also custom cut. Not only this, but if you're printing on a white material, we have multiple finishes available (including matte, semi-gloss, and gloss). At StickerYou, we have no minimums on products, allowing you to order as little as a single page of stickers, so you can always test out different materials if you're not sure what will look best!


What methods can I use to order some custom products?
You have a few different options when it comes to placing an order for custom products. The first and often easiest method is to upload your artwork files directly to our Sticker Maker. Once you answer some questions about which product will best suit your needs, you can create and design your final product. We have a variety of text, image, and editing tools, to ensure you love the finished result. If you're ordering a custom product (ie. custom cut vinyl, or a specialty product), you can send your artwork to [email protected] for a quote and digital proof. They also offer art and design services if you need some assistance with your art files!


How can I remove leftover residue when I remove types of stickers?
There are many household materials you can use to remove leftover adhesive on surfaces that you apply custom products. Acetone, baby oil, rubbing alcohol, and some good ol' elbow grease all do a great job of cleaning up your application areas. If you'd like some more in-depth information, you can check out this blog post!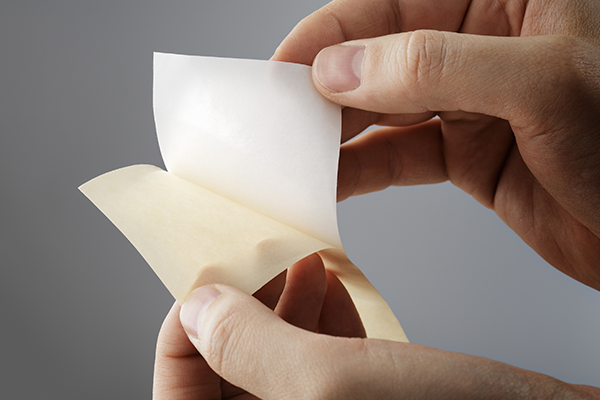 Want more great ideas and inspiration? Follow us on social, or sign up for our newsletter for amazing deals delivered directly to your inbox.
StickerYou blog posts are written and published by members of the StickerYou team at our headquarters, located in the beautiful city of Toronto, Canada.