NEW! Matte Vinyl Stickers and Labels
April 12, 2016
|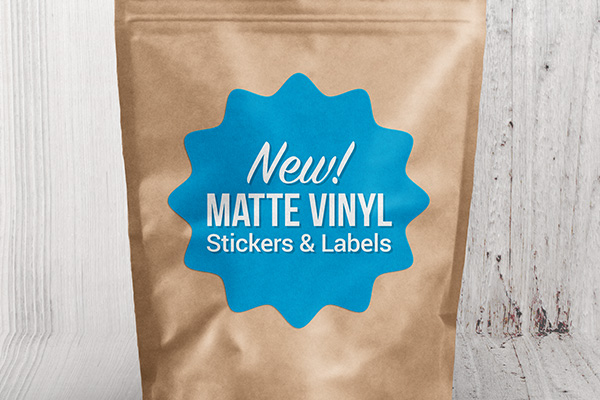 The StickerYou products you know and love just got even better. Our glossy white vinyl has always been a crowd pleaser with its beautiful sheen and superb print quality, but sometimes all you need is a soft and subtle matte finish with superior colour reproduction. You asked, we listened, and now you can order matte vinyl stickers and custom matte labels directly through our Sticker Maker!
Here's how: Simply ensure that the material selected in the order details of your creation within the Sticker Maker is set to "Removable White Vinyl (Matte)."


Just like our glossy finish, matte vinyl is perfect for creating impactful stickers and labels that stand out from the crowd. Matte labels and stickers are a great way to get that high quality professional-grade look at a budget-friendly price. Matte vinyl stickers and labels are also:
Available in any quantity (Even if you only need one!)
Totally customizable and available in any shape or size
Removable without leaving behind sticky residue
Durable to withstand the elements
Waterproof
Writable with permanent marker
Dishwasher safe
Microwave safe
Matte vinyl stickers and labels are the perfect material for personal and professional uses like:
Branding shipping packages
Labeling food and drink products
Decorating wedding favors
Promoting small businesses with sticker freebies
Decking out electronic devices
Personalizing loot bags
Organizing your home
Branding, decorating, personalizing... you name it! With matte vinyl, the possibilities are endless, so get creative and make your idea stick!
Want to test out our matte vinyl material for yourself? Request a free sample pack to try before you buy!
For even more DIY home decor, branding, and life hack ideas, check us out on Facebook, Twitter, Instagram, Pinterest, Google+, and YouTube.
Get other great ideas, inspiration and sweet deals delivered right to your inbox by signing up for our newsletter here.