TOP Customer Creations of 2015!
December 18, 2015
|
It's become an annual event! The StickerYou crew gathers to submit and talk about their favorite customer orders of the year. 2015, was no exception and this year we had even more fantastic orders to choose from.
We do this each year as a way of celebrating all our customers. We want to show off some excellent design work and inspire others with all the cool things you can do with a little creativity and StickerYou products.
Without further ado- here are the Top Customer Creations of 2015!
Bettendorf Brewery - Emily Sikora
Emily designed these custom beer labels as part of a project for her Branding and Systems class. The assignment was to develop a small brewery company and create designs for three types of beers as well as their carriers. I hand lettered the logo for the "B". She chose Fox River Grove, Illinois because it is very close to my hometown and the town has a famous castle that they are known for called the Bettendorf Castle (hence the name of the brand). Those brews look like something we'd wanna try! Check out the rest of her work here.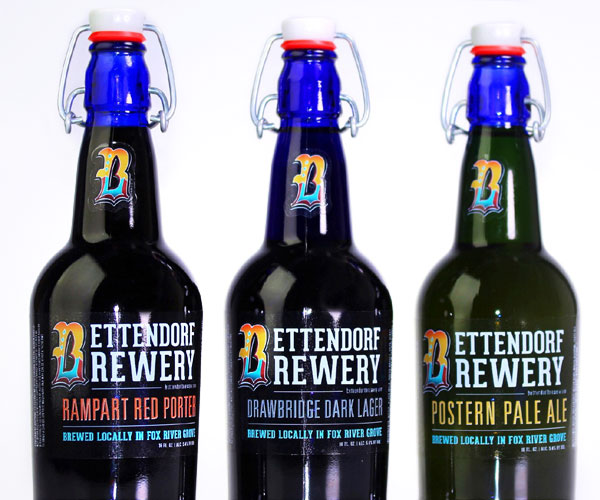 The Toronto Chefs - Antoine Tapin
The Chefs (originally The Chiefs) are a recreational hockey team in Toronto. They created custom hockey puck stickers for their game pucks. These pucks are typically used during warm up, but also sometimes during the games as well. The idea was that if the pucks were branded by their team, fewer of them would go missing and it would be easier to get them back after a game. It worked the first year, but this season, with the newly designed pucks, more seem to have gone missing than before!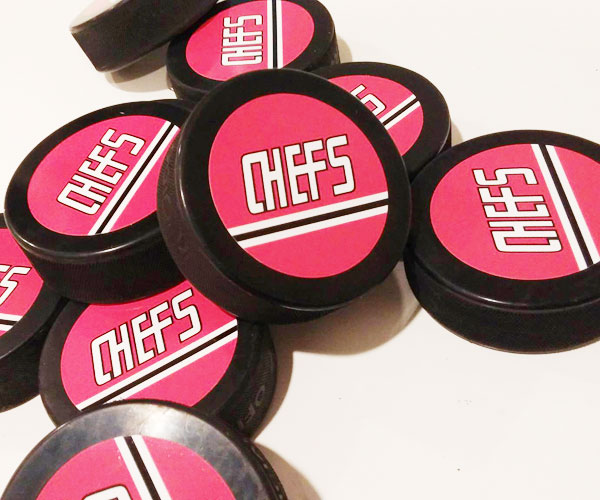 STAGG Jams - Candice Ross
STAGG Jams are delicious handmade preserves made by Candice herself. She creates the recipes using fresh ingredients straight from her family's farm in Louisianna and designed all the labels as well. Small batches of each jam or maramalade are produced and sold in Brooklyn. All marmalades are made in the traditional way, hand cut, using the whole fruit with all pectin being extracted from the fruit itself. The names sound amazing (Rosemary Grapefruit, Spicy Orange!) and the jams themselves look fantastic.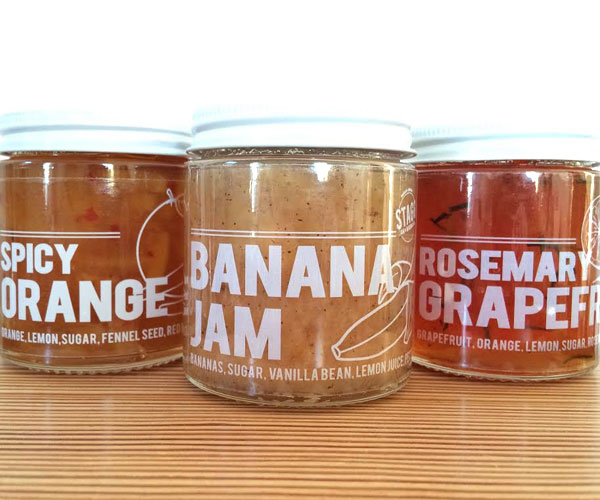 Jungle Red Salon - Suzanne Erickson
Jungle Red Salon Spa and Gallery is where art and personal care combine to create a stylish and welcoming atmosphere. At Jungle Red Salon you will find health-conscious services, friendly professional staff, and artwork created by local talent. This institute is a great example of how two industries, two different forms of art can combine to create a unique environment for guests as well as staff. Art collections rotate on a monthly basis and provide extra exposure for the artists. Jungle Red Salon, Spa and Gallery truly is where beauty, art, and community come together. The businesses created a custom wall decal which hangs in their salon space. It is used as a backdrop against photos of customers whom just had their hair styled. Find out more here, or visit them on Facebook.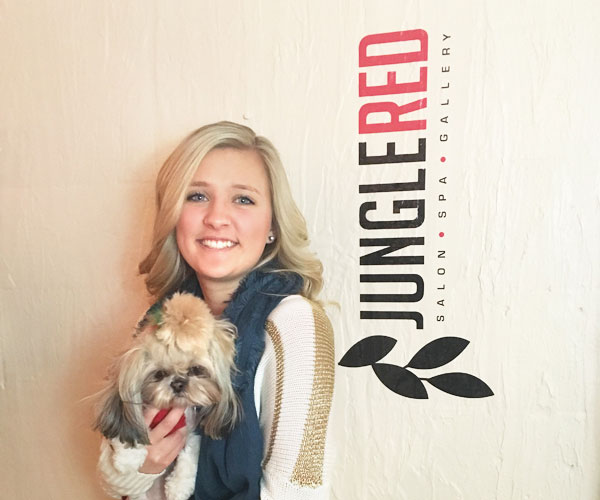 Donorworx - Roslyn Murray
Donorworx is a business that provides fundraising solutions to non-profit organizations in North America. They set up a lot of face-to-face fundraising campaigns to help engage the public and help non-profits raise awareness around various causes. To embody the Donorworx spirit, they adorned their reception walls with custom wall decals of speech bubble greetings in a variety of languages to welcome guests to our office. Fostering community was important for their new space and this was supported with a gallery wall of decals in their cafe that have happy and colourful shades and an informal, fun and playful feel to them. Custom decals were created for the meeting room names that use words that inspire employees with their company values and philosophy. Learn more about Donorworx here.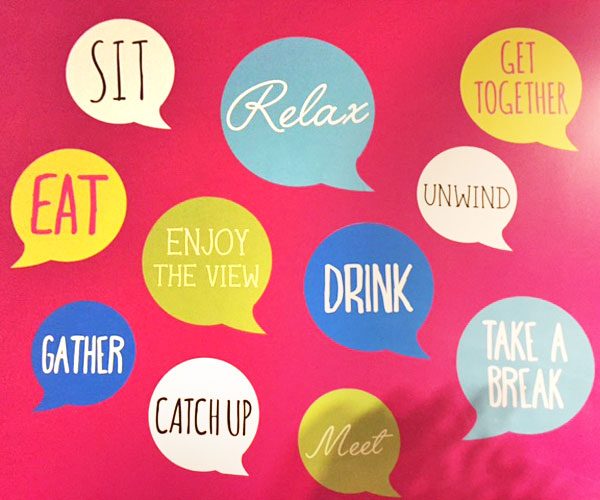 And there you have it! While these 5 were chosen as our Top Customer Creations of 2015, we had many, many , many excellent orders with excellent designs or very unique and interesting end uses. A BIG thanks goes out to anyone and everyone who placed an order with StickerYou in 2015- YOU ROCK! We appreciate and value all of our customers and hope to work with you again in 2016.