How Durable Are Our Products Really?
November 5, 2019
|
Share this post:
StickerYou prides itself in offering only the best quality sticky products. We ensure our products will stand up to long term use and harsh conditions, and remain like new. To test how durable our products really are, we ran experiments on three of our most popular products to see how they stand up to the test. The experiments are done in both regular conditions, and in harsher conditions than these sticky products are likely to ever face in everyday use. If they can hold up to these testing conditions, then we are extra confident in their ability to perform perfectly for you!
The Tests
Testing Vinyl Stickers:
Vinyl is a synthetic material known to be super durable, and the removable adhesive we use is the perfect combination of strong and easy to remove. These qualities make our vinyl stickers perfect for your custom sticker or label project. Our vinyl stickers claim to be microwave and freezer safe, so we put that claim to the test. Since the adhesive on our vinyl stickers is removable without residue, so we will also test if the removability compromises the ability to stay stuck in extreme condition, and if the sticker can still remove without residue afterward.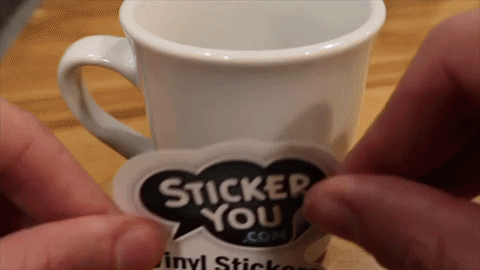 The first experiment tested how the vinyl stickers would stand up to freezing conditions. The mug and sticker were wet with water to make sure the sticker was coated in ice, maximizing how frozen it can be. After frozen, the sticker was un-effected and as strong and stuck on as if new!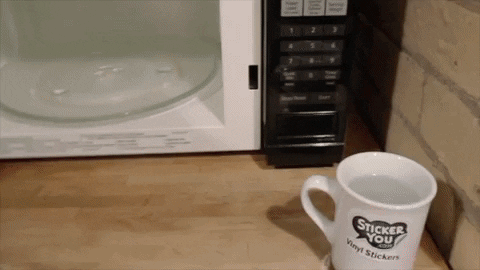 The second experiment used the previously frozen sticker to double the impact that this vinyl sticker is being tested for. A mug was microwaved with the vinyl sticker on it for 2 minutes. When it came out of the microwave, the sticker was still unaffected and stuck secure on the mug. Even when the mug was still hot, the sticker peeled off easily and without residue left behind.
Testing Static Clings:
Static clings are made out of a durable plastic and cling to flat surfaces with static electricity. Static clings use static electricity instead of a gluey adhesive, but is static strong enough? How many times can we move and use the same static cling before it stops sticking? Let's find out!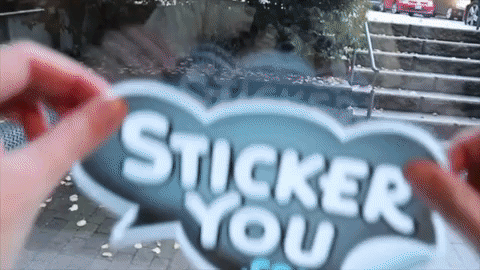 The static cling was tested by sticking it on and peeling it off different surfaces around the StickerYou's HQ. The test stopped after 10 tries because there was no decline in how well it was stuck.
Testing Temporary Tattoos
StickerYou's temporary tattoos are made out of the best cosmetic grade transfer paper and ink so they are non toxic, FDA approved and won't irritate sensitive skin. StickerYou's temporary tattoos will be tested to see if they are really waterproof, if they are durable enough to stay on for multiple days, and if they are actually easy to remove.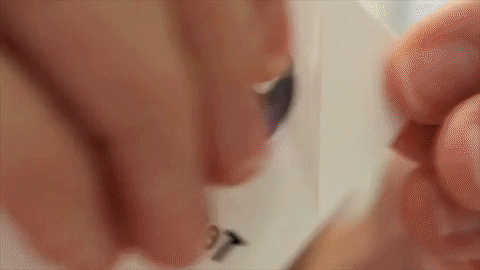 The temporary tattoo was tested by wearing one for 3 days straight. On the third day, it was attempted to be taken off with baby oil. The tattoo still looked great after day 3 and came off with ease with baby oil on a cotton pad.
The Results
Vinyl Stickers: Our die cut vinyl stickers held up remarkably well. After freezing, washing and microwaving our vinyl sticker, it still looks as good as new. This durability makes them perfect for labeling and decorating everyday objects. Made a batch of homemade jam? Label it! Made too much and need to throw it in the freezer? No problem! The vinyl stickers we tested are made with the same material as our decals, vinyl lettering and vinyl labels. Therefore, all these products will be able to hold up just as well as the vinyl stickers that were tested.
Static Clings: We tested reusing the same static cling 10+ times for this experiment! After ten times, the testing had to stop, as it felt like it could have been endless. After all that sticking and removing and sticking somewhere new, the static cling still worked like new! The reusability of static clings makes them perfect to advertise recurring information on your store window, or any message or image you want to be able to take up and down with ease. For example, if your restaurant has taco Tuesdays, static clings are perfect for putting up and taking down an advertisement every Tuesday! Or, if you're in an office space, use a static cling to put over the window leading into a meeting room to indicate when the room is in use, no more embarrassing accidental meeting walk ins!
Temporary Tattoos: Tattoos can be cool, but a lifelong commitment for a birthday party design? No thank you! That's why temporary tattoos are so fun to use, they are cool and spirited without the commitment. They're great for showing team spirit, dressing up, or for no reason at all! Temporary tattoos are the coolest accessory for any outfit. Best of all, customizing your temporary tattoos means that you can change your tattoo to match your outfits. After three days of tattoo wear, StickerYou's temporary tattoos looked good as new. But in case you don't want your temporary tattoo to be on that long, it was super easily wipe the tattoo off with some baby oil.
In conclusion, not to toot our own horn, but our products rock. We pride ourselves in offering the best materials for all your sticky product needs. Place your order here to see for yourself!
Want more great ideas and inspiration? Follow us on social, or sign up for our newsletter for amazing deals delivered directly to your inbox.
StickerYou blog posts are written and published by members of the StickerYou team at our headquarters, located in the beautiful city of Toronto, Canada.