Making what Matters Stick: Q&A with FLYACE
February 26, 2019
|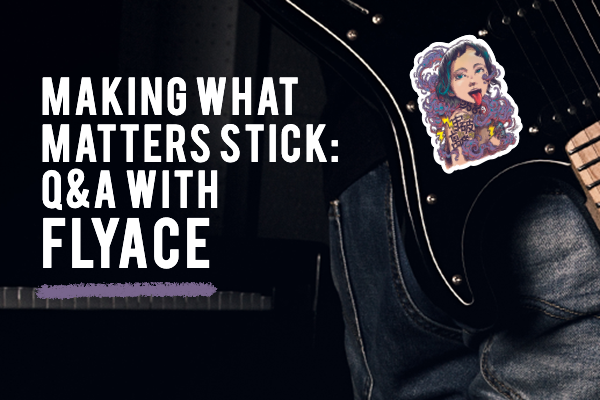 Share this post:
Flyace, aka Yuki Mineoka, is a Japanese illustrator based in the city of Osaka. His unique designs feature "fantastically bizarre monsters" in a mashup of artistic styles, including punk, street culture, manga and ukiyo-e prints. His work has appeared everywhere, from rock festival t-shirts, CD jackets, magazine ads and copyright collaborations with the likes of Ultraman and Kinnikuman, to the Japanese poster artwork for Lollapalooza in Chile in 2015. Flyace's stickers look like mini-manga come to life with layers of complexity and some very dark twists that reveal more the longer you look.
We caught up with Flyace to chat about sticker art in Japan, what manga artists have influenced his sticker style, what sticker looks best on a skateboard and the importance of taking on new artistic challenges.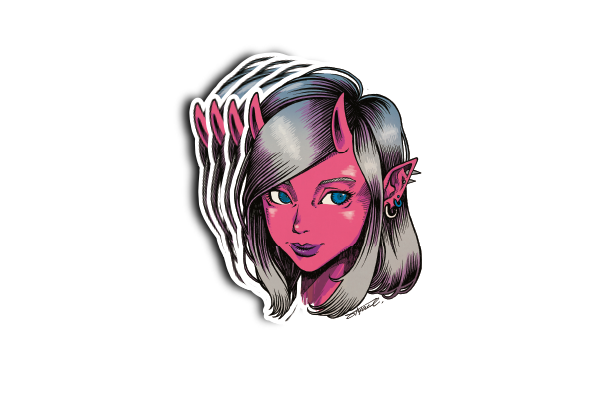 When did you first become interested in stickers?
It was a long time ago. I drew pictures, and started making my own stickers when I was about 20 years old.

What is the most interesting thing about your stickers?
I think that my drawings are precise. They're eye-catching because they don't appear to be stickers at first.

What is sticker culture like in Japan?
Japanese cities are overflowing with stickers. I think being able to express yourself freely with stickers is fun.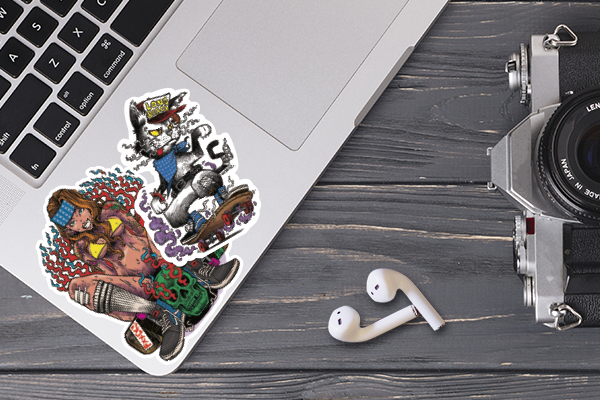 Do you do any other kind of art? What are you into?
I'm concentrating on painting right now, but I also want to challenge myself to express myself in different ways! I think making three-dimensional objects looks like fun.

Your sticker art looks like it has manga influences. Have any particular manga artists influenced your designs?
Yes, I've loved manga ever since I was a kid. I think I've been influenced by a number of artists, but I've been influenced the most directly by Akira Toriyama, Katsuhiro Otomo, Katsuya Terada, Takehiko Inoue, Shigeru Mizuki and Minetarou Mochizuki.
(Editor's Note: The manga artists that Flyace has named are some of the most notable and feted creators in the genre. Akira Toriyama penned Dragon Ball, and is considered one of the most influential manga artists of all time. Katsuhiro Otomo is a widely-respected manga artist and filmmaker known for creating Akira, while Katsuya Terada was a character designer for the American horror action film Blood: The Last Vampire. Takehiko Inoue created one of the best-selling mangas of all time, Slam Dunk, and Shigeru Mizuki is known as a master of yokai, or Japanese ghost and goblin stories. Minetarou Mochizuki is the award-winning creator of Dragon Head.)

Where is the best place to put a sticker?
Um, where? I'd say the StickerYou Store in Canada!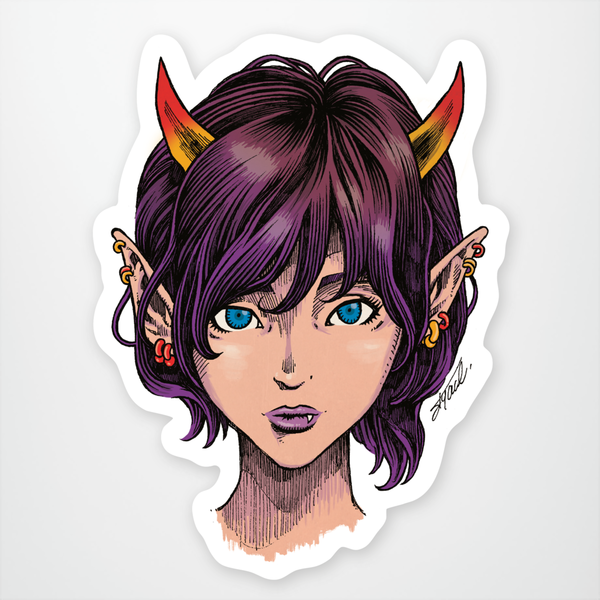 Out of all the stickers you've made so far, which one is your favorite?
This one! I can draw cute pictures, and I think this one looks good when stuck on a skateboard.

Why did you choose the name FLYACE? Is there a meaning behind the name?
Sorry, there's no particular meaning behind FLYACE. I just thought that the combination of "Fly" and "Ace" looked cool.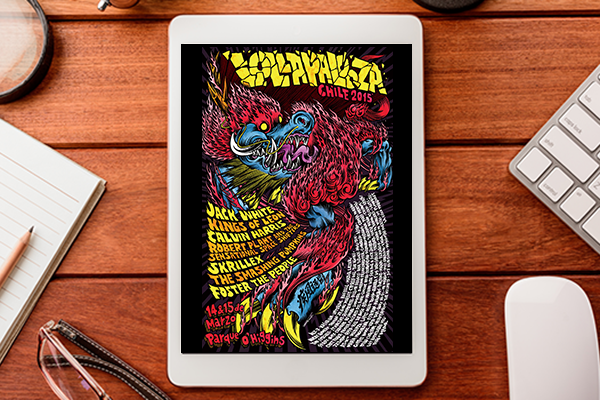 Want more great ideas and inspiration? Follow us on social, or sign up for our newsletter for amazing deals delivered directly to your inbox.
StickerYou blog posts are written and published by members of the StickerYou team at our headquarters, located in the beautiful city of Toronto, Canada.