We Opened the Biggest Sticker Store In the World
September 10, 2019
|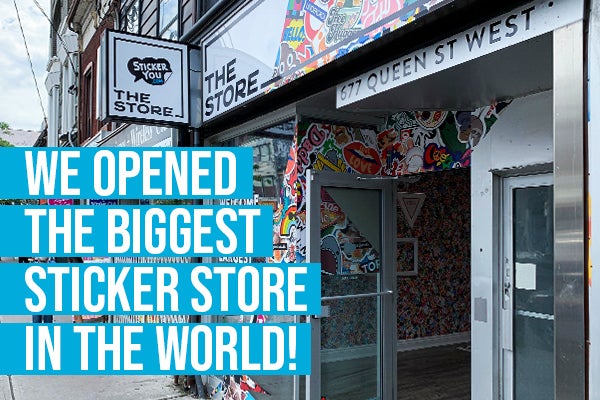 Share this post:
We are excited to announce the opening of StickerYou's first offline store! We are proud to now offer a physical retail experience, where you can walk through the door and we will say hello. Cyberspace has been StickerYou's home since our creation in 2008, but 11 years later, we felt it was time that blossomed into a tangible brick and mortar store. We really stuck ourselves out there! Literally, we stuck a sticker decal that is 3 stories tall outside our building! The store is located downtown Toronto at 677 Queen Street West. This is an exciting expansion for us and hopefully, after reading this blog post you will understand why.
What's the store like?
For all you StickerYou fans who are not able to travel to the store yet, we this blog-post can paint you a picture of what the store is like. The store is located in the Queen Street West neighborhood of Toronto, which Vogue Magazine has voted one of the worlds coolest neighborhoods. I think we can all agree that now it's the world's coolest neighborhood because the world's largest sticker store is there!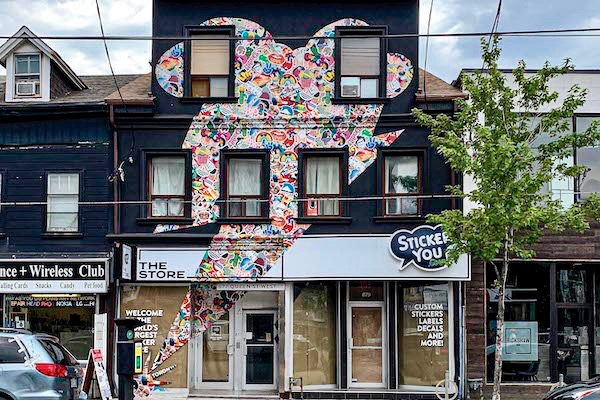 Approaching the store on Queen Street, you are struck by the sticker-bombed lightning bolt out front. It is three stories high and directing your focus towards the sticker store of your childhood dreams. Walking through the door you might think, am I in a comic book? Colorful stickers are surrounding you, including on the ceiling. The walls are lined with drawings reminiscent of being doodled into a notebook. The design of the store navigates the space between childhood fascination and modern sticker art, appealing to sticker enthusiasts of all ages.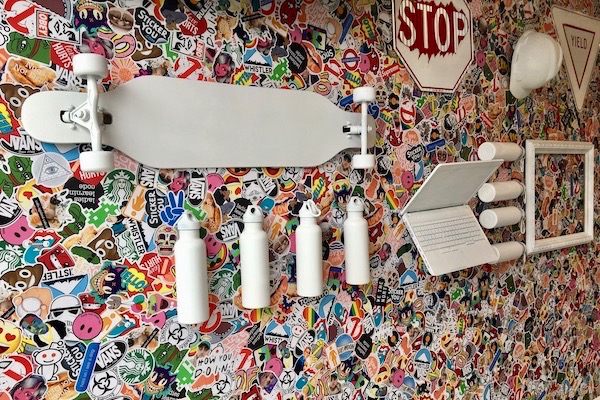 The first thing you'd notice inside the store is the huge sticker bombed wall adorned with contrasting blank white water bottles and skateboards that are begging to be covered in stickers. The walls further back in the room are covered in a grid of ready to buy sticker designs organized by category. There are pop art stickers, travel, media, tech, and trendy stickers. On the opposite wall, there are stickers designed by StickerYou's collaborating artists, some pre-made patches and temporary tattoos for purchase. No matter your interests or style, there is definitely one if not many different stickers at the store that you will love.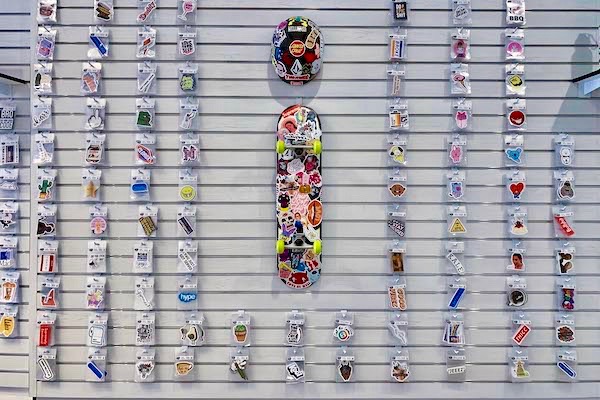 In the middle of the room there is an island with various sticker-bombed objects like a guitar and a record player. At the back of the store, there's a room that displays examples of the products that are available to be customized on the StickerYou website.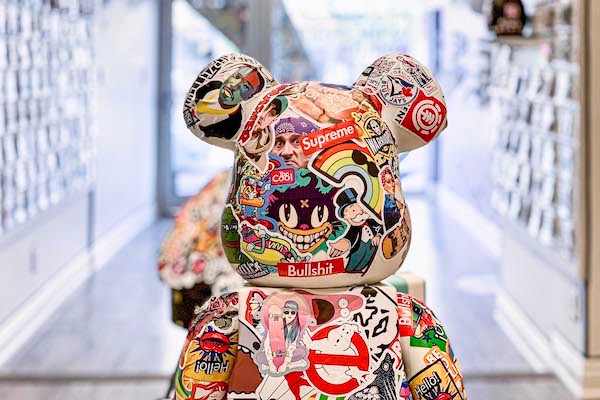 The store is dripping with inspiration. Visitors have told us that they walk in curious about the store and walk out inspired. After buying stickers, many visitors want to learn how to design and order their own custom products. Good thing we've made it easy to make that inspiration into a reality! The store is equipped with a customer experience center where visitors can check out the hundreds of custom design options and create their own design on our amazing online sticker maker.
Clearly, this is not your typical retail store. Additionally within the store, there is a permanent sticker museum curated by the cool artists and the inventors of Peel Magazine, Holy and Dave Combs. The museum showcases the history and impact of stickers. It will feature original sticker art by Shepard Fairey of Obey, the legendary Taki 183, and many more. There will always be new stuff to see with rotating exhibitions and events.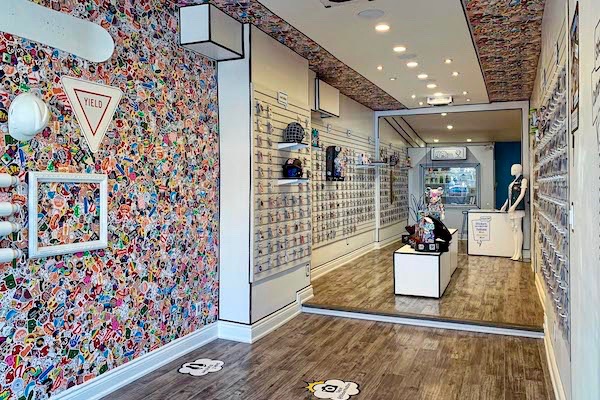 Voilá! We are excited to present to you the world's largest sticker store! This new offline StickerYou store is the best destination to find amazing die-cut stickers, learn about the history of sticker art and get inspiration to make your own custom products. Come visit us in Toronto and see for yourself!
Why change from clicks to bricks?
Why would we open a retail store when everything else seems to be going digital? There are a few reasons we wanted to open an offline retail store. Firstly, because our products are best received in tangible experiences that only a physical store can offer. Secondly, we are excited by the opportunity to meet our customers and build a stronger StickerYou community!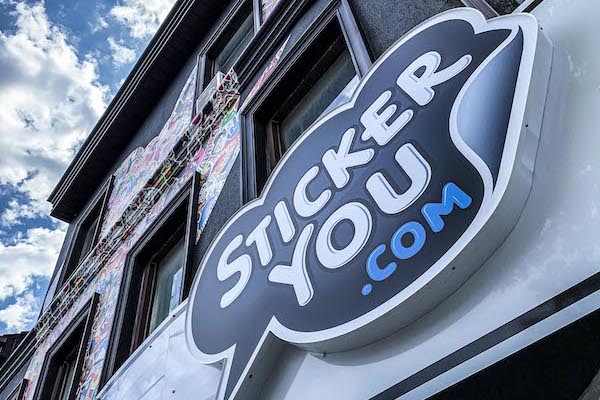 Our products, stickers, patches, decals, and so on, are the kinds of products that are best appreciated in an in-person sensory experience. A retail store allows customers to interact with our products in a way that cannot be replicated online. We recognize the importance of giving customers the opportunity to actually touch and feel our products so they can judge for themselves the quality of our materials and what the adhesives are like. Visiting the store also allows customers to see the products we offer being used in different ways. This inspires customers to discover new ideas for ways that they can use the products we offer in their business or personal life.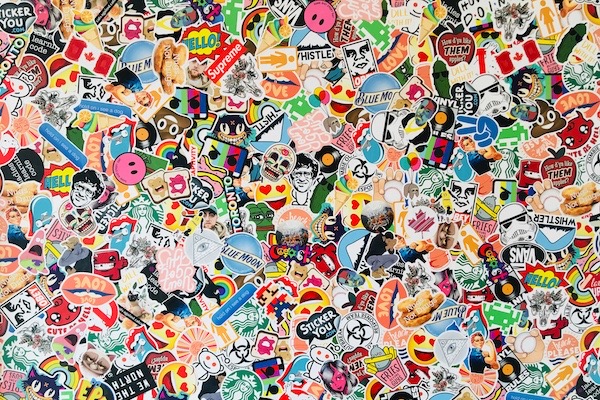 Within a physical retail space, we can offer customers a unique experience of connecting with our brand and sharing it with others. By creating an inviting and interesting store environment, we can make visiting the store as exciting of an experience as receiving new custom products. Our sticker-bombed wall is perfect for customers to snap selfies to share with friends. Check out some of the tagged photos that have been posted on instagram at @stickeryoustore. Lastly, we are excited to build a stronger StickerYou community with the store. We now have the opportunity to host events and exhibitions at the store and meet more of our customers face to face. This is an exciting new chapter for us at StickerYou, which we are delighted to share with you! We hope to see you at the store soon!

Check out what's being said about the new store here: Narcity, Toronto.com, ASI Central.
Want more great ideas and inspiration? Follow us on social, or sign up for our newsletter for amazing deals delivered directly to your inbox.
StickerYou blog posts are written and published by members of the StickerYou team at our headquarters, located in the beautiful city of Toronto, Canada.