10 Ways to Refresh Your Office Space on a Budget
April 6, 2017
|
Here at StickerYou, we believe that you don't need to be a multi-billion dollar tech giant to create a cool and inspiring office space for your staff and clients. All you need is a little creativity. Try these simple design ideas for instant impact.
1) Add a Pop of Color
If your office color palette is generally monotone or neutral, add a pop of color using funky chairs, stools or other furniture. Finding colorful accents are easy at any modern furniture store (think outside of "office furniture"), or simply grab some paint and get to work on your existing furniture or second-hand vintage finds!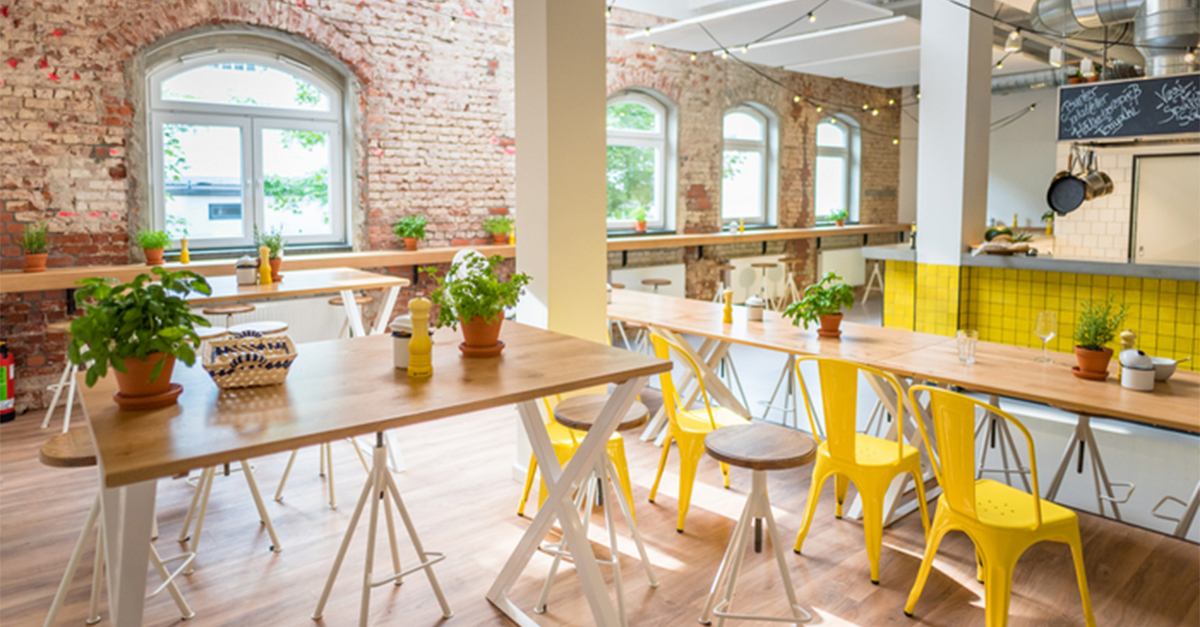 Jimdo Offices - Hamburg | Source: OfficeSnapshots
2) Painted Exposed Ducts
Give your industrial loft style office a more refined look by painting the exposed ducts in a bright and bold color. This works particularly well when the ceiling is also painted a solid color (usually black or white) so the painted ducts stand out against it.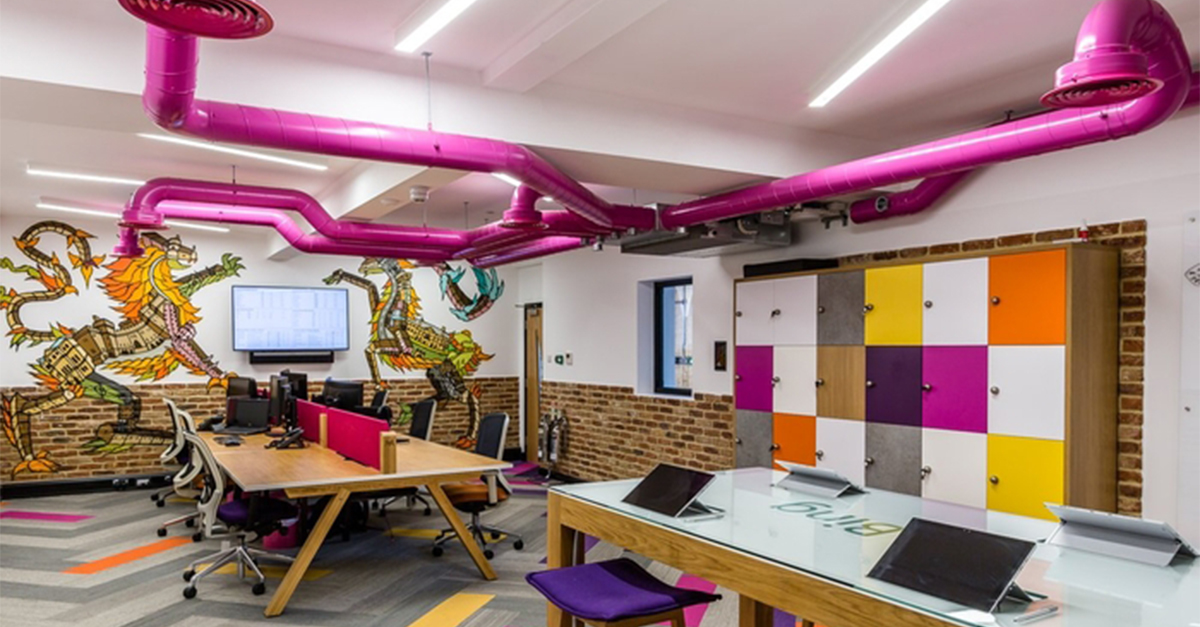 Money.co.uk Offices - Gloucestershire | Source: OfficeSnapshots
3) Motivational Quotes on Walls
Remind yourself, your staff and visiting clients of your company's beliefs and goals by placing statement quotes on your walls. These can be hand painted if you have access to talent, or simply order a custom wall decal to express your brand's mission and mantra.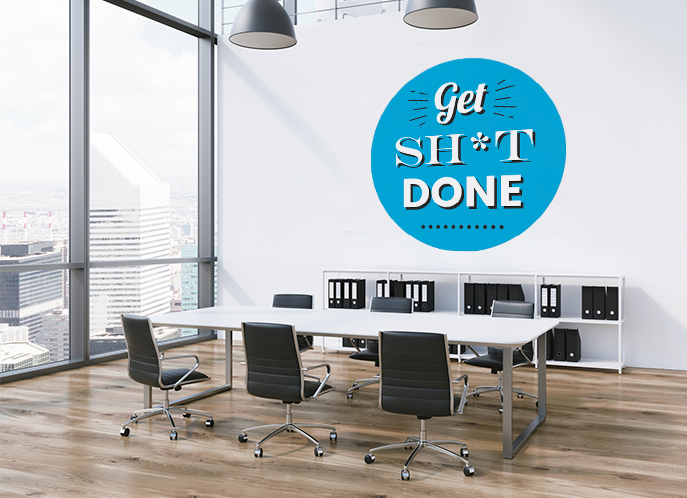 Get this wall decal here.
Create your own wall lettering decals here.
4) Relaxation Area
Carve out a special room or area for your staff to unwind and gather their thoughts. Many offices opt to have a "games & rec" room complete with a ping pong table, but you can get creative and design an even more relaxing space with comfy chairs or a hammock, and finish it off with a wall mural or decal of a beach scene.
T-Mobile Offices - Warsaw | Source: OfficeSnapshots
5) Privacy Booths
Go one step further and build privacy booths for staff when they need a break to be alone, or take a personal call without hiding out in the hallways. Many open concept offices are great for collaborating on work, but staff do often need a minute to deal with personal affairs. Make this moment a pleasant one by creating a dedicated space for them to get comfortable and enjoy their privacy.
zeb Offices - Munich & Sberbank Offices - Moscow
6) Creative Meeting Room Names
Gone are the days of meetings in Conference Room A, why not liven up your office with more creative names for meeting rooms and equally interesting signage to go with it? Choose a theme like superheroes, landmarks or artists. No one will want to miss a meeting in House Targaryen (for you GoT fans).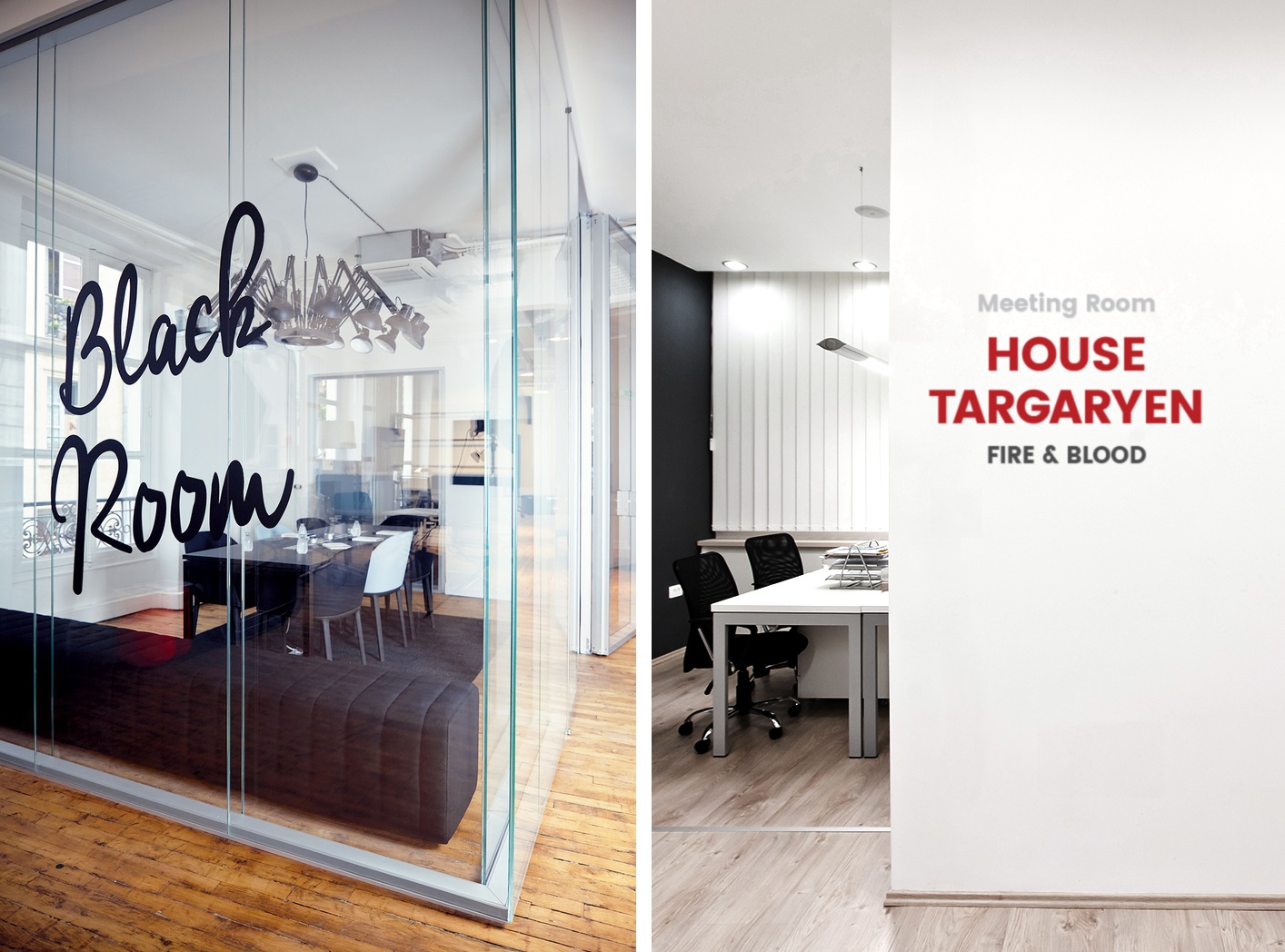 Moore Design Offices - Paris | Create your own wall lettering decals here.
7) Floor to Ceiling Artwork
Why stop at just decorating your walls? Create immediate visual impact by covering your floor to ceiling with bold patterns, colors or artwork. Do this for specific rooms or corridors to add interest to otherwise boring hallways.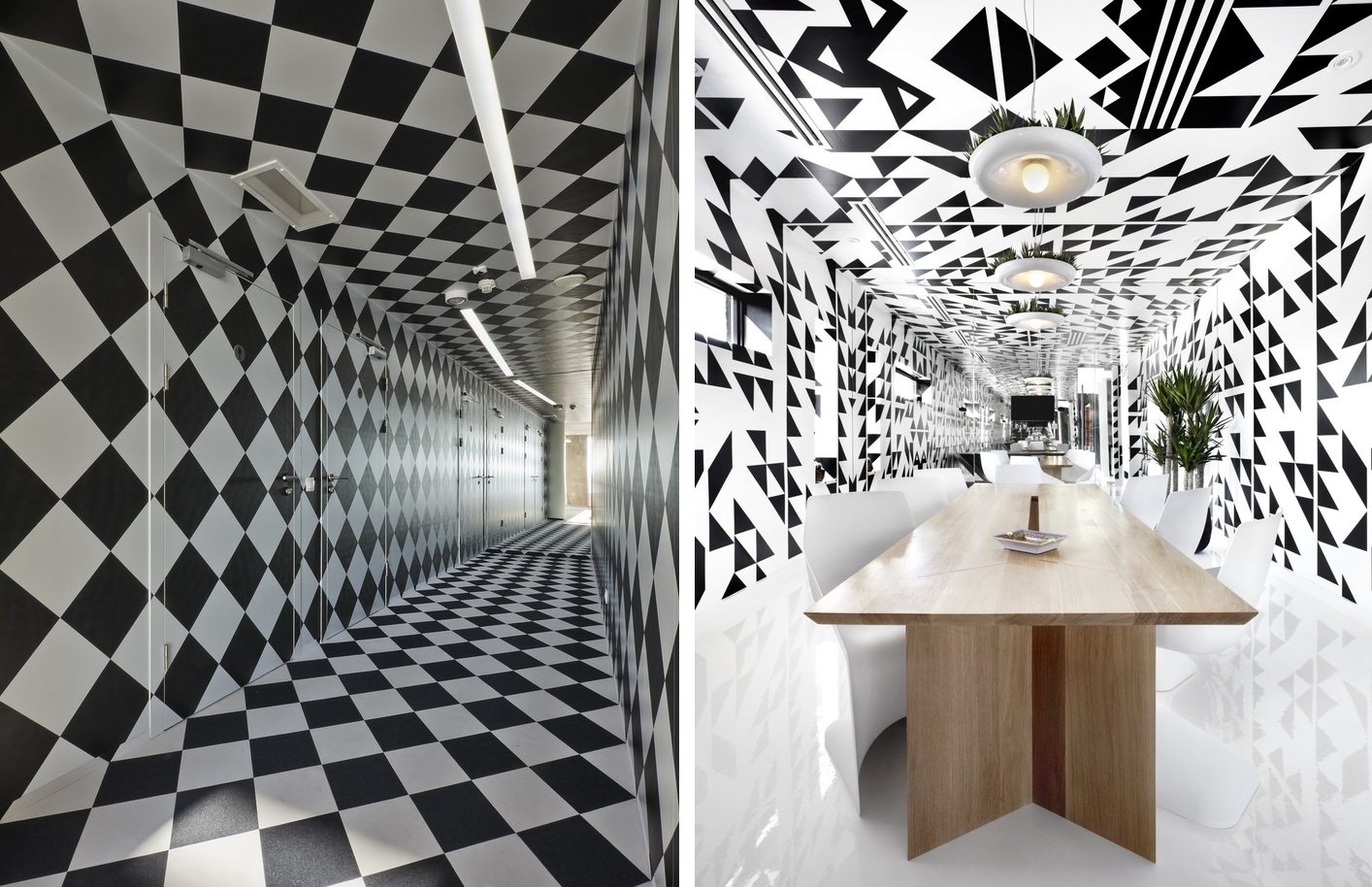 T-Mobile Offices - Warsaw & OVOSound Offices - Toronto
8) Quiet in the Library
Libraries are not only for bookworms and lovers of literature. They are great spaces for people to absorb knowledge from books and other resources, and a quiet space to think. Create a library room in your office filled with inspirational books and resources for whenever anyone hits that creative block. Or use wallpaper or wall decals to create the illusion of being in a quiet sanctuary filled with wisdom to help your staff feel inspired.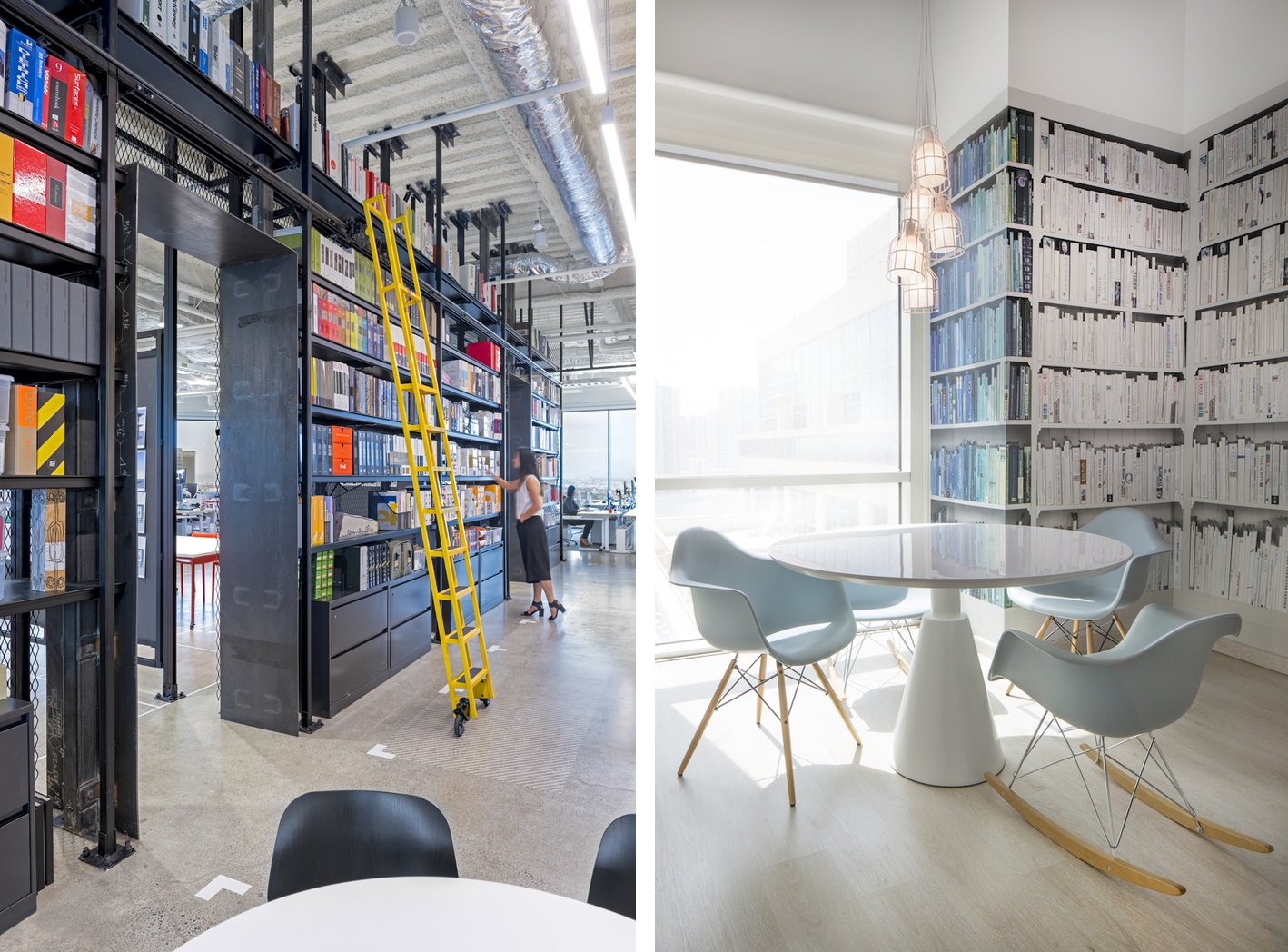 Gensler Offices - Oakland & Bakr Offices - Dubai
9) Don't Forget the Restroom
The restroom may be the most visited room in your office, so don't let your creativity end without adding some design ideas there. Use bold and colorful walls, wallpaper or murals to create a fun space for both staff and clients to visit when nature calls.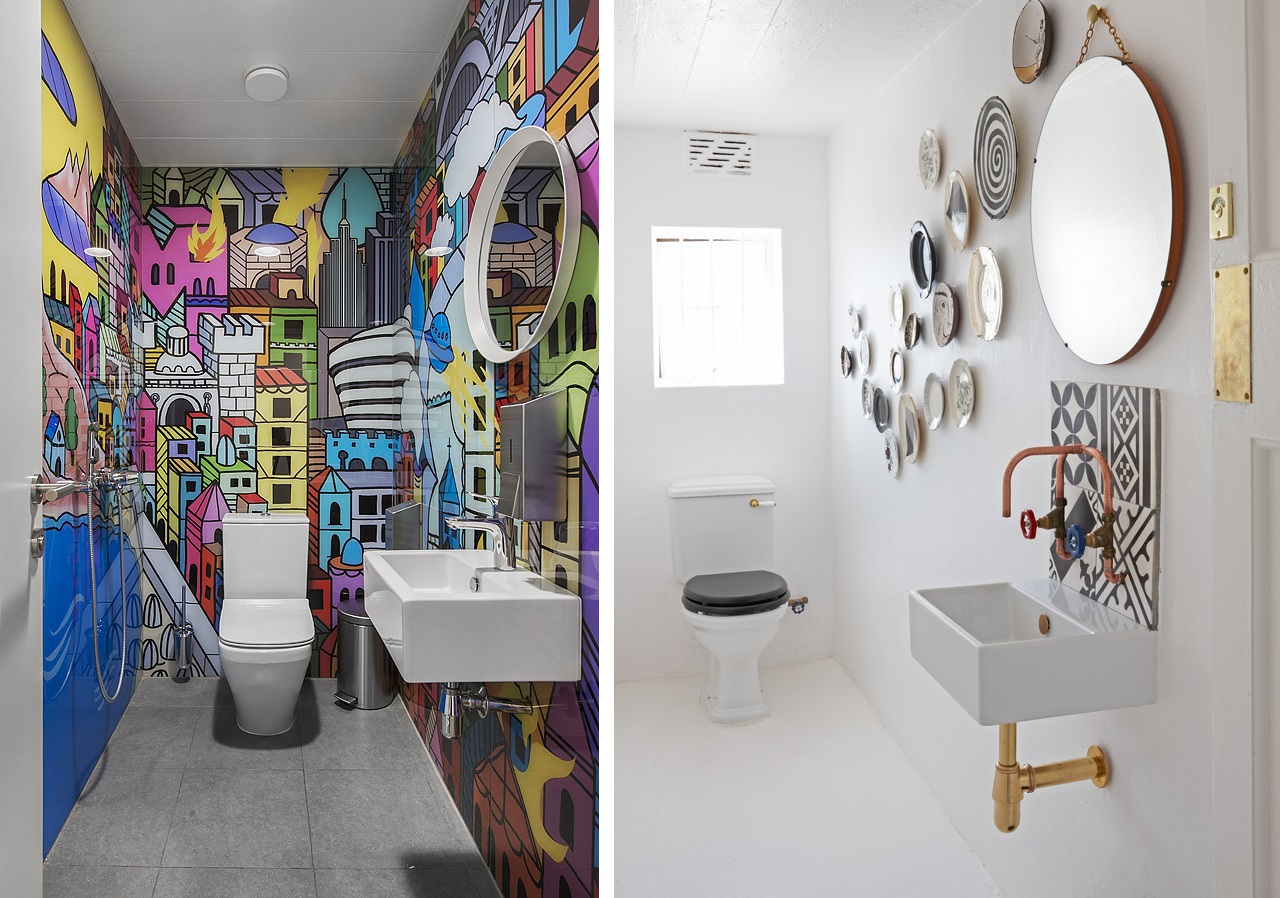 Swatch Group - Moscow & RADAR - Cape Town Offices
10) Or the Stairwells
People often neglect doing any kind of decorating for stairwells between the floors of their office, but this is a well traveled space that needs some love. Encourage staff to take the stairs over the elevator with creative artwork, motivational quote decals and cool signage.
Progression Group Offices - Moscow | Source: OfficeSnapshots
Feeling inspired? We hope so. Get started on refreshing your office space now with custom wall decals, vinyl lettering, motivational quote decals and more at StickerYou!
StickerYou blog posts are written and published by StickerYou Crew members from our headquarters located in the beautiful city of Toronto, Canada.
Get other great ideas, inspiration and sweet deals delivered right to your inbox by signing up for our newsletter here, or follow @StickerYou on Facebook, Twitter, Instagram, Pinterest, Google+ and YouTube.