Affordably Show School Spirit This Bowl Season!
December 10, 2019
|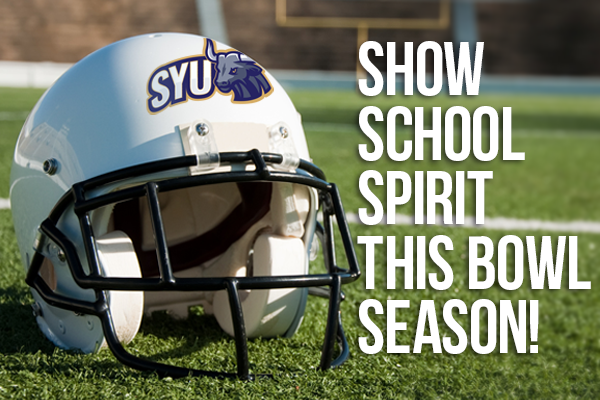 Share this post:
It's bowl season and if you're on a college budget, you probably want to save your money for drinks and snacks, not spend it on overpriced school merch. With StickerYou's variety of custom products, you can now make your custom game day ensambles for a fraction of the cost of the school store. Customizing your apparel is way cooler than buying the premade school stuff because you can include anecdotes and inside jokes that can't be found anywhere else. This blog post will make some suggestions for merch you can make yourself with StickerYou's customizable products.
Custom Apparel
Custom apparel, like tee shirts, jerseys, jackets and hats are a school spirit classic ensemble. If you'd like to create custom t-shirts, hoodies, track pants, and more, our iron-on transfers are the perfect product. You can use our heat transfers to turn any plain clothing into team-specific apparel, all you need is an iron and an idea! You can design your own team merch with a custom solid iron-on and sport a shirt that nobody else has. Iron-on lettering is easy to apply, looks professional and is safe to throw in the laundry with regular clothing. Jerseys can be expensive, but with our custom iron-on transfers, it has never been easier or more affordable to wear your support on your sleeve, literally. You can add phrases, numbers, or full-color images that will show your support and let the world know that your school has the best fans. Show extra support for your friend or favorite player by adding their name on the back of your shirt with iron-on lettering transfers. Iron on letters create a very professional looking shirt, for those who don't have their jerseys sold professionally (yet).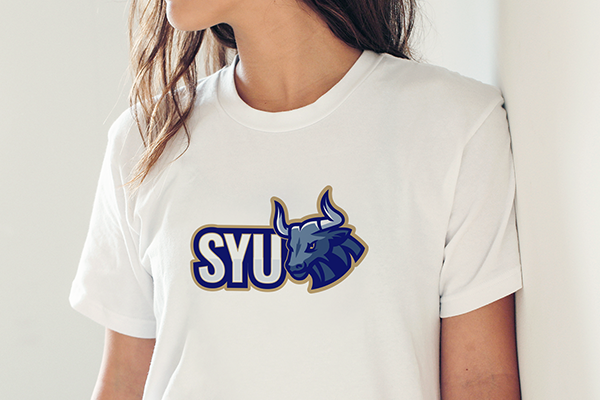 It's cold out there in the stadium during those football games, but you don't want to cover up your team spirited apparel with a plain jacket! Easily iron or sew on a custom patch onto any coat to stay spirited during the coldest games. Patches can be printed using full color and have a stitched border, improving durability and creating a polished look. A simple custom patch of your team's logo can be added to any jacket, sweater or hat to make it seem like your team is playing in the big leagues. If you are heading to games right after class with your backpack, your bag can easily become part of the celebration with one of StickerYou easy to create custom patches. Betteryet, this type of personalization will ensure that you never take the wrong backpack home again.
Wear Your Spirit!
With so many ways to wear your support, there is no excuse not to look like a super-fan at your next bowl game. You can also take your fandom one step further by wearing your team's logo on your body. Face, arm, leg, it doesn't matter! Temporary Tattoos are a simple, quick, and inexpensive way to put your school spirit where your face is. Temporary tattoos are a great alternative to face painting because they are simple to apply and remove and they will stay put throughout the day. When sweat and rain are causing other people's face paint to drip, smear and just melt away, your designs will remain intact all game long. StickerYou's temporary tattoos are skin safe, bright colored and a temporary option for permanent fun. A temporary tattoo can be applied to your face yourself in less than 30 seconds and removed easily with baby oil or rubbing alcohol. Tattoos are much easier to remove than face paint; so you don't have to worry about showing up to your next class with smudgy red and blue cheeks. Customize your own temporary tattoos on our brand new Sticker Maker to show your true game face this bowl season.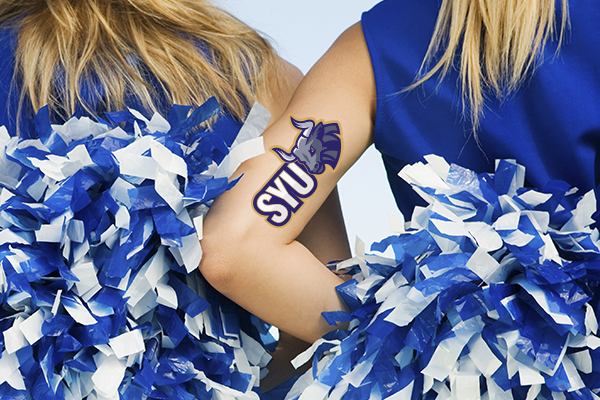 More Custom School Swag
There are so many possibilities when using sticky products to spruce up run-of-the-mill objects - so long as something has a surface, you can probably use sticky stuff to dress it up with team spirit. If you enjoy holding up new posters at every game to cheer on your team, save yourself the time, effort and money it takes to craft posters from scratch every week and make yourself a custom whiteboard poster. Easily stick a dry erase decal onto any sign and be able to change up your message every game without having to make a new poster everytime. If you're enjoying a keg at your celebration, why not slap a custom magnet on it? A custom magnet will let your keg in on the team spirit and magnets are a great non-permanent decoration that you can re-use over and over, keg after keg. Using a vinyl sticker, to spruce up a generic batch of thundersticks (also known as bambams, cheerstix, bangers, and a plethora of other names), and turn some non-branded plastic balloons into wicked cheer swag that can be used at any sports event.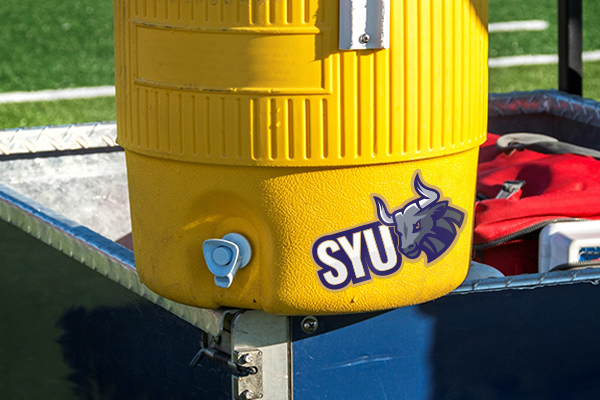 These are just a few ideas to kick off your imagination for ways to show your school spirit this bowl season! Tackle this bowl season with the best gear yet by customizing all of your stuff with StickerYou's great custom products to support your great school team!
Want more great ideas and inspiration? Follow us on social, or sign up for our newsletter for amazing deals delivered directly to your inbox.
StickerYou blog posts are written and published by members of the StickerYou team at our headquarters, located in the beautiful city of Toronto, Canada.