Doing March Madness The Right Way
March 10, 2017
|
Although it may feel like 2017 just began, we're already into March! For most, images of green beer, leprechauns and warmer weather come to mind. For sports fans though, this only means one thing: March Madness. The NCAA basketball tournament begins on March 14th, with the Championship Game falling on April 3rd. While you're busy researching your tournament bracket, we thought we'd put together this quick guide for doing March Madness the right way.
Bracket Wall Decal
For many, filling out a March Madness bracket is an annual ritual more exciting than Christmas, with an estimated 40 million Americans submitting roughly 70 million brackets in recent years. This year, fill out your March Madness bracket in style with a custom bracket wall decal, or use it to track tournament progress along the way. And while you likely won't predict a perfect bracket - (odds are estimated at 1 in 128 billion at best) - at least you'll look good doing it! Wall decals easily apply to any smooth surface and can be removed without causing damage to the surface.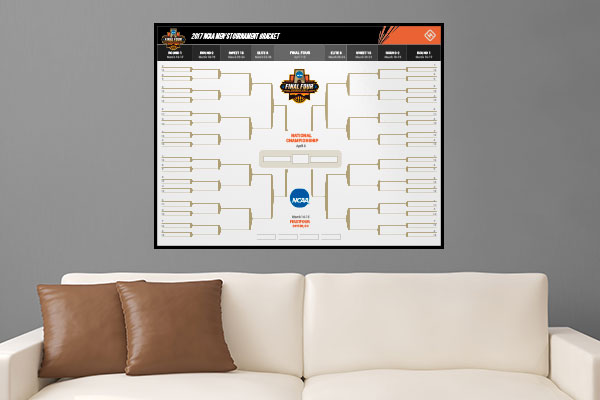 Decorative Wall Decals
Whether you're hosting a big March Madness party, or you're just having a couple buddies over to watch, set the tone for your team to make a deep run with custom wall decals. Fill the room with basketballs, hoops, and maybe even a headshot of your favorite player or team mascot! Alternatively, you can use our vinyl-lettering tool for inspirational quotes or bold predictions.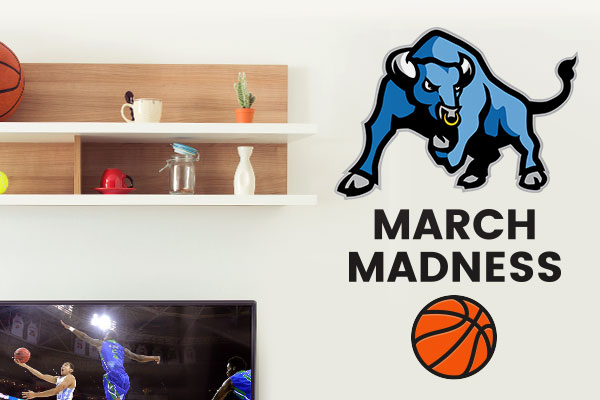 Custom Shot Glasses
Speaking of parties, your favorite players are going to be draining shots, and you can too - all while supporting your team. Create custom stickers of your favorite player's number, team logo, or anything else March Madness and slap 'em on inexpensive shot glasses for simple DIY fun. If shots aren't your thing, our new and improved writable labels are great for keeping track of your cup so there's no mix ups - nothing's worse than getting halfway through a drink at a party only to realize it's not yours!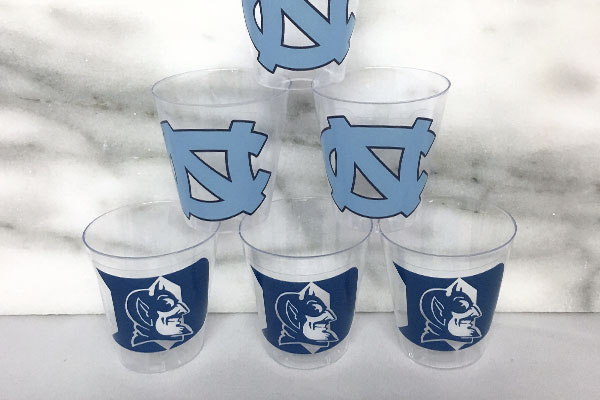 Temporary Tattoos
If you're reading this, chances are you're a sports fan. And if you're a sports fan, chances are you've seen fans who deck themselves in face paint, or even body paint to show their support. You can skip the mess of body paint and and still support your favorite team using custom temporary tattoos. They're safe, easy-to-apply, fun, and completely customizable. Plus, if your team doesn't win the championship, you won't be stuck with the tattoo for life - I know you've seen the horror stories.
Custom Car Decals
Bumper stickers have long been used to voice support for various causes… Why should supporting your favorite team in March Madness be any different? Create custom car decals for your bumper here, or if you're a superfan and looking for something a little larger, you might want to check out our car window decals.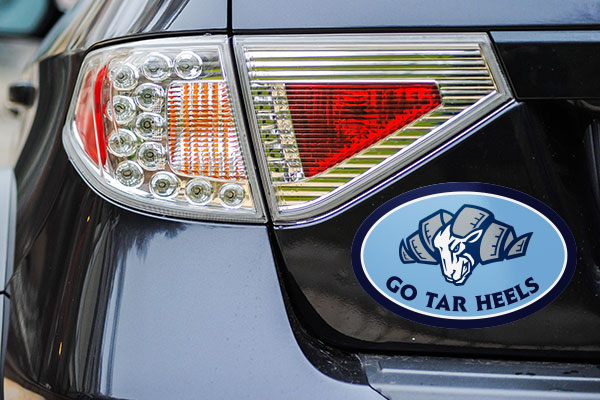 Have your own ideas for March Madness fun? Check out StickerYou for custom stickers, labels, decals, tattoos, iron-ons and all things sticky for your DIY needs!
StickerYou blog posts are written and published by StickerYou Crew members from our headquarters located in the beautiful city of Toronto, Canada.
Get other great ideas, inspiration and sweet deals delivered right to your inbox by signing up for our newsletter here, or follow @StickerYou on Facebook, Twitter, Instagram, Pinterest, Google+ and YouTube.