Stories That Stick: Giving Back
April 14, 2020
|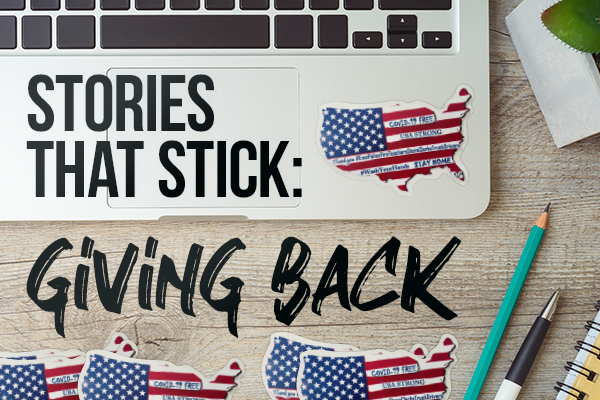 Share this post:
We're all in this together.
Flattening the curve
demands a fight on all fronts, and our customers are among those leading the charge. Your uplifting stories, adaptability to change and profound creativity have been truly remarkable. We are deeply grateful for your efforts.
When Detective Kelly Gorham of the City of Portland Police uploaded heartwarming artwork to StickerYou.com and ordered these designs as tens of thousands of stickers and magnets, we had to reach out and find out more.
What began as a simple trip to Walmart for art supplies to keep her kids busy during what was originally to be two weeks at home, became an incredible and valuable lesson about how art and mindfulness can help the people who need it most in these unprecedented times.
Kelly and her 11-year-old daughter CJ began by drawing Shawnee Peak, the famed Maine ski hill whose slopes form the letters "L-O-V", to which the artistic duo added an "e".
CJ had the thought to create stickers of these for her friends to put on their hydro flasks. Little did she know this project was about to take on a much greater importance.
The next week as the pandemic worsened and "crisis schooling" became more indefinite, CJ and Kelly took art class to the next level. They created two more images, one of the state of Maine, and the other of the USA, on which they inscribed strong messaging about necessary actions to
#StopTheSpread
, and thanked the various groups of people who are on the front lines.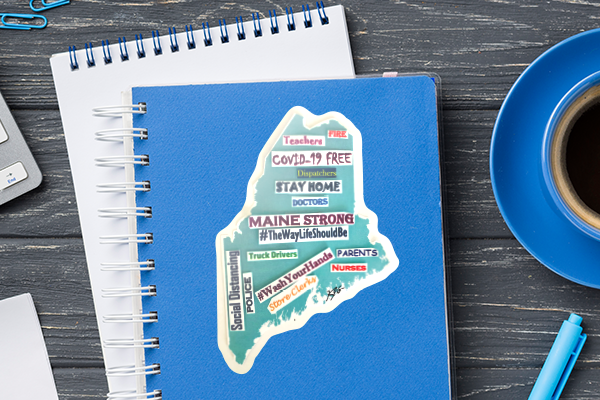 The idea was born to give back to the less fortunate by selling these works as both magnets and stickers, with a portion of the proceeds going to three nonprofit organizations that Detective Gorham works very closely with: The National Children's Advocacy Center, the Cumberland County Children's Advocacy Center and the Trauma Intervention Program in Maine.
Read on for Kelly and CJ's story about why this was so important to them:SY:
States have differed in their handlings of the COVID-19 pandemic. What is it like in Maine? How are people dealing with the stress of it all? How are you coping yourself?
KG:
Maine is, like many states, experiencing lockdown. We're middle class and never have to worry about going without basic needs. While it can sometimes be stressful, it's nothing as compared to what some people go through. One thing about COVID-19 is that I feel it's pushing everyone to their maximum limits. I see so many people finding ways to give back. I investigate sex crimes including those committed on juveniles so I see the vulnerable, the less fortunate, the preyed upon, the homeless. They need more support than ever at this time, so hopefully our initiative can go a long way towards helping them. Doing our part to help is our way of coping. I also cope with daily exercise, good nutrition, and now art!
SY:
The images of the state of Maine and the USA where you thank all the groups on the front lines of the outbreak are very powerful. What inspired you to create them?
KG:
My mother Cheryl (CJ's grandmother) was an incredible artist and I was creative and artsy in my teenage years, but kind of lost my passion for art after my mother passed in 1995. It wasn't until this year when CJ asked me to paint Shawnee Peak that I got back into it. I felt a calmness I have not felt in some time and it brought back so many beautiful memories of my mother. CJ had the idea to sell these stickers and give the proceeds to the underprivileged. I felt a "proud momma" moment as CJ's idea to raise money for others was heartfelt and her own. I talked to her about my job as a police detective and all the victims and survivors I work with. I want our children to know that they are so very loved and incredibly blessed and that some aren't so fortunate. We then focused on spreading the word and ensuring that everyone was doing their part to "Stay Home", "Wash Your Hands", respect "Social Distancing" and we did so through our art. We designed the Maine and USA stickers with all of our essential professions in mind… including parents. Don't get me wrong, we know we forgot a bunch of other groups of people that we should be thankful for who are putting themselves at higher risk for us day in and day out.
SY:
The images don't require words for others to understand its meaning. If you were to use words to express your feelings to others about the COVID-19 pandemic, what words would you use?
KG:
Some of my kids' friends have asthma which puts them at higher risk. When I saw videos of teenagers partying it up at spring break I found it to be way out of line. Relationships are number one. What I would say to everyone is to think of your kids, your partner, your parents, your grandparents. What if they were to catch COVID-19 and were at higher risk of death? We all have to treat this as though we could lose someone to the virus. Just stay home and respect everyone as much as you would your loved ones. That's what's going to get us through this.
SY:
How would you like to see this image used by other people?
KG: As I said, I think we've missed a bunch of people to thank but at the end of the day we all need to have respect for human beings. Be patient with those on the front lines. And take the measures necessary to stop the spread. The only way we will overcome this is if we do it together. We can't have half the world doing the right thing and the other half ignoring this issue because the half ignoring what they should be doing affects the entire world.
SY:
What role do you see art playing in uncertain times like these?
KG:
We hope that the art unites people and teaches all kids and all people for that matter that they can do their part. CJ came up with the idea - so if the world gets through this pandemic and kids are learning coping skills at such a young age that most adults don't even have, imagine how our kids will be 20 years from now having endured this? If we can ingrain these values of giving back and sticking together in our kids now, they will be 10 times better and more ready for anything than we've ever been.
CJ and Kelly aren't the only ones creating images that spread awareness and support during this time. Many of our customers are coming together to do their part with creative stickers that teach, inspire and console. If you'd like to support CJ and Kelly's cause and purchase a sticker, please visit their
website
!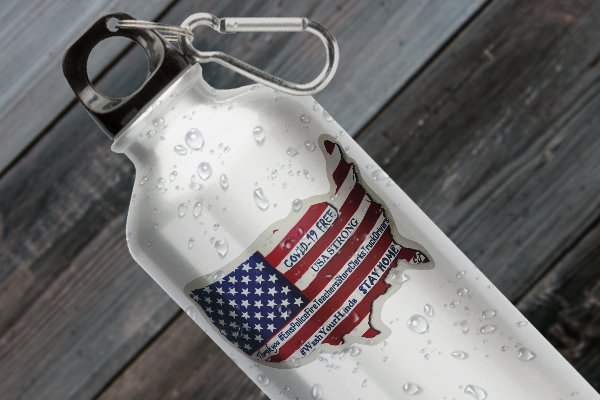 Want more great ideas and inspiration? Follow us on social, or sign up for our newsletter for amazing deals delivered directly to your inbox.
StickerYou blog posts are written and published by members of the StickerYou team at our headquarters, located in the beautiful city of Toronto, Canada.